Barberry and Orange Tart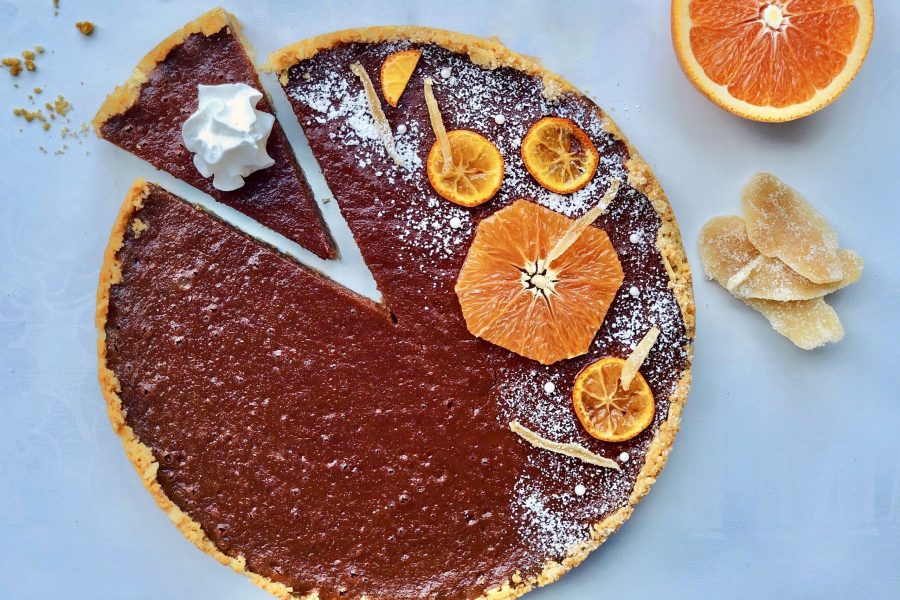 Spring 2020. I was craving pie. Sadly, I had no flour and no fresh fruit, aside from an old orange. Thus, the Barberry and Orange Tart was born out of pure necessity.
Traditionally, barberries are used in Persian cooking to add a tart note to savory dishes. They are like tiny tart craisins, and add intense flavor to desserts as well. In this one, the crust is made out of saltines, and so the sweet-tart-salty complexity is a flavor explosion. The saltine crust is just fun, and much less labor intensive to make than tart dough. This is what you get when you play with your food!
Ingredients
For the Crust
1 1/2 sleeves of Saltine crackers, approximately 60 crackers
½ cup melted butter
1/3 cup honey
For the Filling
Instructions
Preheat the oven to 350. Have a 9 inch tart pan with a removable bottom ready. Pan spray it liberally.
Add the saltines to a food processor or add them to a plastic bag and pound them until they're small crumbs. Mix in the melted butter and honey. Stir until combined and they resemble cornmeal.
Add the cracker mixture to the tart pan. Using the bottom of a glass press the crumbs evenly through out the pan. Lift some of the mixture onto the edges to form a lip for the tart.
Par bake the crust until light golden brown on a baking sheet in the oven for 16-20 minutes.
To make the filling add all of the ingredients to a high powered blender and blend for 2 minutes. Or until velvety smooth.
Pour the custard into the prepared crust and bake at 325 degrees for 40-45 minutes. Bake until the center giggles only slightly.
Let it cool for 20 minutes before carefully removing from tart pan.
Refrigerator tart for 2 hours before slicing.
To serve dollop with whipped cream or vanilla ice cream to balance the tart barberrie custard.
Notes
Decorate your tart!
Have fun!
Use segmented oranges, citrus wheels or meringue.

© 2021 World Spice Merchants https://www.worldspice.com