Beet Pappardelle with Herbes de Provence
Use your extra hour of daylight savings time to make pasta from scratch! It is a labor of love, and what's not to love about hand made pappardelle. These wide, fat noodles are not fussy. Just fold the pasta sheets like an accordion and slice off the strips. For a little extra love, we've added beet powder to the pasta dough for delightful color and a hint of earthy sweetness. This vibrant powder is so user friendly compared to fresh beets! You can get the delightful color and flavor without the beet-bloodbath that comes from the fresh vegetable, and without the extra water in the pasta dough, it is less finicky.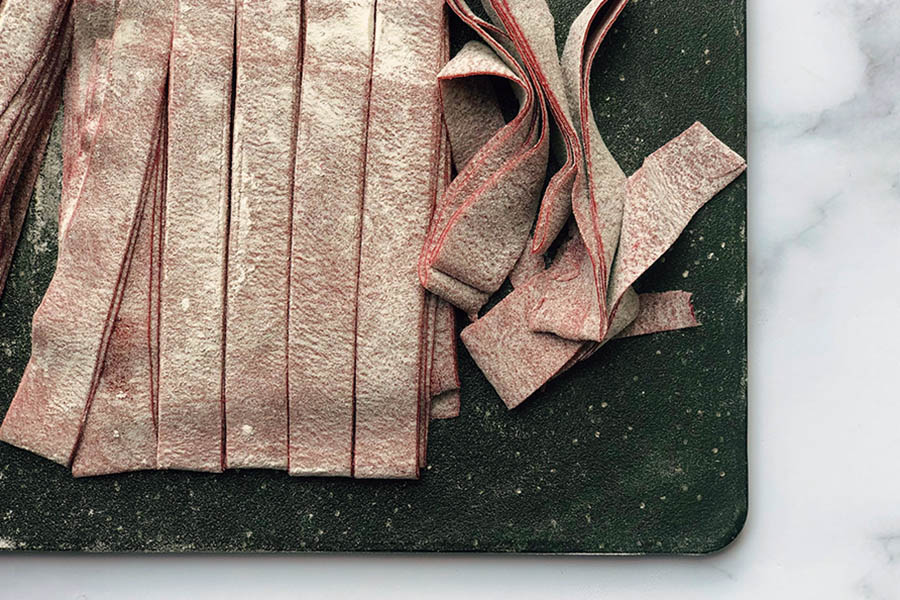 To further embrace spring flavors, we tossed the noodles in a light sauce with Herbes de Provence. The taste of garden herbs like tarragon and thyme, pair perfectly with caramelized fennel and garlic for an aromatic sauce. Garnish your mound of pasta with some crumbly sheep's milk cheese for some tang that compliments the earthy beet noodles and bright spring flavors.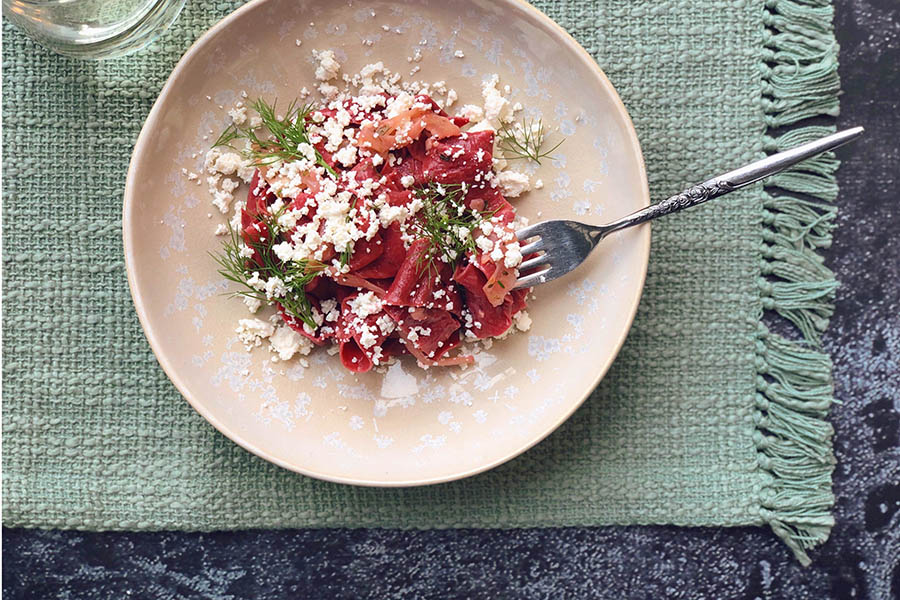 Ingredients
For the Pasta
1-3/4 cup all purpose flour
6 egg yolks
2 large eggs
2 teaspoons olive oil
3 tablespoons beet powder
1/2 cup semolina flour for dusting
For the Cooked Pasta
3 quarts water
1 tablespoon kosher salt
3 cups beet pappardelle
For the Sauce
2 tablespoons olive oil
1 cup fennel bulb, julienned
1 teaspoon garlic, minced
1 teaspoon Provencal Seasoned Salt
1/2 cup dry white wine
2 teaspoons Herbs de Provence, crumbled
2 tablespoons cold unsalted butter
1 cup sheep's milk feta, crumbled
Chopped fennel fronds for garnishing
Instructions
For the Cooked Pasta
Combine the flour, egg yolks, eggs, olive oil and beet powder in a stand mixer with the dough hook attachment. Mix on medium speed about 2-3 minutes until the dough comes loosely together with even crumbs, before it gets too dense. Turn out the dough onto a lightly floured work surface and knead for 5-10 mins until you have a smooth, very stiff dough. This should be a workout! You want that pasta dough to have some real density to it. If it's very dry, add a splash of water to bring it together. Shape the dough into a ball, wrap tightly and chill for at least 1 hour or up to two days.
When you are ready to make the pasta, divide the dough into four balls. Work with one ball at a time, keeping the others covered as you work. Using a rolling pin, roll out the first ball into a rectangle that will fit through the widest setting on your pasta machine. Have spare flour for dusting to prevent the pasta from sticking. Slowly pass the dough through the machine, reducing the width down incrementally, all the way to the second thinnest setting, about 1/8 of an inch thick. Don't jump straight from the thickest setting to the thinnest, or the machine may jam, and don't go below 1/8" or the pasta may be too thin.
Unfold the dough onto a work surface dusted with semolina. The sheet will be quite long and ultimately needs to be folded into an accordion shape for cutting. You can cut it into 2 or 3 smaller sheets if you wish, making for shorter noodles and easier handling. Position the sheet of dough so that the narrow end is closest to you. With one hand on either side of the dough, slide your fingers under the dough. Pull up and fold away from you, approximately 5 inches. Repeat this step by folding again, back and forth, creating an accordion-like stack of dough.
Using a knife, cut wide one inch ribbons, creating pappardelle strips. Repeat until no dough is left. Toss pasta in extra semolina to avoid sticking, if needed. You can refrigerate the pasta in a sealed container in the refrigerator for a day or two, or freeze for a month or more.
To Cook the Pasta
Bring a large pot of water to a boil, then season with salt. Cook the pasta until al dente 1-2 minutes. Drain the pasta.
For the Sauce
In a large sauté pan over medium heat add the olive oil until hot. Add fennel and garlic and sauté for 3 minutes until the fennel starts to caramelize. Add the Provencal Seasoned Salt, wine and Herbes de Provence. Cook for 2 minutes more, just enough time for the alcohol to cook out of the wine, with enough liquid remaining for it to be saucy. Remove from heat and stir in the cold butter. Immediately toss in beet pappardelle pasta and serve. Garnish with cheese and fennel fronds.
Notes
The cook time on this pasta is short especially to preserve its bright color. Boiling for longer will discolor the beautiful pink color.
© 2023 World Spice Merchants https://www.worldspice.com