Tandoori Roasted Chicken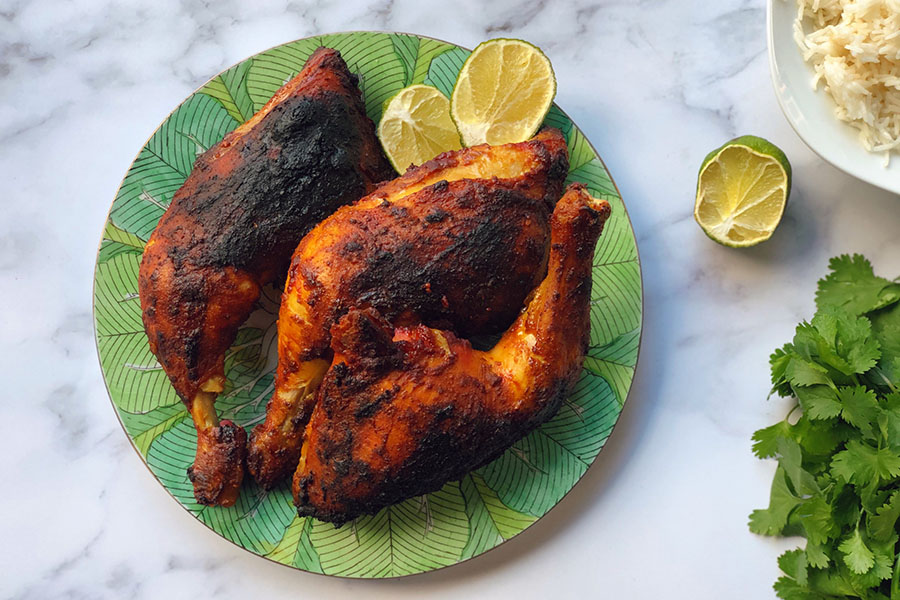 It may not be grilled over an open flame or cooked in a traditional clay oven, but this Tandoori Roasted Chicken is guaranteed to brighten your January. We've brought sunshine into the kitchen in the depth of winter with bright colors and flavors on the table. Our Tandoori chicken is bright in color and in spice. We skipped the red food coloring and went straight for the beet powder combined with Tandoori Spice that contains turmeric, to give this dish a stunning presentation. Once cooked the beet powder mellows and adds crispiness to the chicken skin.
Ingredients
1 1/2 teaspoons kosher salt
3/4 cup plain Greek yogurt
1 tablespoon beet powder
2 teaspoons ground Tandoori Spice
2-3 chicken hindquarters, about 1 pound
Instructions
In a bowl large enough the chicken, combine the salt, yogurt, beet powder, and tandoori spice. Stir to make a smooth paste.
Add the chicken and rub the paste on the chicken to evenly coat the skin.
Cover and refrigerate at least 5 hours or overnight.
When you are ready to cook, preheat the oven to 400 degrees.
Line a sheet pan with parchment and place a roasting rack on top.
Place the marinated chicken on the rack. This allows the excess fat to drip off, making the skin nice and crispy.
Roast the chicken for 45-50 minutes until the internal temperature reaches 165 and the skin looks crispy with some burnt pieces.
Enjoy with rice or naan bread.
Notes
As a side option serve chicken with rice, cilantro, limes and plain yogurt for dipping. 
© 2023 World Spice Merchants https://www.worldspice.com