Herbes de Provence Salmon Frittata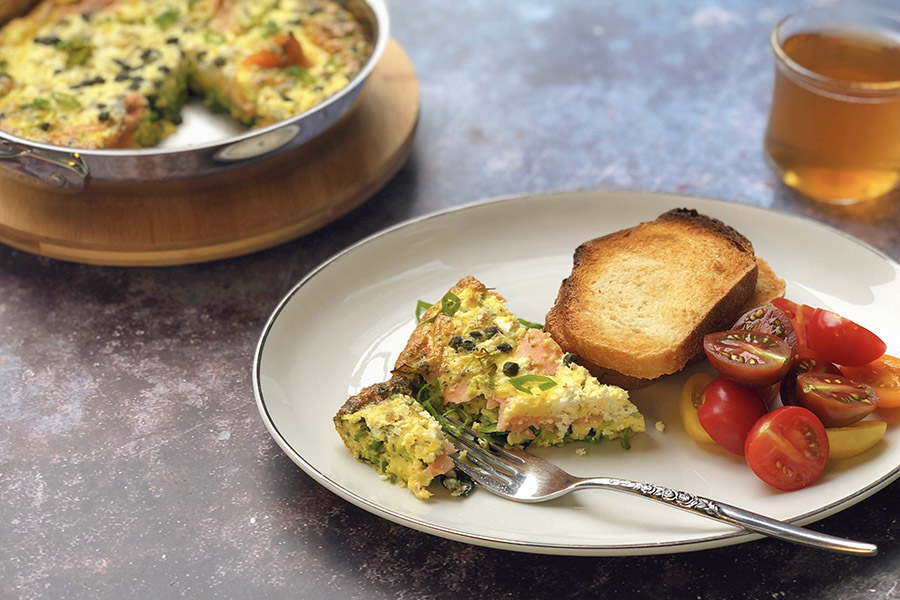 You'll feel like you're in the south of France with this one-pan breakfast. It is easy to make for whoever is waiting for breakfast in bed on a Sunday morning. Hint: Mother's Day is coming!  Frittatta is an open faced dish, similar to quiche without the crust. In ours we used capers, leeks, kale and with Pacific Cured Salmon. The eggs bind everything together with Herbes de Provence and bright spring flavors of dill, tarragon and chervil.   Frittatas are uncomplicated and customizable so create your own version with your favorite ingredients. I'll bet you have a frittata of ingredients in the fridge right now!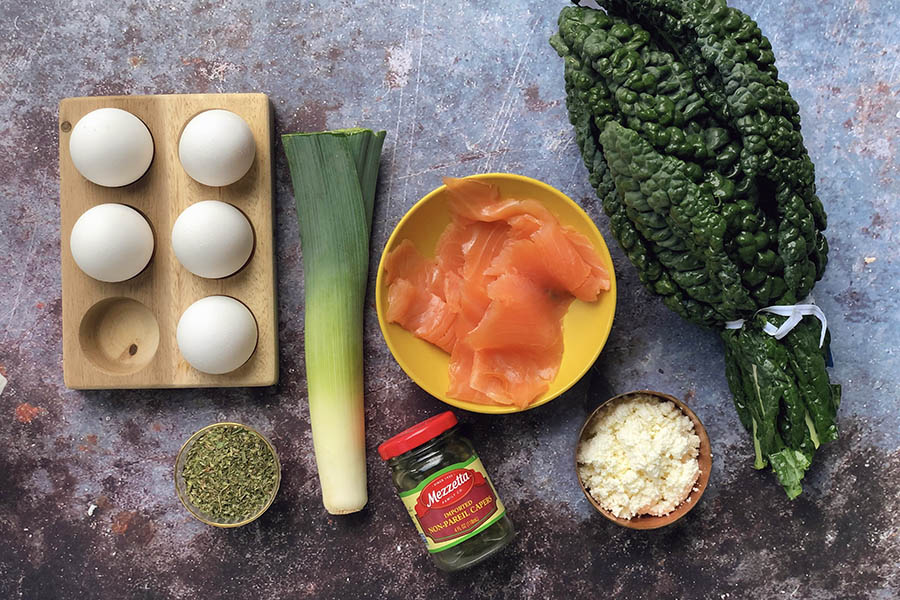 Ingredients
5 eggs
2 tablespoons heavy cream
1/2 teaspoon kosher salt
1 tablespoons olive oil or butter
1/2 cup leeks, sliced
1-1/2 cup kale, chopped
Pan spray
4 oz Pacific cured salmon, sliced
1/4 cup ricotta salata, crumbled
1 teaspoon Herbs de Provence
2 teaspoons capers
Instructions
Preheat oven to 425°F
In a medium bowl whisk together the eggs, heavy cream and salt.
In a nonstick 8-inch pan, add the oil and preheat the pan over medium heat.
Add both the leeks and kale and sauté until wilted for 1-2 minutes.
Pan spray a 2 quart oven proof dish and evenly lay in the salmon. Sprinkle in the cheese and Herbes de Provence. Pour in the egg mixture and evenly sprinkle the capers on top.
Add the dish to the oven and bake for 10-15 minutes or until the edges of the frittata start to pull from the pan and the center is no longer jiggly.
Once cooked, cut frittata into triangles and serve hot.
© 2023 World Spice Merchants https://www.worldspice.com