Roasted Cauliflower Soup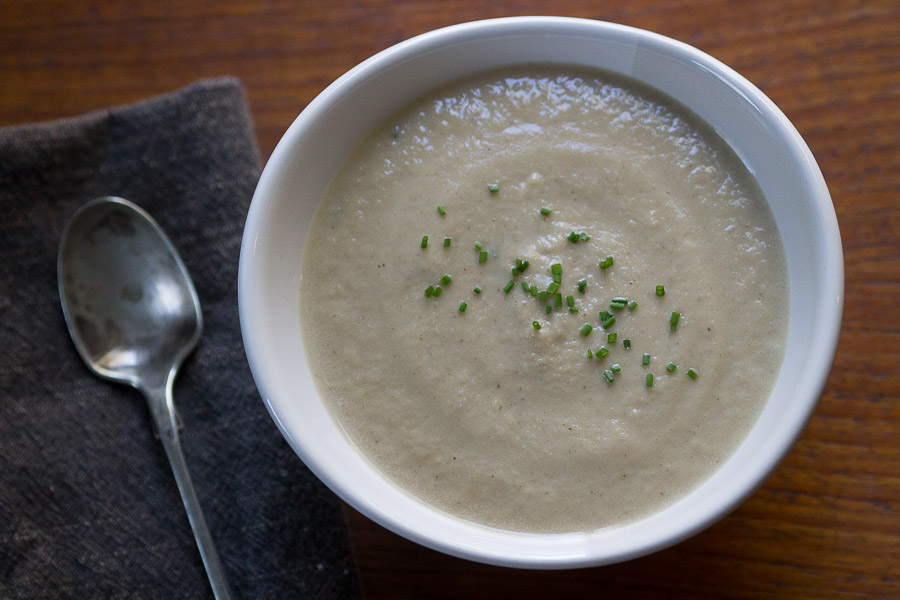 This fall roasted cauliflower soup will certainly grace our table more than once this season. It fills the need for belly-warming comfort without being too heavy, reminding us that summer is just barely over and will thankfully come again. The soup was on the table in under an hour, with little active time. It would make a perfect soup-shot to begin a Thanksgiving feast, and is easily adaptable to other seasonal vegetables and seasonings.
Ingredients
4 cups cauliflower florets
1 medium leek, sliced into 1/4" rounds
3 large cloves garlic
1 tablespoon olive oil
1/4 teaspoon salt
1 tablespoon butter
1 medium shallot, finely diced
1 1/2 cups vegetable broth
2 cups water
1 teaspoon Herbes de Provence, divided.
1/4 cup cream
salt & freshly ground pepper
Finely chopped chives, for garnish
Instructions
Preheat the oven to 425 degrees.
In a large bowl, combine the cauliflower, leeks, garlic, olive oil and salt. Toss to coat.
Transfer the vegetables to a rimmed sheet pan, then remove the garlic cloves and wrap them loosely in a small piece of foil. Place the foil packet back on the sheet pan and roast 20-25 minutes, until the cauliflower is nicely browned and can be easily pierced with a fork.
In a large Dutch oven, melt the butter over medium heat. Add the shallot and sauté until it is fragrant and translucent, about 5 minutes. Add the roasted vegetables, vegetable broth, water and 1/2 teaspoon Herbes de Provence. Increase the heat to high, bringing the soup to a boil, then lower the heat and simmer 5-10 minutes, allowing the flavors to combine.
Remove from heat and allow the soup to cool enough to safely handle. Transfer to a blender and puree on high.
Transfer the soup back to the Dutch oven over low heat. Stir in the cream and remaining 1/2 teaspoon Herbes de Provence. Heat to serving temperature.
Garnish with finely chopped chives.
© 2023 World Spice Merchants https://www.worldspice.com
It was a toss up whether to call this soup "roasted cauliflower" or "roasted garlic." The flavors are so balanced! I went with cauliflower for two reasons. First, you can make it without garlic but not without cauliflower. Second, the original recipe nod goes to Roasted Cauliflower Soup by Naturally Ella.