Herbes de Provence Lemon Chicken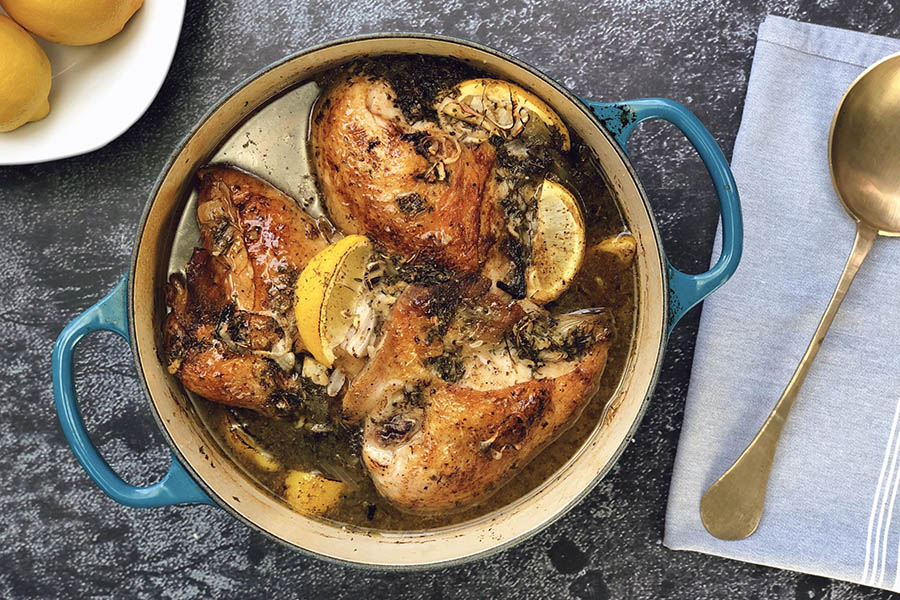 The most common question we get in the spice shop is "what's good on chicken" and this go-to Lemon Chicken with Herbes de Provence as always high on the list. Classic but never boring, the lemon-chicken combination is a perfect fit, and this dish is a one pan crowd pleaser. We opted for bone in skin on chicken breast for optimum juiciness and Herbes de Provence  for a classic French application. We added lavender for a touch of woodsy flowers that bring out the sweetness in the lemon and a buttery chardonnay to give the broth body. Pull out this recipe for any quick weeknight supper, everyone loves it!

Ingredients
3 bone-in chicken breasts, skin-on, about 1 lb each
2 teaspoons kosher salt
1/2 teaspoon Tellicherry black pepper, ground
2 tablespoons unsalted butter
1 cup shallots, julienned
2 tablespoons garlic, minced
1/2 cup dry white wine
1 cup chicken stock
2 tablespoons freshly squeezed lemon juice
1 tablespoon Herbes de Provence
1/2 teaspoon Lavender, ground
1 lemon, cut into 6 wedges
sel de mer, for garnish
Instructions
Preheat the oven to 375 degrees.
Pat the chicken breasts dry and liberally season with salt and pepper.
Warm the butter in a small dutch oven over medium-low heat, and add the chicken skin side down, browning for about 5-8 minutes on medium. Turn the chicken when the skin is golden and flip on the other side, cooking for about 6 minutes. Add the shallots and garlic, and cook for just 1 minute, making sure that the garlic does not brown. Add the white wine, chicken stock, lemon juice, Herbes de Provence and lavender. Netsle the lemon wedges around the chicken.
Bake for about 25 minutes, until the internal temperature of the chicken reaches 165 degrees and the skin is golden brown. Let the chicken rest for 5 minutes. Serve hot with the pan juices and garnish with sel de mer, if desired.
© 2023 World Spice Merchants https://www.worldspice.com