Creole Breakfast Corn Bread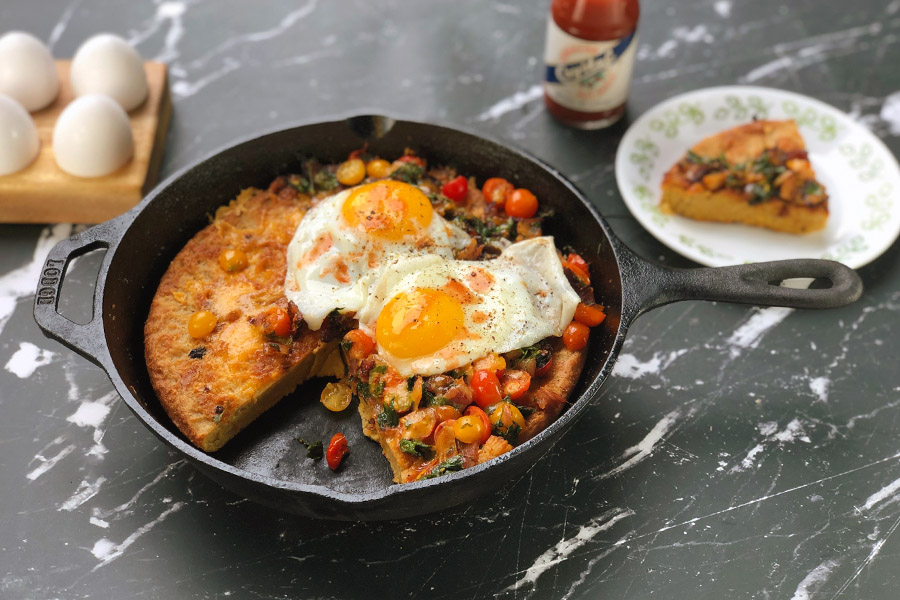 Sunday brunch just got a down-home makeover and it is delicious! Cajun and creole seasonings offer bold bites of flavor on top of this quick and easy cornbread. As with many good things, it begins with bacon and ends with runny eggs in a flavorful breakfast hash. Perfect for a laid back Sunday morning, this dish is not fussy. Cook up some crispy bacon and caramelized onions to start, bake the cornbread in the same pan, then complete the hash with bitter greens and cherry tomatoes for little bursts of flavor. The whole skillet gets jazzed up with our Creole Spice. and broiled to finish. Topped off with  runny eggs, the whole dish just comes together beautifully. Serve alongside a Voodoo Bloody Mary and  laissez les bon temps rouler!
Ingredients
For the Corn Bread
5 ounces thick cut bacon, diced
1/2 cup red onion, diced
1 cup unbleached all-purpose flour
1 cup stone-ground yellow cornmeal
1 tablespoon baking powder
1 teaspoon kosher salt
1/2 teaspoon Tellicherry peppercorns, ground
¼ teaspoon baking soda
1 1/2 cups buttermilk
1 egg
2 tablespoons honey
1/2 cup butter, melted
For the Hash
1 tablespoon bacon fat
1 teaspoon Creole Spice, ground
1/2 teaspoon kosher salt
1 cup collard or turnip greens, chopped
2 cups cherry tomatoes, cut in half
1/2 cup sharp cheddar cheese, shredded
4 fried eggs
Instructions
For the Corn Bread
Preheat the oven to 375 degrees.
Preheat a 10-inch cast iron skillet on medium heat. Add diced bacon and cook for 5 minutes, stirring occasionally. Once the bacon starts to brown, add the red onions and cook for 3 minutes until translucent.
Remove the skillet from heat and transfer the bacon and onion mixture, along with half of the rendered bacon fat, into a large bowl. Leave the remaining bacon fat in the skillet.
In a separate bowl, whisk together the flour, cornmeal, salt, baking powder, baking soda and black pepper.
In a smaller bowl, whisk together the buttermilk, egg, smoked honey and 1/2 cup melted butter.
Pour the wet ingredients over the dry ingredients and mix quickly, just until moistened. Do not over mix. Scrape the batter into the skillet and bake the cornbread until it's golden brown, about 20 minutes.
For the Hash
While the cornbread is baking add the creole spice, kosher salt, turnip greens, cherry tomatoes and cheddar cheese to the bowl with the cooked bacon and caramelized onions.
Toss to coat all ingredients with spice and fat.
Immediately after cornbread is done baking, sprinkle the hash over the cornbread and broil it on high for 2-3 minutes until the cheese is melted.
Cut cornbread into triangles and serve with a fried egg with a runny yolk on top.
© 2023 World Spice Merchants https://www.worldspice.com