Voodoo Bloody Mary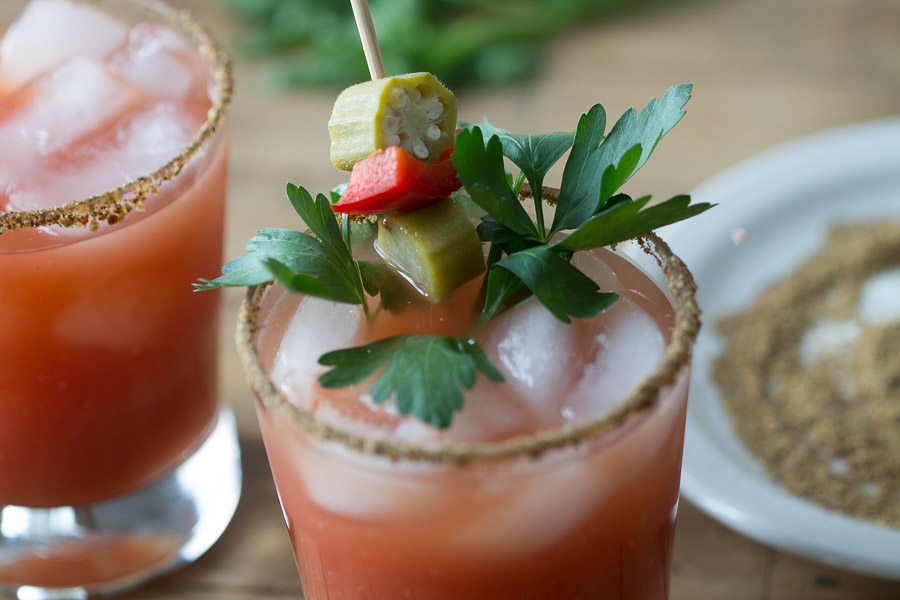 Make your next pitcher of Bloody Mary's with a little Voodoo….or a lot! We gave this favorite beverage a Gulf coast makeover complete with a pickled okra garnish for a recent Cajun & Creole flavor party. This Voodoo Bloody Mary is great right off the bat, but if you've got the time make the tomato juice mixture a day ahead, the flavors will settle in even better.
Ingredients
3 tablespoons Voodoo, divided
2 quarts tomato juice
1/4 cup pickled okra juice
juice of 1 lemon
juice of 1 lime
1 tablespoon horseradish
1 tablespoon Tabasco sauce
1 1/2 teaspoons Worcestershire sauce
12 ounces vodka
lemon wedges, for garnish
pickled okra, for garnish
red bell pepper, diced, for garnish
parsley, for garnish
Instructions
In a mortar & pestle, finely grind 1 1/2 tablespoons of Voodoo.
In a large pitcher, combine the finely ground Voodoo, tomato juice, pickled okra juice, lemon & lime juice, horseradish, Tabasco, and Worcestershire sauce and vodka. Stir well and refrigerate until ready to serve.
Put the remaining Voodoo in the mortar & pestle and crush to a medium grind for rimming the glasses. Transfer the medium grind Voodoo to a plate.
To serve, moisten the rim of each glass with lemon juice and dip into the plate of Voodoo to coat the rim. Carefully fill the glasses with ice. Fill to the rim Bloody Marys from the pitcher and garnish with flair.
© 2023 World Spice Merchants https://www.worldspice.com