Chicken Fried Chicken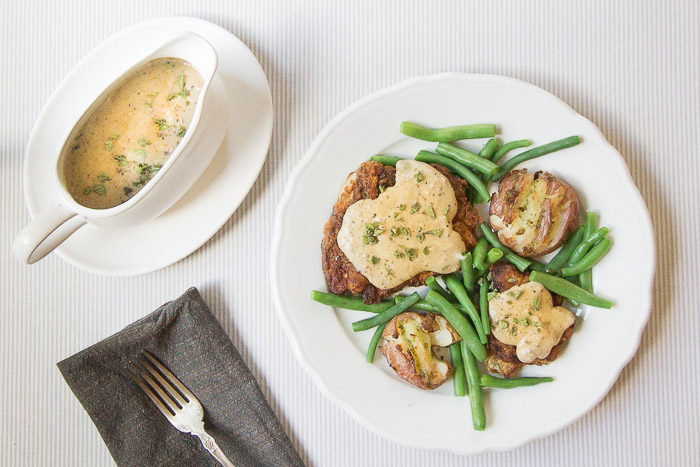 I'll to drive over an hour for chicken fried steak- it's a weakness- and this chicken fried chicken would be equally worth the trip. Fortunately, it's an easy home-made comfort food meal so you don't have to get in the car. The chicken breasts, pounded flat into even-cooking cutlets, are delicious and the gravy… OH, the gravy is sensationally seasoned with our Cascade Mushroom Mix and Voodoo. Serve it up with garlic mashed potatoes and a green vegetable for the perfect plate.
Ingredients
For the Chicken Fried Chicken
2 large or 4 small boneless skinless chicken breasts
1 tablespoon plus 1 teaspoon Poultry Rub, divided
1 teaspoon Appalachian Flake Salt
2 cups flour
1 cup milk
2 eggs
½ inch high heat cooking oil
For the Gravy
Instructions
For the Chicken Fried Chicken
On a large flat surface, pound the chicken breasts into even cutlets. I like to put each breast into a plastic produce bag to reduce splatter and pound it evenly with the back of a cast iron skillet. For larger breasts the cutlets can be cut in half. Sprinkle 1 teaspoon of Poultry Rub over both sides of the cutlets.
On a large plate, stir together 1 tablespoon Poultry Rub, Appalachian flake salt and flour.
In a medium bowl, beat together the eggs and milk.
Dredge each piece of chicken in the flour mixture, then dip into the egg mixture and then dredge in the flour mixture one last time. Allow the cutlets to rest 5-10 minutes.
Line a sheet pan with paper towels and position a rack on top to hold the chicken when it is done cooking, set aside.
In a large, heavy bottomed or cast iron skillet add ½" oil to the bottom and heat over medium-high heat. When the oil is hot cook the chicken about 4 minutes per side until golden brown and cooked through. Work in batches so as not to crowd the pan. As always- use caution when frying in hot oil.
Tent the cooked chicken loosely with foil while you prepare the gravy.
For the Gravy
Remove all but ¼ cup of oil and pan drippings from the skillet, heat to medium-low and sprinkle in the Cascade Mushroom Mix, Voodoo and black pepper. Whisk gently to combine and add the flour. Continue whisking until the pasty mixture is thoroughly combined, toasted and bubbling, 1-2 minutes.
Slowly add the milk a little at a time, whisking to combine between each addition. When all the milk is added and the gravy thickened, cook about 1 minute more.
Serve a generous measure of gravy atop each chicken cutlet.
© 2023 World Spice Merchants https://www.worldspice.com
Need more breakfast inspiration? Check out our recipe for Dukkah Scones. Inspired by: Mary Foreman at Deep South Dish