Blackberry-Poultry Rub Jam Grilled Cheese
When blackberries are in season they pop up everywhere. This year, in lieu of the usual pies and pastries, we decided to make something savory with these juicy berries. The result? Blackberry jam spruced up with our Poultry Rub seasoning. Don't let the name fool you, because this blend has a perfect medley of herbs to complement the star ingredient. Rosemary, thyme and sage work together to balance the sweet and  of the blackberries while adding a subtle earthiness.
We tested out our creation as a spread for grilled cheese, and it passed with flying colors. It's sweet, salty, crispy and fruity. Muenster and Swiss cheese combine for a perfect blend of melty nuttiness to pair with the jam.  This sandwich is great for an indulgent lunch, and a miniature version would make a decadent appetizer around the holidays.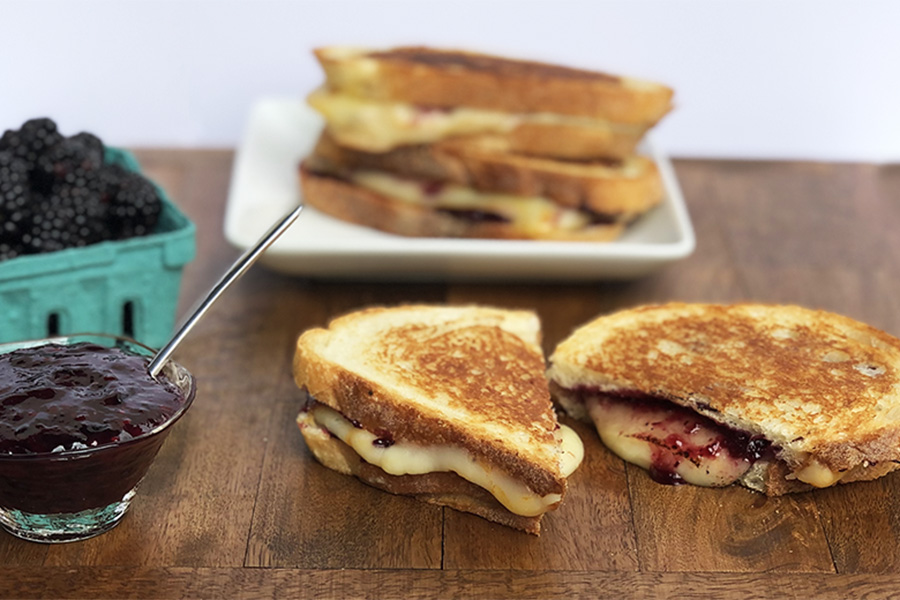 Ingredients
Blackberry Jam
1-1/2 cups blackberries, roughly chopped
2 teaspoons Poultry Rub, ground
1 teaspoon apple cider vinegar
1/4 cup sugar
1 cup water
1 teaspoon cornstarch + 3 tablespoons water
Assembly
2 pieces sliced country white bread
2 teaspoons mayonnaise
2 tablespoons Poultry Rub blackberry jam
2 slices Swiss cheese
2 slices muenster cheese
Pinch of salt
Instructions
In a small sauce pot add the blackberries, spices, vinegar, sugar and water.
Simmer on medium low for 10 minutes and stir frequently.
In a small bowl mix the cornstarch and 3 tablespoons of water to create a slurry.
Add mixture to jam mixture and stir on low heat. Let it simmer for 2-3 minutes until jam is thickened. Refrigerate jam in air tight container.
Assembly
Spread one teaspoon of mayonnaise on one side of each slice of bread. With the mayo side down spread one tablespoon of jam on each slice of bread. Layer the cheeses on one slice of the bread and the other slice on top to create a sandwich.
On a skillet over medium heat add your sandwich. Let it brown for 2 minutes and flip with a spatula. Lower heat if the cheese needs more time to melt.
Sprinkle salt on grilled cheese and cut on a bias.
Serve warm.
Notes
If you've never put mayonnaise instead of butter to toast your grilled cheese, just do it. 
Trust me 🙂
This sandwich would also be delicious with sliced turkey or ham. 
© 2021 World Spice Merchants https://www.worldspice.com