Aji Mirasol Salsa
Aji Mirasol Chiles, the dried form of the Aji Amarillo, are a unique chile pepper absent from the arsenal of many chefs. A staple of Peruvian cuisine, their uniquely fruity flavor make Aji Mirasols a versatile pepper; great in a wide variety of dishes, but especially salsa. The combination of fresh citrus, cilantro and the slightly spicy Aji Mirasol chiles just begs to be eaten with grilled halibut, shrimp, chicken, pork or goat. Try some at your next barbecue and wow your guests with one-of-a-kind South American flair!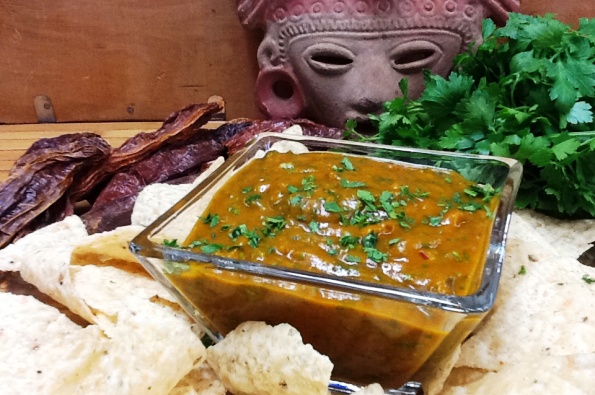 Ingredients
3 oz. Aji Mirasol chiles
1 teaspoon Black Lava Flake Salt, plus additional to taste
3 tablespoons olive oil
4 tablespoons red onion, finely chopped
4 tablespoons fresh lime juice
2 teaspoons fresh cilantro, chopped
2 teaspoons fresh mint, chopped
2 teaspoons fresh parsley, chopped
Instructions
Snip stems from chiles, then cut lengthwise, and remove ribs and seeds. Cut chiles into 1" pieces, and place in heat-proof bowl. Pour boiling water over chiles until just covered, and allow to sit 30 minutes.
Strain chiles, reserving liquid, and place in blender with 3/4 cup of the liquid. Add 1 tsp. salt, and blend until smooth. Strain the paste through a sieve, pushing through patiently. (The flavor and texture will be worth the effort!) Discard pulp remaining in sieve.
Whisk in the onion and lime, and salt to taste. Add the chopped fresh cilantro, mint and parsely, and stir. Allow to sit at least 15 minutes for flavors to meld.
Notes
You can use this salsa as a dip with tortilla or cassava chips, but it's even better served with grilled meat or seafood.

© 2023 World Spice Merchants https://www.worldspice.com