Pumpkin Kale Enchiladas
Last October, the shop was bedecked with lovely heirloom pumpkins. Once they had seen the end of their lives as decorations, we roasted them and added them to everything — and I mean everything! This recipe was conceived to please the vegetarian we had on staff at the time, as well as all of the ardent carnivores we always have around. It's the best of our pumpkin experimentation and was the first dish to disappear at our most recent tasting.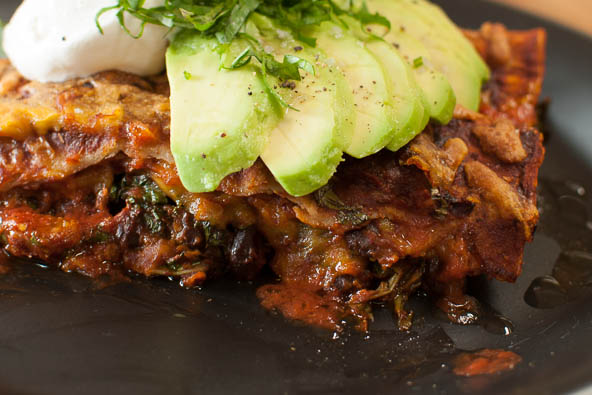 Cooking with whole chile pods can be intimidating if you've never done it, but it isn't difficult and the flavors are unparalleled. It should be mentioned that "chile" is not synonymous with heat. In this sauce, darkly sweet Anchos complement the roasted pumpkin, while Pasilla Negro and Mulato provide an earthy base to support the sharpness of the kale. Just a touch of smoke is added with the Pasilla Oaxaca, producing a rich and complex concoction that is remarkably mild. If you like your Latin fare a little spicier, you can customize the heat level with a pinch or two of Chipotle Flakes.
Ingredients
Enchilada Sauce:
2 cloves garlic
1 bottle of beer (or can substitute 3/4 cup of pinot grigio)
1 12-14 oz. can tomato sauce
1 tablespoon vegetable bouillon
Water
Roasted Pumpkin
For the Filling:
1 bunch kale (we like curly or dinosaur kale)
1 can of drained, rinsed, whole black beans
1 tablespoon whole toasted cumin seeds
To Assemble:
12-16 soft corn tortillas
3 cups shredded cheese, Monterey Jack or other
Instructions
Sauce:
Remove stems from chiles and add to a 2 quart saucepan with beer, garlic and bouillon. Cover with water and allow to simmer for about one hour, then allow to cool.
Remove cooled chiles and garlic from poaching liquid and puree in batches with the tomato sauce, adding back enough of the poaching liquid to form a thin sauce (about the consistency of teriyaki sauce). You should end up with about seven cups of sauce.
Pumpkin:
Preheat oven to 450 degrees. Put an empty sheet pan in the oven to heat up. Toss the cubed raw pumpkin with the spices and enough neutral oil (canola, corn, safflower, peanut) to coat. Pour spiced pumpkin on to the hot sheet pan in an even, single layer. (Be careful to avoid over-crowding or you won't get good caramelization.) Roast until tender but still 'al dente.'
Filling:
Wash, stem and chop the kale, then combine with the cooled, roasted pumpkin, beans, and cumin seeds.
Assembly:
Heat up enchilada sauce until it simmers, and place enough sauce in a 9x13 casserole dish to thinly coat the bottom.
Dip tortillas in to heated sauce, coating both sides.
Add a bit of cheese, and a generous handful of the pumpkin/kale/bean mix to the sauced tortilla, and roll it up. Plan to use about 2/3 of the cheese inside the enchiladas, and reserving 1/3 for the top.
Place rolled enchilada in the prepared pan, and repeat until filled. For best results, pack them in tightly. Pour remaining sauce over the top of the rolled enchiladas, and top with remaining cheese.
Bake at 325 degrees until bubbly and cheese has browned on top, about forty minutes.
Notes
The chiles can be cooked the night before and refrigerated overnight for maximum efficiency.

© 2023 World Spice Merchants https://www.worldspice.com