Kung Pao Chicken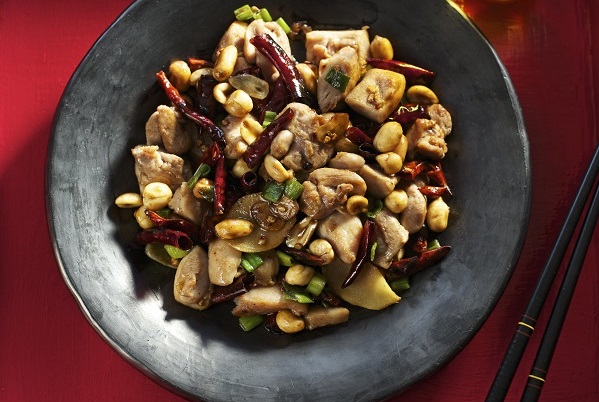 Many Americans would be surprised to learn that their favorite Chinese dishes are either not Chinese at all, or greatly altered from the original. Our March 2017 Cookbook Club selection, Phoenix Claws and Jade Trees by Kian Lam Kho helps cut through the confusion with dozens of authentic recipes of Chinese classics such as this traditional version of Kung Pao Chicken. It may not be the Kung Pao Chicken you are used to, but it will quickly become a new favorite.
From the Author: "Kung Pao Chicken is one of those takeout dishes that is usually covered by a landslide of sickeningly sweet brown sauce. It would not be recognized by anyone arriving in the United States from China. Kung Pao Chicken is in fact a dry stir-fry dish. The spicy sauce should only lightly coat the chicken pieces, giving them enough flavor to delight the palate and provide subtle contrast to the crunchy peanuts."
Ingredients
Chicken Marinade
1 tablespoon vegetable oil
1/2 teaspoon tapioca starch (or tapioca flour)
1/4 teaspoon salt
1/4 teaspoon ground white pepper
1 pound boneless, skinless chicken thighs, cut into 3/4-inch cubes
Sauce
3 tablespoons Shaoxing cooking wine
1 tablespoon soy sauce
1 teaspoon toasted sesame oil
1 teaspoon tapioca starch (or tapioca flour)
1 teaspoon sugar
1/2 teaspoon ground Sichuan peppercorn
1 cup dried whole red chiles
1/2 cup vegetable oil
4 very thin slices fresh ginger
2 garlic cloves, thinly sliced
1/2 cup unsalted dry-roasted peanuts
2 scallions, cut into 1/4-inch pieces
Instructions
Combine all the marinade ingredients in a bowl and mix well. Add the chicken and toss thoroughly. Set aside for about 20 minutes.
Combine all the ingredients for the sauce in another bowl.
Cut the chiles with kitchen shears into 1-inch long pieces and remove the seeds.
Heat the vegetable oil in a wok over high heat until the surface begins to shimmer, about 350 degrees F.
Add the chicken to the wok and quickly stir-fry for about 1 minute or until the chicken is about three-quarters done. Remove the chicken from the wok and place it in a skimmer set over a bowl to drain off the excess oil. Pour the oil out of t he wok, reserving 2 tablespoons, and quickly rinse the bottom of the wok with water, scraping off any residue that's stuck there.
Dry the wok and return it to the heat. Return the reserved 2 tablespoons vegetable oil to the wok. Add the ginger and garlic and stir-fry until fragrant, about 30 seconds. Add the dried chiles and stir-fry for another minute. (The chiles will create a stinging steam as they fry, so make sure your kitchen is well ventilated.)
Add the chicken to the wok and stir-fry for about 3 minutes, until cooked through. be sure to keep stirring so the chicken will be cooked evenly. Pour the sauce into the wok. Continue cooking until the sauce coats the chicken, about 30 seconds. Add the peanuts and scallions and stir-fry for another 30 seconds.
© 2023 World Spice Merchants https://www.worldspice.com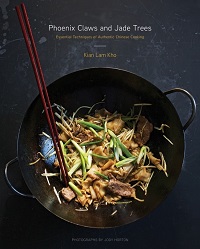 "Recipes and images reprinted from Phoenix Claws and Jade Trees: Essential Techniques of Authentic Chinese Cooking. Copyright © 2015 by Kian Lam Kho. Photographs copyright © 2015 by Jody Horton. Published by Clarkson Potter/Publishers, an imprint of Penguin Random House LLC."
Phoenix Claws and Jade Trees is the March 2017 selection for the World Spice Cookbook Club. Phoenix Claws and Jade Trees is currently available for purchase at our retail store and online.