General Tso's Chicken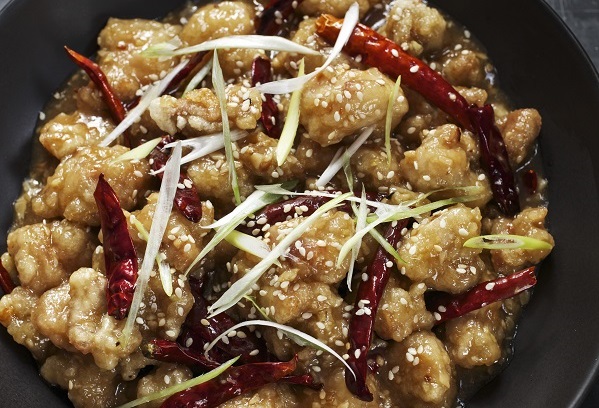 General Tso's Chicken is very popular in the United States, but is usually pretty sweet. This authentic version from our March 2017 Cookbook Club selection Phoenix Claws & Jade Trees by Kian Lam Kho is full of flavor and will make you want seconds.
From the Author: "This version of General Tso's Chicken resembles the original created by Peng Chang-Kuei in Taiwan. Strictly speaking it is not a traditional Hunan dish, but the technique and flavors are inspired by the chef's Hunan background. It is not as sweet as the standard American version, and is laced with lots of garlic."
Ingredients
Marinade
2 tablespoons Shaoxing cooking wine
1 large egg white
1/2 teaspoon salt
1/4 teaspoon ground white pepper
1 pound boneless, skinless chicken thighs, cut into 3/4-inch cubes
Sauce
3/4 cup chicken stock or water
1/4 cup Shaoxing cooking wine
2 tablespoons Chinkiang black vinegar
1 tablespoon soy sauce
1 teaspoon hoisin sauce
2 tablespoons tapioca starch (or tapioca flour)
1 tablespoon sugar
4 cups vegetable oil
3/4 cup tapioca starch (or tapioca flour)
3 tablespoons minced garlic
1 tablespoon minced fresh ginger
1/4 cup dried chiles
1 tablespoon toasted sesame oil
1 teaspoon sesame seeds
2 tablespoons thinly sliced scallion greens
Instructions
Combine all the marinade ingredients in a bowl and mix well. Add the chicken cubes and stir well. Let marinate for 20 minutes.
Combine all the sauce ingredients in another bowl and mix well.
Heat the vegetable oil in a wok over high heat until it is shimmering, about 375 degrees F. Put the tapioca starch in a large bowl and roll the marinated chicken cubes in the starch. Be sure to coat each piece generously. Fry the chicken cubes in the hot oil in two batches until they are golden brown, about 4 minutes. Drain the chicken cubes and set them aside on a double layer of paper towels.
Remove all but 2 tablespoons of the vegetable oil from the wok. Add the garlic and ginger to the wok and stir-fry for about 30 seconds. Add the chiles and stir-fry for another 30 seconds. Stir the sauce mixture so the starch is blended completely and pour it into the wok. Cook until the sauce thickens, about 1 minute. Return the chicken to the wok and quickly toss the pieces in the sauce. Add the sesame oil and stir it into the chicken. Garnish with the toasted sesame seeds and sliced scallion greens.
© 2023 World Spice Merchants https://www.worldspice.com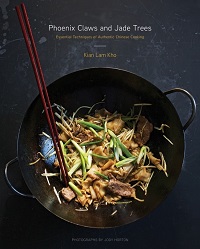 Recipes and images reprinted from Phoenix Claws and Jade Trees: Essential Techniques of Authentic Chinese Cooking. Copyright © 2015 by Kian Lam Kho. Photographs copyright © 2015 by Jody Horton. Published by Clarkson Potter/Publishers, an imprint of Penguin Random House LLC.
Phoenix Claws and Jade Trees is the March 2017 selection for the World Spice Cookbook Club. Phoenix Claws and Jade Trees is currently available for purchase at our retail store and online.