The Day After: Turkey in Mole Olé Sauce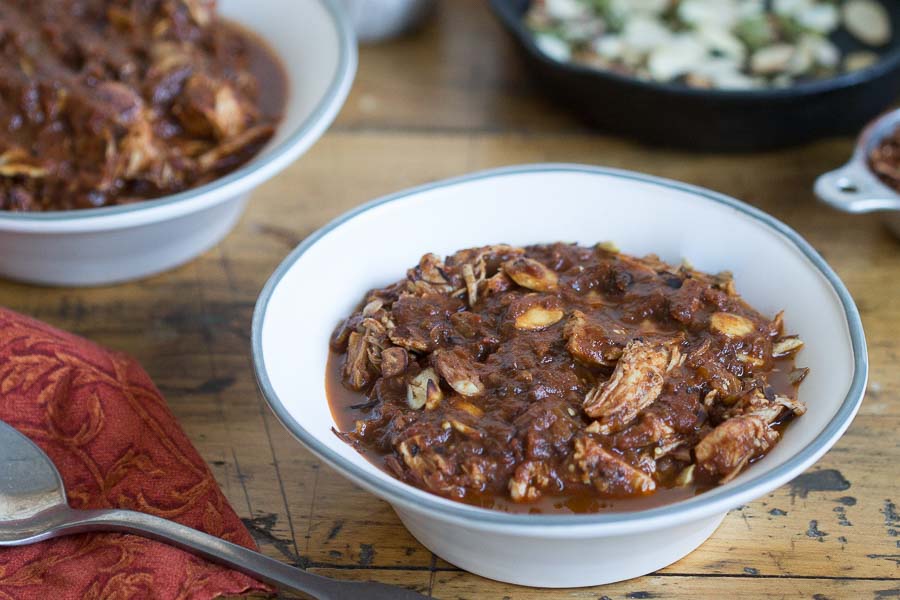 November 23rd. The morning after. As the food coma fades, we find ourselves fridge-gazing at the thought of any more mashed potatoes. The traditional flavors of the season have begun to seem dull and we ask ourselves a question mankind has pondered since the dawn of time: How can we jazz up the leftovers?
Enter the mole! This hearty sauce using our Mole Olé blend satisfies the craving for an exotic departure from standard fall flavors and transforms your leftovers into a delicious new dish too easy to believe. Make it a day or two before the marathon holiday cooking begins so that it's all ready to combine with leftover shredded turkey on Thanksgiving Friday. Use it to stuff enchiladas, wet burritos smothered in more of the glorious sauce, or as a filling for tacos.
Ingredients
2 tablespoons avocado oil
1/2 cup whole almonds
1/2 cup raisins or craisins
1 small onion, roughly chopped
2 cloves garlic, minced
1 plantain, diced small (on the green side)
1 28 oz. can fire roasted tomatoes, drained
1 lb fresh tomatillos, quartered
½ cup ground Mole Ole!
2, one-inch slices challah or other egg bread
3-4 cups chicken stock
1 tablespoon chipotle chile flakes
2 pounds cooked turkey meat, shredded
Instructions
Heat two tablespoons oil until hot but not smoking. Add almonds and toast until golden, about four minutes. Using a slotted spoon, transfer them to paper towel–lined plate, reserving the oil.
Add raisins to oil in skillet and sauté until plump, about two minutes. Transfer to paper towel–lined plate, again reserving oil.
Add onion, garlic and plantain to skillet and sauté until softened, about five minutes. Add tomatoes and tomatillos and simmer over medium-high heat until reduced by half, about ten minutes.
Transfer almonds and raisins to the tomato mixture along with the Mole Ole! spice blend and the challah.
Working in batches, add mixture to blender and purée until smooth, adding the stock to thin to the desired consistency.
Return the blended sauce to medium heat, and season to taste with salt and chipotle flakes.
Simmer over low heat for ten minutes to develop flavors. Add the cooked, shredded turkey meat, and toss to coat in the sauce. Use to fill enchiladas, tacos, burritos, or to top nachos.
© 2022 World Spice Merchants https://www.worldspice.com