"Portuguese" Barbecued Clams
July 7, 2017
/
Serves 2 as a main, 4 in a multi-dish meal
/
/
Print
/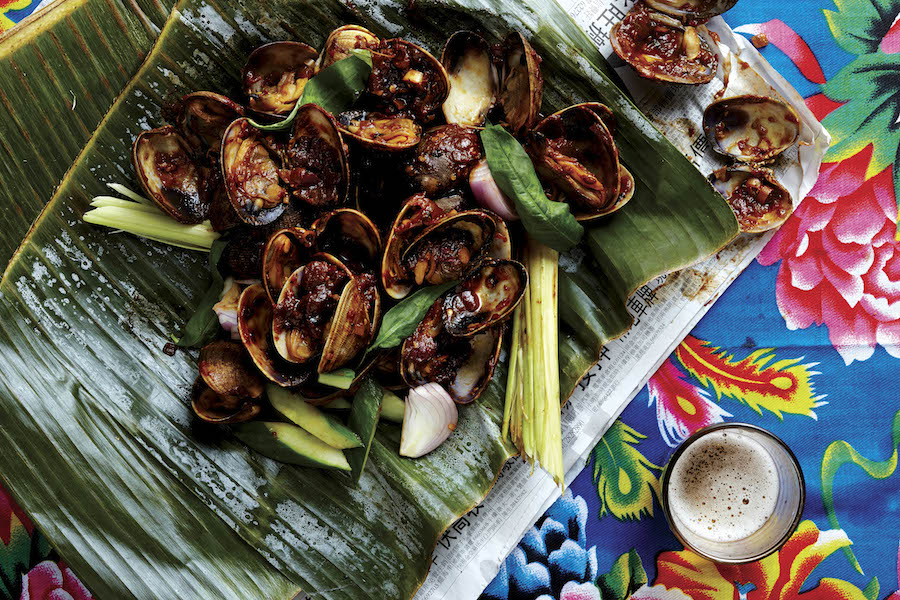 We love this recipe from The Adventures of Fat Rice, the July 2017 Cookbook Club Selection of the Month. With a sauce that can be prepared weeks ahead of time and stored until needed, this clam dish requires little more time than that necessary to obtain and clean the clams. Perfect for easy summer time dinners!
From the Author: "This is our version of a plate of beautiful clams we found at the night market on Jonker Street in Malacca. They're simply steamed with a fiery, garlicky, smoky, slightly sour sambal that finds its way inside to coat each briny, plump clam. Crisp, fresh cucumbers provide a refreshing contrast to the heat. Served steaming on banana leaves, the dish has a beautiful fragrance that transports us right back to Malacca. Serve alongside Coconut Rice (page 75) or Papo Seco (page 264), with beer or a nice clean white Portuguese wine."
Ingredients
3 tablespoons Assam Sambal (recipe follows)
2 pounds Manila or littleneck clams, purged
1/2 English cucumber, seeds removed and cut into bite-size chunks
Small handful of laksa leaves (also known as rau ram or Vietnamese coriander)
For the Assam Sambal:
1/2 cup dried red chillies
1 cup water
1/4 cup peanut oil
1 tablespoon Balichão (page 260)
1 large onion, minced
6 cloves garlic, minced
1 tablespoon tomato paste2 tablespoons sweet soy sauce
1/2 cup Tamarind Extract (page 285)
2 ounces palm sugar (see page 296), grated
2 tablespoons Filipino cane vinegar
1 teaspoon salt
Instructions
For the clams:
Combine the Assam Sambal and clams in a covered wok or heavy pot with a lid and bring to a boil over high heat.
Steam until all the clams are just opened.
Discard any clams that don't open.
Transfer the clams to a serving bowl and reduce the sauce until thick and chunky, 2 to 3 minutes; pour over the clams.
Garnish with the cucumber andlaksa leaves and serve.
For the Assam Sambal:
Preheat the oven to 350°F. Spread the dried red chillies on a baking pan and roast until darkly toasted, about 5 minutes. Transfer to a small bowl.
Bring the water to a boil in a wok and pour just enough water over the chillies to cover them. Soak for 30 minutes, then puree in a blender or food processor using all the soaking liquid. Set aside.
Heat the oil in a heavy pot over medium heat. Add the Balichão and break up using a wooden spoon, cooking until the Balichão turns deep purple in color, about 1 minute.
Add the onions and stir, cooking until they begin to caramelize, about 3 minutes.
Add the garlic and cook until fragrant, about 30 seconds.
Add the reserved chilli puree and tomato paste and slowly work into the oil, letting the pastes bloom and the oil separate out, essentially frying the pastes, about 5 minutes.
Add the soy sauce, tamarind, and palm sugar and stir, cooking until the sugar is dissolved, about 60 seconds.
Add the cane vinegar and salt, stir to combine, and simmer until the sauce is thick. Remove from the heat and cool. Store refrigerated for up to 1 month if not using immediately.
© 2023 World Spice Merchants https://www.worldspice.com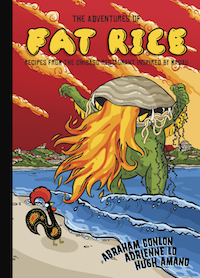 Reprinted with permission from The Adventures of Fat Rice by Abraham Conlon, Adrienne Lo, and Hugh Amano, copyright © 2016. Photography by Dan Goldberg. Published by Ten Speed Press, an imprint of Random House LLC.
The Adventures of Fat Rice is the August 2017 selection for the World Spice Cookbook Club. The Adventures of Fat Rice is currently available for purchase at amazon.com.