Duck Confit Mole Tacos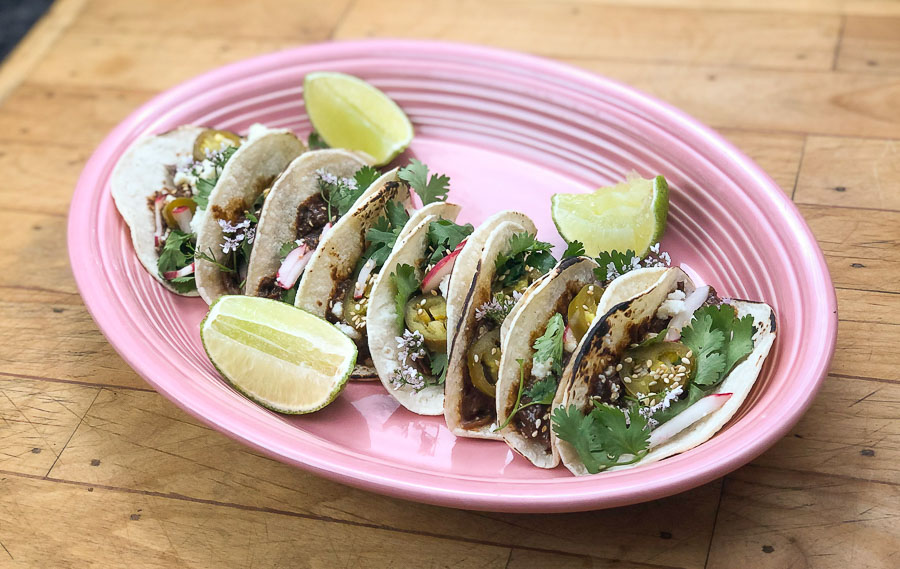 Duck Confit Mole Tacos? Yes, really!! This dish brings together two epic indulgences- duck confit and mole, and the result is a decadent taco that is simply over the top. Both dishes are pretty labor intensive so we figured why not? Go big or get out of the kitchen…this recipe is project cooking at it's funnest.
First we cured duck legs in cumin, coriander, and orange to compliment the richness of the mole, and the meat ultimately came out juicy, tender, and caramelized to perfection. Confit is similar to carnitas in that the meat is immersed and cooked in lard, a great companion for mole and great in a taco. The duck legs need to cure in the refrigerator for two days before making the confit so it's not a last minute or even 30 minute meal, but the result is worth the wait.
Then onward to the mole. Mole by itself is a labor of love, but our Mole Olé spice gives you a leg up there with pre-blended chilies, chocolate, sesame and more. The sauce has grilled vegetables and more chocolate added in too, for layers of blended flavor to blanket the meat.
For the finish, we rounded up all our favorite taco toppings and enjoyed the feast. Check out our video for an overview of this fun and fantastic decadent taco.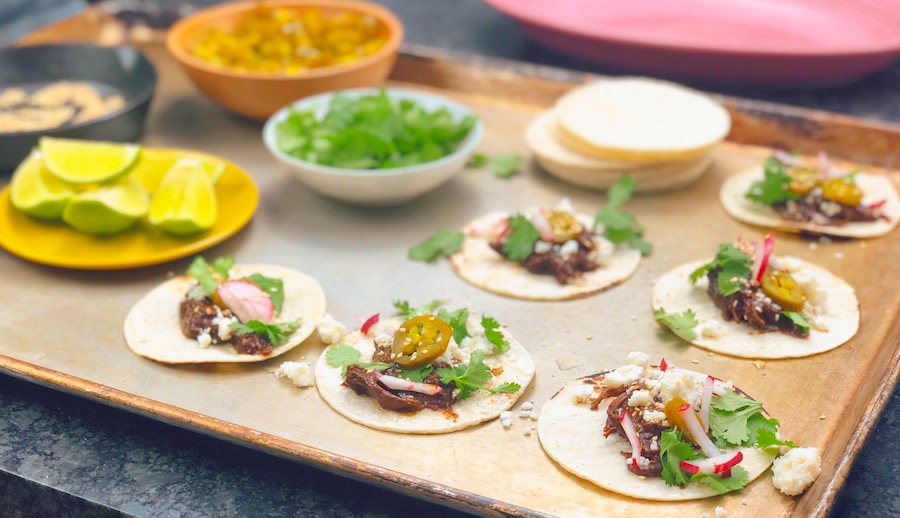 Ingredients
Duck Curing Mixture
For Confit
3lb bone-in duck legs
4 lb of duck fat or lard
Mole
2 tablespoons duck fat
1 cup grilled yellow onion, roughly chopped
1 cup roasted Roma tomatoes
2 roasted Poblano peppers, stemmed and deseeded
2 roasted Anaheim chilies, stemmed and deseeded
4 cloves of garlic
1/4 cup toasted raisins
1/2 cup Mole Ole, ground
1/4 cup toasted pepitas (pumpkin seeds)
6 cups duck or chicken stock
1 tablespoon creamy peanut butter
1 tablespoon apple cider vinegar
1 grilled corn tortilla
3 tablespoons molasses
1 cup dark chocolate chips
Salt to taste
Recommended Garnish
Corn tortillas
Limes
Queso fresco
Toasted white sesame seeds
Cilantro
Radish, thinly sliced
Instructions
Duck Legs
In a large bowl, add all of the duck curing mixture ingredients. Stir mixture until well mixed, then aggressively rub the mixture on the duck legs. Place the duck legs on a rack on a sheet tray, skin side up. As the legs cure, they will drip off excess liquid. Cover duck legs with plastic wrap and refrigerate for 2 days.
After two days rinse off the duck legs and pat dry. Preheat the oven to 300 degrees. In a heavy bottom pot or Dutch oven, place duck legs skin side up and cover in duck fat or lard until submerged. Cover with parchment and foil. Bake for 2 hours at 300 degrees. For the last 15 minutes, turn up the oven to 375 degrees and cook until the skin is lightly golden.
Remove the duck legs from oven and let cool before picking off the meat. Shred the meat and set aside to make mole.
Mole
In a heavy bottom pot on medium heat, add two tablespoons of duck fat. Then add the onion and let it sweat. You want the onion to caramelize and sweeten. Next add the roasted tomatoes and peppers. Sauté until the tomatoes have broken down.
Next add the garlic and stir until fragrant. When that's ready, add the toasted raisins, Mole Ole seasoning, pepitas, and chicken stock. Give it a stir, adding the peanut butter, apple cider vinegar, grilled tortilla, and molasses. Once the mixture is at a simmer, stir in the dark chocolate. Bring down to temperature to low. You want to avoid any scorching. Let the sauce simmer for 5 minutes. Due to the amount of sauce, you may need to puree in batches. Blend sauce on high in a blender until velvety smooth. Return sauce to pot and add the shredded duck confit. Let the sauce simmer with the meat on low and covered for 20 minutes. Taste the sauce and add salt as needed. Duck confit is cured and is naturally salty like bacon. The salt from the meat will infuse the sauce as it cooks. Season to taste, if needed.
The mole can be stored in a sealed container in the fridge up to a 5 days or up to 6 months in the freezer.
Assembly
Warm up corn tortillas and add a couple tablespoons of the duck confit mole mixture. Sprinkle on your favorite taco garnishes. Everyone can enjoy their taco as they wish.
Notes
Strain and keep your leftover confit fat and use for future cooking. Its flavor will be delicious.
Mole is about char and adding the nutty roasted flavor to all of the ingredients before creating the sauce. Don't be afraid of a few burnt pieces of tomato skin or peppers. You can achieve this at home in a dry skillet on your stove top using high heat, but it is easier and quicker if done directly on the grill. Don't worry about peeling off the skin — IT'S FLAVOR! 🙂  For toasting the raisins, add them to a dry skillet on high heat and toss them around for 2 minutes until they puff up and smell like caramel.
© 2023 World Spice Merchants https://www.worldspice.com