Garam Masala Meatballs with Mango Chutney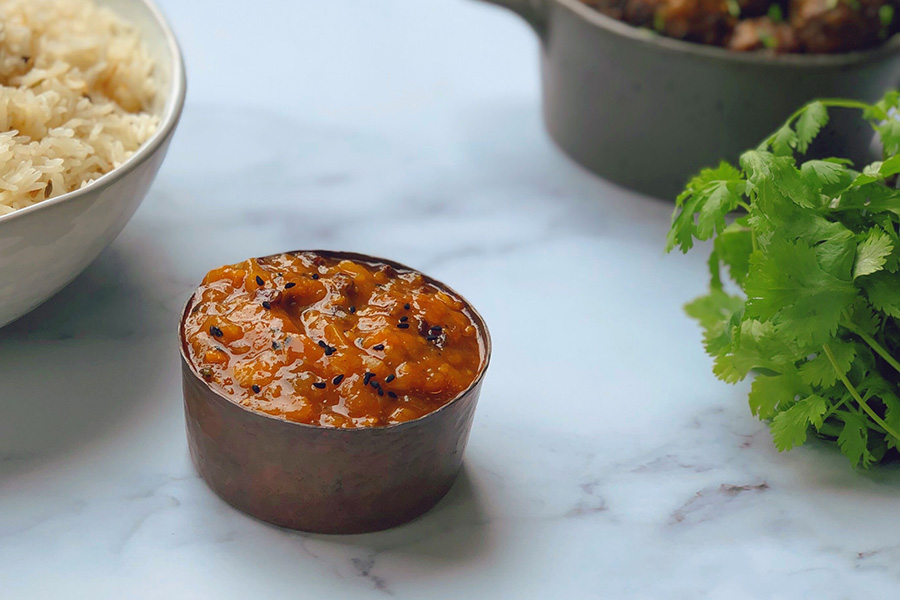 These meatballs are sweet, spicy, fruity and tangy.  We seasoned our meatballs with an all purpose blend, Indian Garam Masala. For the chutney, we used some over-ripened mangoes and barberries, although dried tart cherries would be delicious, too. Making it the perfect sauce adding warmth and bite from nigella seeds and cayenne. Chutney has a lot of uses and is normally used to add sweet and sour tang to Indian dishes.  Next we strewed the meatballs in the chutney. After 45 minutes of simmering these meatballs melt in your mouth! Add a toothpick to them for an easy appetizer or serve over basmati rice.
Ingredients
Chutney
Meatballs
1 pound 80% lean ground beef
1 egg
2 cloves garlic, minced
1/2 cup yellow onion, small diced
1 tablespoon ginger, minced
1/2 cup chopped cilantro
2 teaspoons kosher salt
1-1/2 tablespoons Indian Garam Masala
1/2 teaspoon India red chile flakes
1/3 cup panko bread crumbs
Assembly
1 tablespoon all purpose flour
2 1/2 cups beef stock
1 cup of Mango Chutney
Salt to taste
Garnish
Instructions
Chutney
In a hot dry skillet toast your spices until fragrant for one minute and set aside.
In a medium saucepan, add the vinegar, sugar, ginger, garlic and shallot. Stir until the sugar has dissolved, then add the spices and mangoes.
Simmer for 20 minutes on lowest setting and using a potato masher squish the chutney until slightly chunky consistency. Make sure to stir constantly so the bottom doesn't burn. Simmer for another 15 minutes. Add water to chutney, if necessary. Add the dried fruit to chutney, only cooking for about a minute, so as to preserve the chutney's yellow color.
Meatballs
Preheat the oven to 425 degrees.
In a hot skillet add the spices and toast the Indian Garam Masala for about 15 seconds or until fragrant and them grind the spices in an electric spice grinder for easy results. Add the ground toasted spices to a medium sized bowl along with the rest of the meatball ingredients.
Mix the meatball mixture until combined.
Using a small ice cream scoop, form meatballs into a round uniform shape.
In a large wide skillet add the meatballs, about 1/4 inch apart and bake for 20 minutes.
Remove meatballs from oven and add the 1 tablespoon of flour to the pan, mixing with a spoon into a paste. The fat drippings from the meatballs will soak up the flour and make a quick roux. This mixture will thicken the sauce and make it come together. Add the beef stock and chutney and bring to a simmer.
Cover with a lid and simmer for 45 minutes until the gravy has thickened and meatballs are tender.
Serve meatballs over fragrant basmati rice or as an appetizer with a toothpick.
Garnish with freshly chopped cilantro.
Notes
About 1 cup of Mango Chutney should remain from the recipe. Jar it up and store in the fridge up to a month. Use it in sandwiches, meat pies and alongside charcuterie. 
© 2023 World Spice Merchants https://www.worldspice.com