Rabbit in a Clay Pot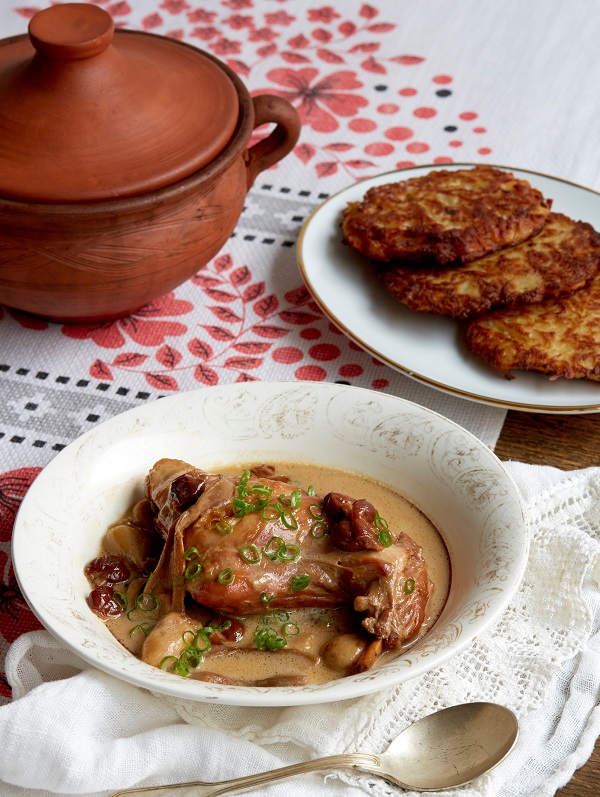 Our October Cookbook Club selection is Kachka: A Return to Russian Cooking by Portland chef Bonnie Frumkin Morales. Her acclaimed Portland restaurant Kachka celebrates the vivid world of Russian cuisine, with an emphasis on locally sourced ingredients, and is changing the way America thinks about Russian food. Her cookbook does the same, while updating and modernizing Russian cuisine without losing its spirit and traditions. In Kachka, you'll find everything from  ingenious vodka infusions to vibrant pickles and pillowy dumplings and even more delicious sweets. (The "Chocolate Kolbasa" recipe on page 318 is worth the price of the book itself, as are the creative vodka infusions showcased at the beginning.)
First and foremost, she considers this more of a cookbook of Soviet-era cooking and foods from the former USSR, and not necessarily Russian. While always starting with a family recipe, these are her interpretations. Kachka challenges the assumption that Russian food is bland, boring and lacking in variety, and that "soul food" transcends cuisines and cultures, to become "soulful". Current food trends such as pickling, fermentation, bone broths and alcohol infusions are the norm in this cuisine. Most of the creative vodka infusions in the book and restaurant started out as babushka health remedies. You'll find luscious and comforting dish such as Porcini Barley Soup, Cauliflower Schnitzel, Chicken Kiev and Beet Caviar-Stuffed Eggs, as well as Cacao Nib Vodka and Grapefruit Gin. Her anecdotes will have you laughing out loud, while the vibrant photographs will have your stomach growling. This "Rabbit in a Clay Pot" is just one example of a simple, yet elegant recipe included in Kachka. Perfect for a chilly Autumn evening…
From the author: "There are dozens of classic dishes that get cooked in smetana. To the uninitiated, braising in cultured dairy just sounds wrong. But it's magic. And while the smetana can work its voodoo on the rabbit all on its own, I like cramming in a heady amount of garlic and porcinis, and then balancing all that earthy intensity with the sharp-sweet punch of sour cherries. Serve with draniki (potato pancakes). Or, if you're looking for a quick shortcut, add some potatoes right to the braise for a one-pot meal.
Having trouble tracking down rabbit hindquarters? You can modify this recipe to work with chicken thighs. Simply cook the smetana braising sauce for about an hour on its own at 350°F before adding the chicken thighs, then reduce the heat to 250°F and braise for another hour."
Ingredients
2 cups smetana or crème fraîche
1 cup garlic broth or water
8 cloves garlic, peeled
1/3 cup unsweetened dried sour cherries
1/3 cup fresh porcini mushrooms (available frozen year-round at Eastern European markets), cut into a 1/2-inch dice
1/4 cup dried porcini mushrooms, swished in some water to rinse off any silt
1-1/2 teaspoons kosher salt, plus more for seasoning the rabbit
High-heat oil (I use refined sunflower oil)
2 pounds rabbit hindquarters (or bone-in chicken thighs)
2 medium Yukon Gold potatoes, peeled and sliced 1/8-inch thick (optional)
Instructions
Preheat your oven to 350°F.
In a mixing bowl, whisk together the smetana and broth. Add the garlic cloves, dried and fresh porcinis, cherries, and salt. Taste, and add more salt if needed.
Heat a large, heavy oven-proof skillet or Dutch oven on high heat, and pour in enough oil to coat the bottom. Liberally salt the rabbit hindquarters, and add them to the skillet, searing on each side until brown, about 5 minutes per side. Remove from the pan, and discard the excess oil.
Place the rabbit back in the skillet. (If using potatoes, place them under the seared rabbit before braising, and proceed with the steps as written. If not using potatoes, serve with draniki (potato pancakes.) Pour the smetana mixture over the meat, making sure to get some liquid on top of each hindquarter. Cover the pan, and place it in the oven to cook for 30 minutes. After 30 minutes, reduce the heat to 250°F. Braise until the meat is completely tender and easily separates from the bone, another 2 to 3 hours.
© 2023 World Spice Merchants https://www.worldspice.com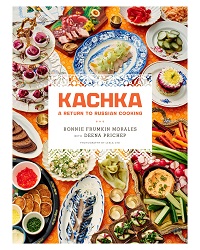 Excerpted from the book Kachka by Bonnie Frumkin Morales. Copyright © 2017 by Bonnie Frumkin Morales. Reprinted with permission from Flatiron Books. All rights reserved. Photography by Leela Cyd. Kachka is the October 2018 selection for the World Spice Cookbook Club. Kachka is currently available for purchase at our retail store and online.