Cardamom Pear Upside-Down Cake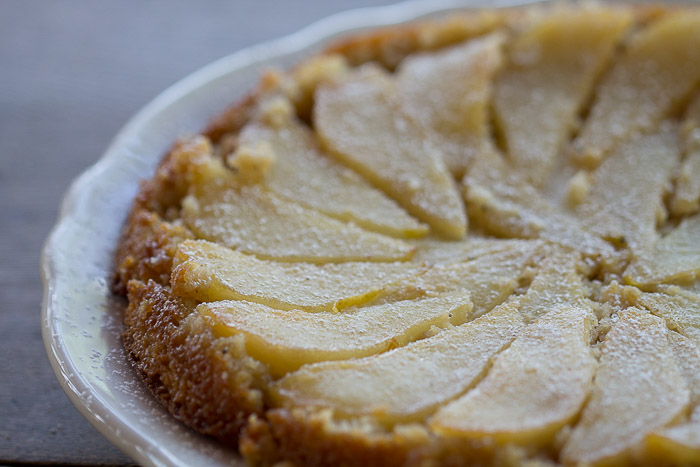 This ultra moist cardamom pear cake is rich and delicious, with almond flour and coconut oil forming the base. The cardamom and a hint of ginger complement the pears, and when you bring all these layers of flavor and texture together the result is a fantastic dessert you don't have to feel bad about eating!
Ingredients
1½ cups almond flour
¼ teaspoon salt
1 tablespoon baking powder
1 teaspoon ground cardamom
1/2 teaspoon ginger powder
2 firm, ripe pears, preferably Anjou
1/2 cup + 2 tablespoons melted coconut oil, divided
2 tablespoons maple syrup
1 tablespoon lemon juice
¾ cup turbinado sugar
2 eggs, room temperature
1 teaspoon vanilla extract
½ cup milk, room temperature
Instructions
Preheat oven to 350 degrees.
Combine the almond flour, salt, baking powder, cardamom and ginger in a medium bowl, breaking up any clumps in the almond flour.
Peel the pears and slice lengthwise into eighths, removing the core and stem.
Stir together 2 tablespoons coconut oil and the maple syrup in a 9" cast iron skillet. Arrange the pear slices in a slightly overlapping circle around the pan, and finish with a few slices in the center. Sprinkle the pears with lemon juice and set aside.
In a large bowl, whisk together the coconut oil and eggs, then add the sugar and vanilla and mix well. Add half the flour mixture and stir gently to combine, then add the milk and the remaining flour mixture, stirring gently after each addition. Do mot over-mix.
Gently spoon the cake batter on top of the pears, smoothing out to the edge of the pan and making sure the cake batter fills in around the pears.
Bake until the top is a deep golden brown and a skewer inserted in the center comes out clean, about 40 minutes. Place the cake on a rack to cool for five minutes in the pan.
Run a spatula or knife around the edge of the pan and invert onto a cake plate, leaving the pan on the cake for 10 minutes. Carefully remove the pan. Serve warm or at room temperature.
© 2021 World Spice Merchants https://www.worldspice.com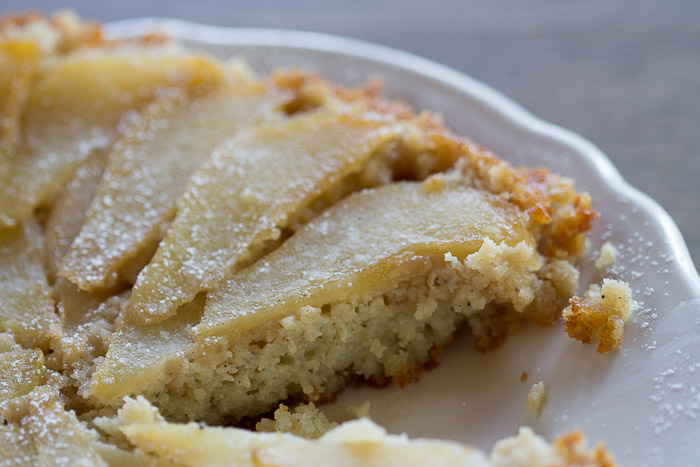 If you're looking for more, then check out our full lineup of spice-centric deserts.