Szechuan Crisp Fried Wild Mushrooms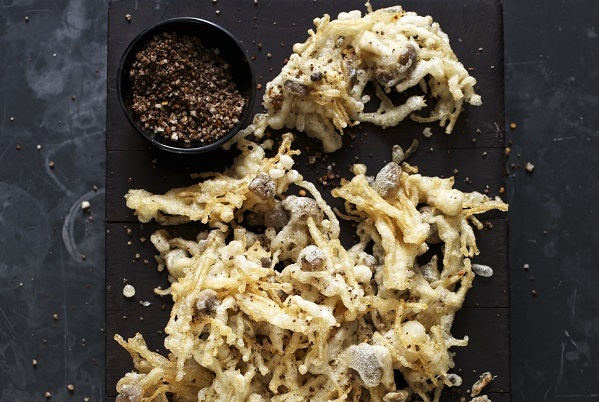 Coming out of such a vast country, authentic Chinese home cooking means different things to different people. This gorgeous Szechuan Crisp Fried Wild Mushrooms recipe from our March 2017 Cookbook Club featured book, Phoenix Claws and Jade Trees by Kian Lam Kho, is just the thing to expand your understanding of Chinese Cooking. Included with this dish is a recipe for an addictive Szechuan Spiced Salt, which lends itself to endless creative possibilities.
From the Author: "The batter used in this recipe is based on Japanese tempura batter. It is light and crisp while having the effect of bringing out the mushroom flavor. But the spicy and numbing flavor of the Szechuan spiced salt, made with dried red chile and Sichuan peppercorns, is all Chinese. This is a great vegetarian finger food for a party."
Ingredients
7 ounces enoki mushrooms
3-1/2 ounces white beech mushrooms
3-1/2 ounces brown beech mushrooms
Sichuan Spiced Salt
Batter
1/2 cup cake flour
2/3 cup tapioca starch (or tapioca flour)
1/4 teaspoon salt
1 large egg white
4 cups vegetable oil
1/2 cup toasted sesame oil
Chopped scallions
Chopped cilantro
Instructions
Trim off and discard the root end of the mushrooms and pull them all apart as much as you can. Combine the three types of mushrooms in a bowl. Do not wash them.
To make the spiced salt, put the chiles and Sichuan peppercorns in a dry wok. Toast the spices over low heat, tossing them around to make sure not to burn them. When you start to smell the fragrance from the spices, after about 3 minutes, turn off the heat. Transfer the spices t o a plate to cool. Pulse the cooled spices a few times in a blender or mini food processor until they are pulverized. They don't have to be ground into a fine powder. Combine with the coarse sea salt in a bowl and mix well.
To make the batter, combine the cake flour, tapioca starch, and salt in a bowl and mix well. In a separate bowl, whip the egg white until it holds soft peaks. Whisk 1-1/2 cups ice-cold water into the flour mixture. Don't worry if the resulting batter is a little lumpy. Fold in the egg white.
Heat the vegetable and sesame oils together in a wok to about 350 degrees F, or to the point when a drop of the batter sizzles and rolls in the oil. Separate the mushrooms into four equal batches. Put one portion in a small bowl and ladle about one-quarter of the batter over it. Coat the mushrooms evenly in the batter and then drop them into the hot oil. Fry the mushrooms for about 3 minutes and then turn them over. Continue to fry for another minute, until crisp and creamy in color but not browned. Using a skimmer, transfer the mushrooms to a paper towel to drain. Immediately start to fry the next batch.
Work as quickly as possible so you can serve the mushrooms hot.
Sprinkle chopped scallions and cilantro over the mushrooms and serve with the spiced salt alongside.
© 2023 World Spice Merchants https://www.worldspice.com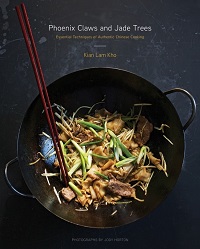 "Recipes and images reprinted from Phoenix Claws and Jade Trees: Essential Techniques of Authentic Chinese Cooking. Copyright © 2015 by Kian Lam Kho. Photographs copyright © 2015 by Jody Horton. Published by Clarkson Potter/Publishers, an imprint of Penguin Random House LLC."
Phoenix Claws and Jade Trees is the March 2017 selection for the World Spice Cookbook Club. Phoenix Claws and Jade Trees is currently available for purchase at our retail store and online.