World Spice Chili Crunch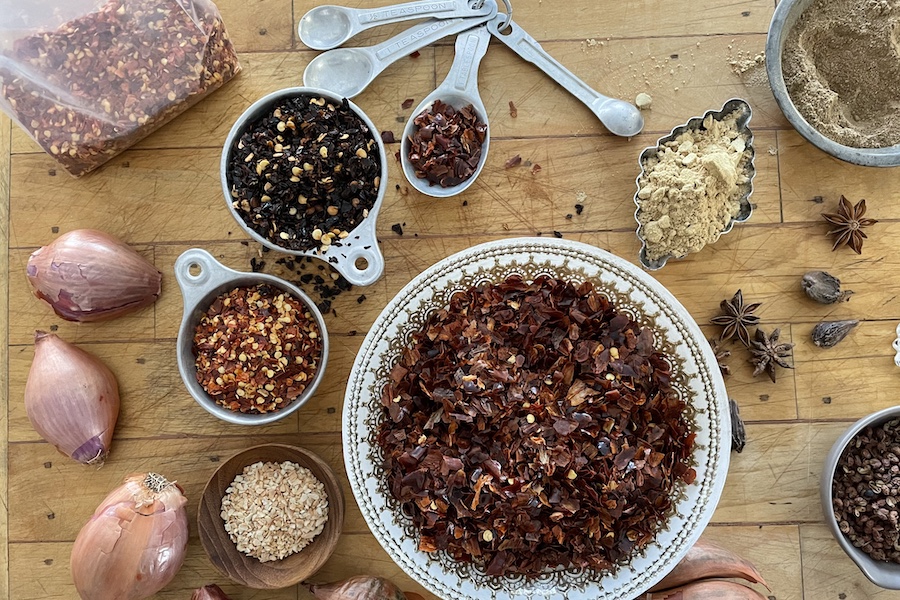 World Spice Chili Crunch is a staff favorite soon to be a fan favorite. The wave of chili crunch obsession spread through the World Spice team like wildfire thanks to the genius who gifted each and every one of us a jar. This incredible condiment satisfies on every level. The store bought version is a powerhouse with medium heat and maximum flavor. It is both chewy AND crunchy with a deep umami base. It's good on everything! So…the journey to our version of this recipe began. The motivation was partly for fun to play with chili flavors and partly practical to turn out a version without MSG or preservatives. We hit the kitchen and it took a few tries! In the end this closely timed process turned out the best result. What we discovered was a temperature sweet spot while frying the chilies. Too low and they won't stay crisp and too high and you'll burn them. Our version requires minimal chopping and is also nut free because everyone needs chili crunch. We bumped up the heat with 3 different types of chilis so expect more fire from this version. We added the zing of Sichuan peppers and bumped up the umami with Cascade Mushroom Mix.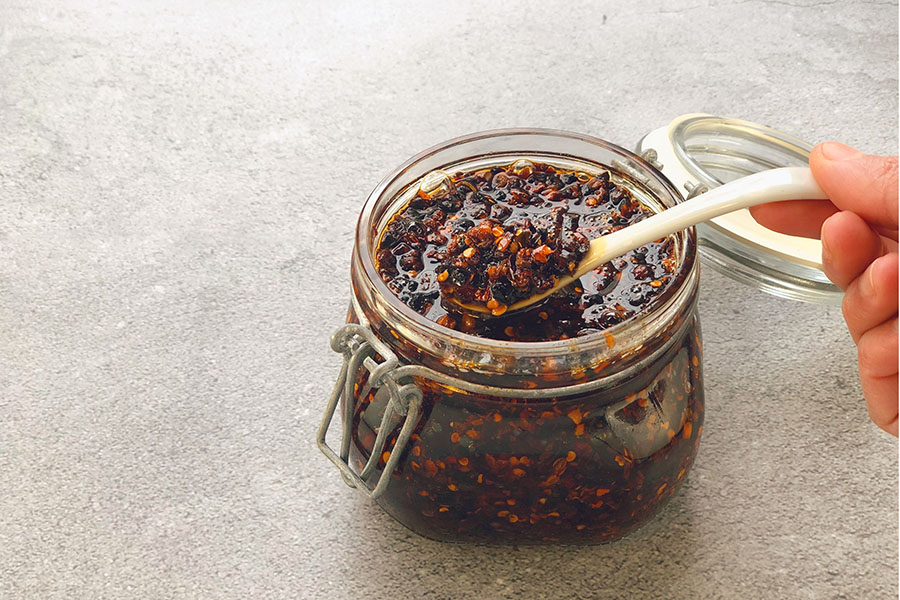 Ingredients
For the Oil Infusion
For Frying the Chilies
Final Add-Ins
Instructions
For the Oil Infusion
Place a fine-mesh strainer over a 2-quart heatproof bowl and set aside. In a 4-quart saucepan, combine the oil, shallots, black cardamom pods and star anise. Cook over medium low heat, around 225°F, stirring occasionally for 15-20 minutes. Maintain a steady simmer. Once shallots become light golden brown, carefully strain the oil. Pick out the cardamom pods and star anise, then discard. Reserve the fried shallots, and set aside to add back in later.
To Fry the Chiles
Have a wide shallow heat-proof pan large enough to hold all of the ingredients handy next to the stove because you'll want to pull the chilies from heat when they reach 335°F.
Pour the infused oil back into the pot and place over medium-low heat. Stir in the India red chile flakes, ancho chile flakes and diced japones. Increase the heat to high and cook, stirring occasionally, until the chili mixture reaches 335°F. This should only take about 3 minutes. As the chilies crisp up you'll be able to hear them crackling as you stir.
Final Additions
As soon as the chili mixture reaches 335°, immediately turn off the heat and quickly stir in the Sichuan pepper, ginger powder, dried chopped garlic, Cascade Mushroom Mix, Vietnamese cassia, sugar, salt and pepper. As soon as the final additions are incorporated, transfer the mixture to the shallow heat proof pan.
Cool completely and stir in the fried shallots. Store in an air-tight container in the refrigerator. Enjoy for up to 2-3 months...if you don't eat it all up sooner!
© 2023 World Spice Merchants https://www.worldspice.com
Try your own version of chili crunch with any combination of dried chilies! This recipe makes a generous quart of crunch, plenty for any chili-head and enough to gift and share.