Sunflower Cascade Mushroom Pesto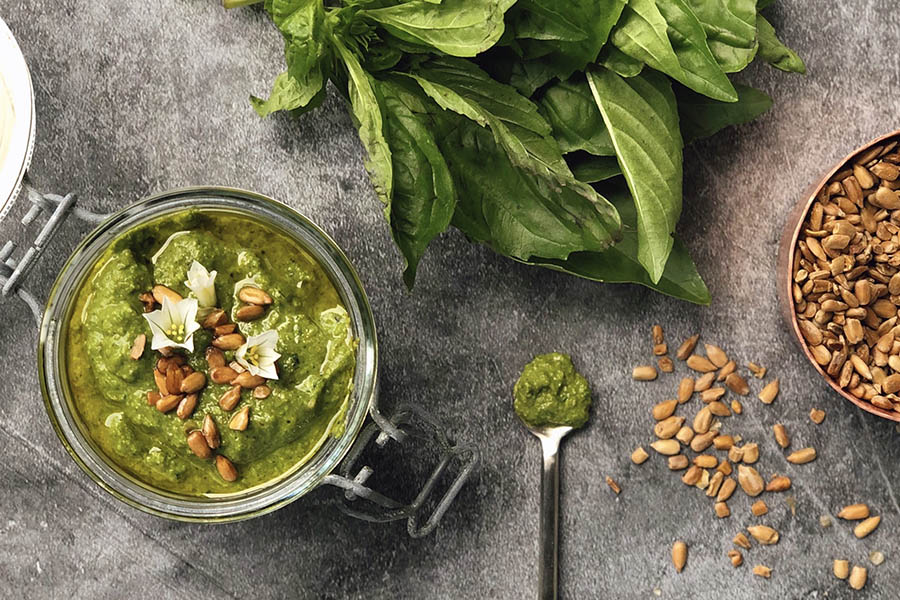 Pesto is a powerhouse of a sauce! The intensity of flavor and thick texture make it a versatile favorite and there are so many spring greens you can include. Inspired by the farmers market and the spice cabinet, we created this rustic version with sunflower seeds, spring ramps and our Cascade Mushroom Mix. Ramps are small, wild-growing onions that combine beautifully with the Cascade Mushroom Mix for an ultra-umami flavor. The texture of this pesto nicely coats pasta or spreads on bread. Make a big batch and freeze some to enjoy this bright spring flavor all year long.
Ingredients
4 ramps
1 cup basil
2 cups spinach
2 - 3 garlic cloves
1/3 cup sunflower seeds, toasted
1/3 cup Parmesan cheese, grated
1/2 lemon, juiced
1 teaspoon kosher salt
2 teaspoons Cascade Mushroom Mix
1/3 cup extra virgin olive oil
Instructions
Trim the ramps and remove the bulbs. Discard the bulbs and rough chop the remaining ramps.
In a food processor or blender, add the ramps, basil, garlic and spinach. Lightly pulse to chop it up a bit. Then add the sunflower seeds, cheese, lemon juice, salt and Cascade Mushroom Mix.
Pulse the pesto mixture, scraping down the sides when needed. While it's still coarse, add the olive oil and blend for about 30 seconds, until you've achieved a rough puree. Everything should be fully incorporated.
Store in a covered container. To prevent oxidation, pour a thin layer of olive oil on top of the pesto. Store up to a week in the fridge.
© 2023 World Spice Merchants https://www.worldspice.com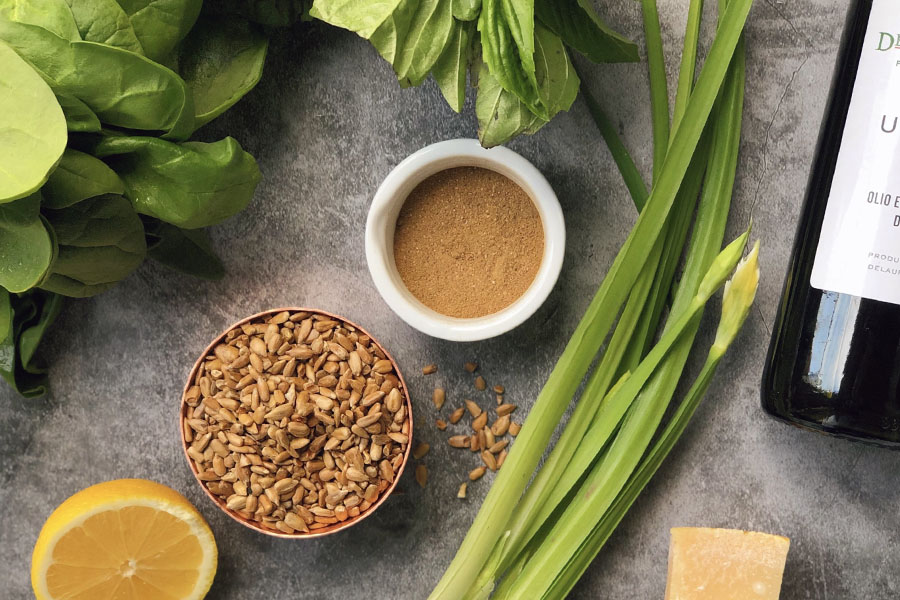 In the event ramps aren't available, try it with scallions, leeks or garlic scapes. Blanched nettles are another great option. You can also swap out the parmesan for manchego cheese.