Fresh Asparagus Soup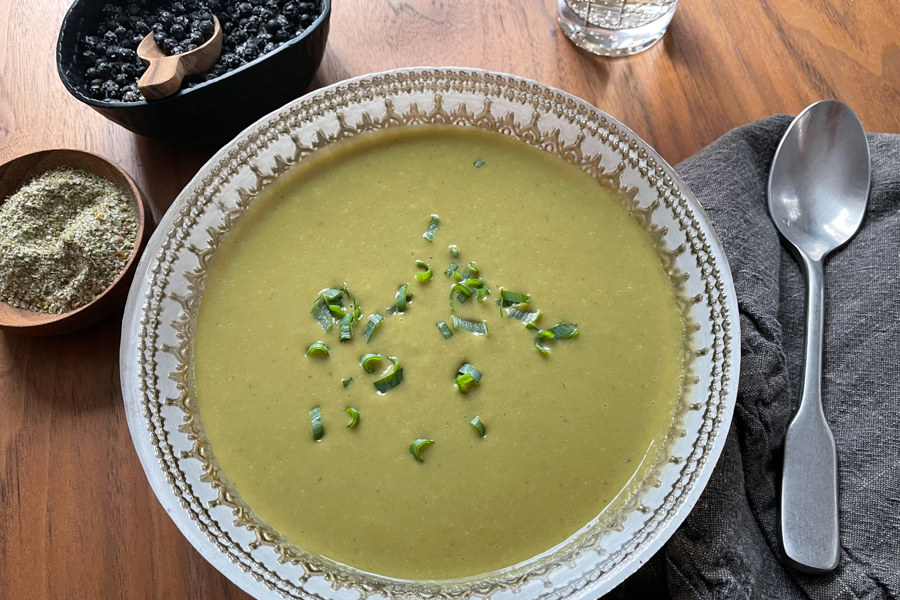 Simple and rustic, this is my go-to asparagus soup. Every spring, I bring home 2 or 3 pounds of fresh spears to make a big batch. The preparation is quick and you'll have a hearty and healthy pot of soup on the table in under an hour. Close tending is needed to make sure the asparagus doesn't get overcooked, but the reward is a bright and true flavor that can be complimented by many different seasonings. Our Cascade Mushroom Mix is my secret ingredient for the base, and a combination of Herbes de Provence and Meyer Lemon Paste puts it over the top. If you don't have these seasonings on hand there are lots of other options! Read below the recipe for suggestions.
Instructions
In a large pot or Dutch oven, sauté the onion in olive oil over medium low heat for about 3 minutes, until the onions are soft.
Add the Cascade Mushroom Mix and stir to coat the onions. Continue cooking 1 minute more.
Add the asparagus and increase the heat to medium. Stir gently to combine and cook until the asparagus pieces are bright green, about 3 minutes.
Pour the broth into the Dutch oven and bring the mixture to a low boil. Add the Herbes de Provence and lemon paste. Cook until the asparagus is JUST fork tender, about 6-8 minutes. Do not over-cook!
As soon as the soup is cool enough to handle, transfer in batches to a high speed blender and purée. To ease the splatter during transfer, I pull the asparagus out of the broth with a slotted spoon and ladle the broth.
Return the soup to the pan and heat before serving.
Notes
I am typically a huge fan of the immersion blender but with this soup it is best to use a stronger blender to break down all the fiber in the asparagus.
© 2023 World Spice Merchants https://www.worldspice.com

Play with your food!
No Cascade Mushroom Mix? Add in fresh mushrooms when you saute the onions. Not a mushroom fan? Just leave it out!
No Herbes de Provence? Try Italian Herbs, El Greco or Orange Tarragon blend.
No Preserved Meyer Lemon Paste? Use fresh lemon juice
Want to fancy up the garnishes? Try truffle salt, Provencal salt or Fennel Pollen.