Grilled Polenta and Vegetables Provencal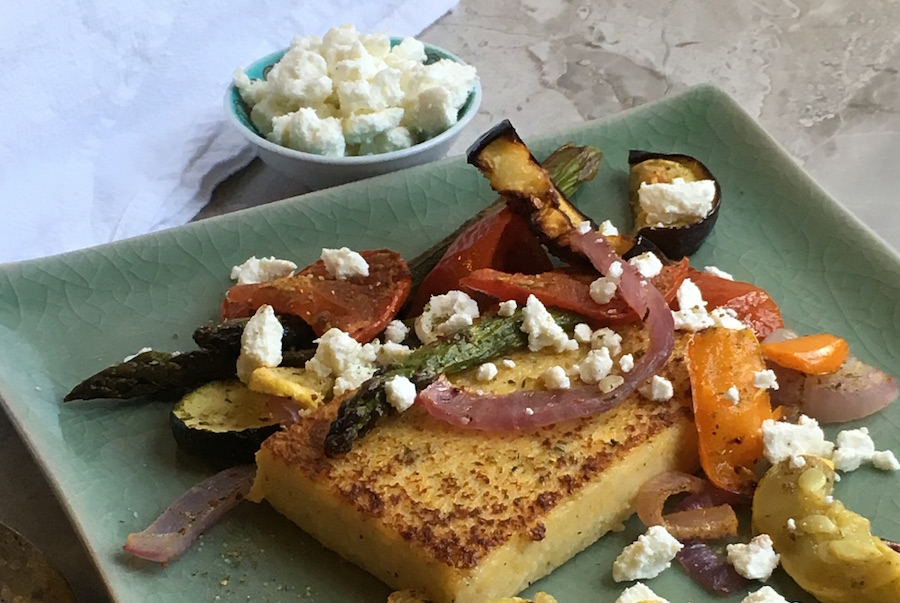 Summer = grill = good times. Especially when it comes to fresh vegetables. Throwing your vegetables onto a hot grill gives them that "je ne sais quoi" you can't get any other way. And when you add a touch of our Provencal Seasoned Salt, well, it's enough to make the most reluctant veggie eater sit up and take notice. The bright, lively flavors of this seasoning salt can turn the most mundane zucchini and eggplant into a French-inspired masterpiece. Now, those nice crispy veggies need somewhere to bed down, so why not throw a firm piece of creamy, luscious polenta, also spiked with Provencal Seasoned Salt, onto the grill with them?  The Provencal Seasoned Salt, featuring a blend of fennel, garlic, chervil, tarragon and other spices carries beautifully throughout the dish. There you have it, a perfectly matched set. This easy method for cooking polenta comes to us from the folks at America's Test Kitchen. Adding a pinch of baking soda to the boiling water serves to soften the outside of the polenta grains, allowing them to quickly break down and release their starch, eliminating the need to stand over a hot stove, stirring constantly for 25 minutes. What's not to like about that?
Ingredients
Polenta:
1-3/4 cups low-sodium chicken broth (1 -14.5 oz. can)
2 cups 2% milk
large pinch baking soda
3/4 cup polenta
1 tablespoon butter
1 teaspoon Provencal Seasoned Salt
¼ teaspoon black pepper
Vegetables:
1/2 small eggplant, sliced ½" thick rounds
1/2 zucchini, sliced ½" thick rounds
1/2 yellow squash, sliced 1/2" thick
1/2 red onion, sliced ½" thick
1/2 orange bell pepper, sliced ½" wide strips
2 medium firm tomatoes, sliced 1/2" thick
8 oz. fresh asparagus, trimmed
Olive, avocado or other heat-tolerant oil
1/2 lemon
4 oz. goat cheese, for topping
Instructions
Lightly grease an 8" square pan.
Using a large pot (4-5 qt., preferably non-stick), bring chicken broth and milk to a boil. Lower heat to medium and quickly stir in the baking soda, then slowly pour in polenta, stirring gently until the liquid returns to a boil. Cover and cook on lowest setting for 5 minutes. Uncover and stir, scraping bottom and sides. Recover and cook for another 16-17 minutes, stirring and scraping bottom every 5 minutes or so. When all the liquid is absorbed, and polenta is tender, remove from heat. Stir in butter, Provencal Seasoned Salt and black pepper, and pour into the prepared pan, smoothing the mixture out evenly. Polenta will be very soft, but will firm up as it sets. Let cool 15 minutes, then cover surface with plastic wrap and refrigerate 4 hours to overnight. Polenta must be firm enough to hold its shape while being handled.
Heat grill (gas or charcoal) to medium-high (400-450 F.).
In a large bowl, toss vegetables with a generous coating of oil and sprinkle with Provencal Seasoned Salt. Place oiled vegetables onto a grilling grid or basket and put onto the hot grill. Close the lid and cook, turning once, until softened and lightly charred, about 7-10 minutes. Not all pieces will finish cooking at the same time. As they finish, move the cooked vegetables to a large bowl or platter. Sprinkle lightly with lemon juice and a touch more Provencal Seasoned Salt.
Cut polenta into 6 pieces. Brush one side with oil and lay oil-side down on the grill. Cook 3-5 minutes, till grill marks appear on the bottoms, then brush the tops with oil and use a spatula and tongs or fork to carefully flip, cooking for another 3-5 minutes. To serve, top each slice of polenta with a spoonful of vegetables and a sprinkle of goat cheese. Leftover vegetables are good served cold or at room temperature.
Notes
A deep pot is important for cooking the polenta, as boiling milk tends to rise very high, very quickly.
If you don't have a grilling pan, you can use a large gridded cooling rack, inverted and well oiled.
Optimal thickness for the cooked polenta is around 1", so plan accordingly with your choice of pans. If you double the recipe use a 9" x 13" pan. A double recipe will yield about 9 cups vegetables and 12 slices of polenta, feeding 8 generously.
Of course, you can make this recipe indoors if you choose. Just roast the vegetables on a sheet pan at 400 F. for about 33 minutes, till softened. Heat up the polenta slices in a hot, oiled saute pan.
© 2023 World Spice Merchants https://www.worldspice.com
Polenta recipe adapted from "The Complete America's Test Kitchen TV Show Cookbook, 2001-2016".