Asparagus Mimosa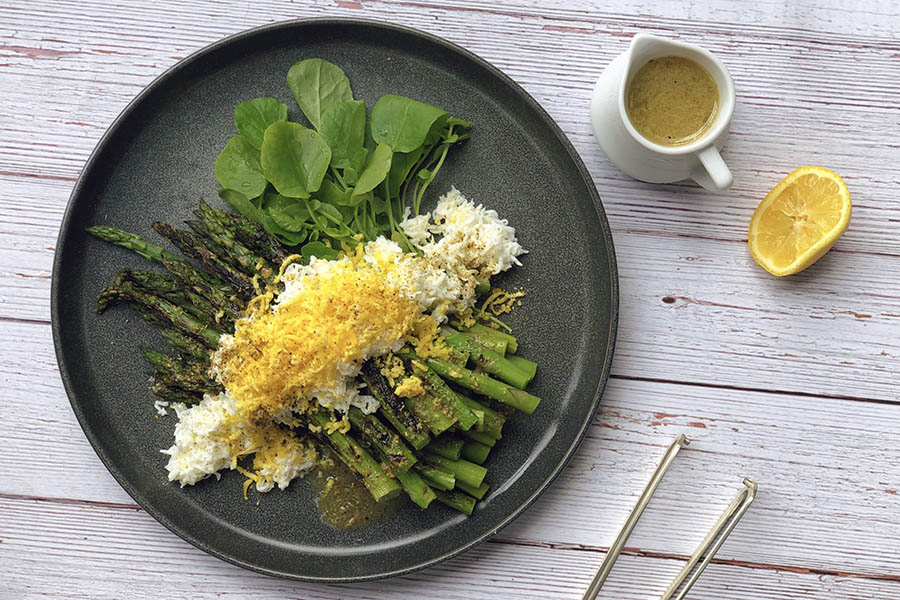 The complement of texture and flavors that come together in this simple dish are a celebration of spring. Tender asparagus is kissed with Provencal Seasoned Salt and a little char from the grill. Watercress is nested in and the salad is topped with finely grated hard boiled eggs. The fine, fluffy eggs are said to resemble mimosa flowers for which the salad is named.
To keep it simple and bright, our vinaigrette combines Lemon Herb Pepper, white wine vinegar, and Dijon mustard. This dish is light, simple, and familiar. Easy to make ahead and serve cold. You can also add bacon, capers, radishes or other garnishes.
Ingredients
For the Salad
1-1/2 lb medium asparagus, trimmed
1 tablespoon olive oil
1 teaspoon Provencal Seasoned Salt
2 hard-boiled large eggs, at room temperature
Watercress
Lemon Herb Pepper Vinaigrette
2 teaspoons kosher salt
1/2 tablespoon Lemon Herb Pepper
2 tablespoons white wine vinegar
2 teaspoons Dijon mustard
1/3 cup extra-virgin olive oil
Instructions
Preheat your grill to medium heat, about 375° to 400°F
Place the trimmed asparagus on a platter or baking sheet and brush with the olive oil, then sprinkle on the Provencal Seasoned Salt.
Place the asparagus across the grill grates perpendicular to the bars. Grill the asparagus with the lid closed for 5 minutes or until the asparagus is charred and tender, but not limp. Use tongs to turn the asparagus for grill marks.
Transfer asparagus to a platter and nestle watercress alongside. Arrange the grated eggs in a line across the center. For the prettiest "mimosa", lay the grated whites down first and arrange the grated yolks on top. Spoon the dressing over the salad.
Grated Eggs
Separate the egg whites from the yolks. Using a sieve, gently push the whites through to "grate" them. Make sure to use a knife to scrape the bottom of the sieve to get all of the egg. Set aside the grated whites, and repeat process using the yolks. Set that aside, as well.
Lemon Herb Pepper Vinaigrette
Whisk together the salt, Lemon Herb Pepper, vinegar and mustard. Then add the oil in a slow stream, whisking to emulsify.
© 2023 World Spice Merchants https://www.worldspice.com