Sheetpan Chicken Pot Pie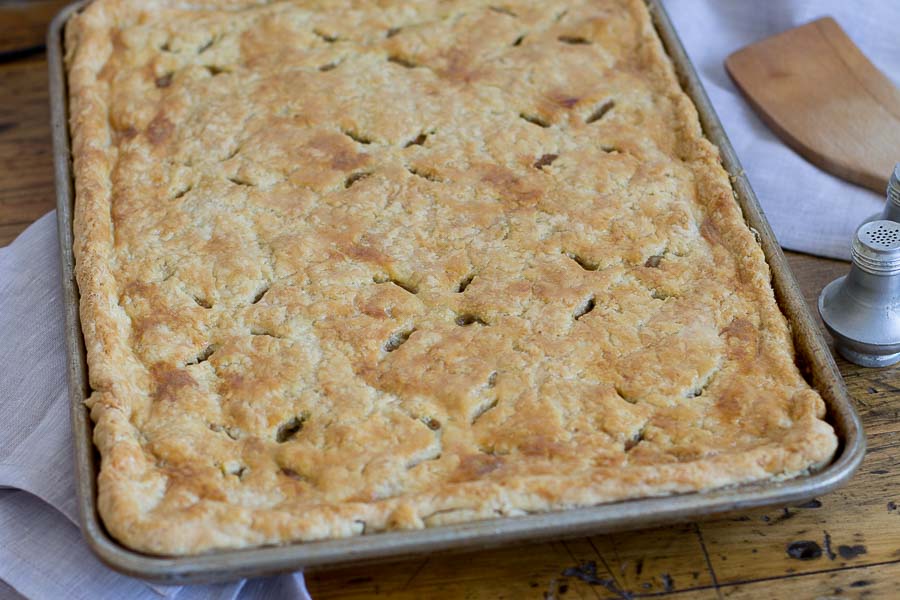 Need something new to bring to your next potluck? Try thinking beyond the typical foods that come in a bowl: soup, chili, salad, or fruit salad. How about bringing it in style with a fragrant, golden, pastry – topped chicken pot pie, big enough to serve 12? I'm talking about the quintessential comfort food served up in a sheetpan – the 12″ x 17″ rimmed workhorse of every serious baker's kitchen. Our version takes the classic pie one step further by using our Provencal Seasoned Salt as the secret ingredient. The delicate, summery notes of this French – inspired blend will bloom throughout the saucy filling, bringing hints of fennel, garlic, chervil, and tarragon that perfectly compliment the chicken and vegetables. You can choose to go the quick route, using rotisserie chicken, store-bought pie crust, and frozen vegetables, or channel your inner homemaker with oven baked (or in my case, microwaved) chicken thighs and homemade pie crust. If you're making your own pie dough, using part shortening/part butter makes for a more flexible crust, which is easier to work with in a large sheet like we're doing here. We like the classic combination of carrots, celery, onion and peas, but feel free to throw in whatever vegetables catch your eye. One important note: place a large baking sheet or piece of foil on the rack below the sheetpan to catch any drips. You'll be glad you did!
Ingredients
3 tablespoons butter, unsalted
2-1/2 cups chopped carrots
1-1/4 cups chopped celery
1 cup chopped onion or leeks
¼ cup flour
1-1/4 cups low sodium chicken broth
1-3/4 cups light cream
2 tablespoons Provencal Seasoned Salt
1-1/4 teaspoon black pepper
4 cups diced cooked chicken (not heavily seasoned with anything)
1-1/4 cups frozen petite peas (no need to defrost)
1 - double pie crust, homemade or store bought
Egg wash (1 egg + splash water) for topping
Instructions
Preheat oven to 400 F. Lightly grease a 12" x 17" sheetpan.
Melt butter in a 4- 5 quart saucepan or high-sided skillet over medium heat. When butter starts to bubble, add carrots, celery and onion, stirring well to combine. Cook for 5 minutes, stirring occasionally, till vegetables are crisp-tender.
Stir in flour, Provencal seasoning and black pepper until vegetables are well coated. Slowly add broth, then cream, stirring to combine. Once the mixture starts to bubble, lower the heat and cook 6 minutes, until slightly thickened, stirring occasionally. Stir in chicken and peas. Remove from heat, taste, and add more seasoning if needed. Pour filling into prepared pan and let cool 15 minutes. You don't want to put the crust on a hot filling, or it will begin to melt before it gets in the oven to bake properly.
Roll pie dough out to slightly larger than the pan. Lift dough by either rolling it around the pin, or folding it in half, and place on top of the filling Tuck the overhanging edges under, pressing to create a standing border. Cut decorative slits on top of crust to let steam escape. Brush crust with egg wash. Bake until golden brown and bubbling, 35-40 minutes, rotating once near the end of baking, if needed, for even browning.
Notes
You can easily replace the chicken broth and light cream with other liquids, as long as the total quantity remains the same. Just be sure to use low-sodium products, as the Provencal Seasoned Salt contains all the salt you'll need.
If you don't have a sheetpan, feel free to use whatever dishes you do have. This recipe makes about 8 cups of filling. If you want to halve the recipe, count on 4 cups of filling.
If you want to use frozen peas and carrots, a 1 lb. bag provides the right amount. Add them to the recipe at the end of the cooking time, after sauce has thickened.


© 2023 World Spice Merchants https://www.worldspice.com