Orange Tarragon Green Beans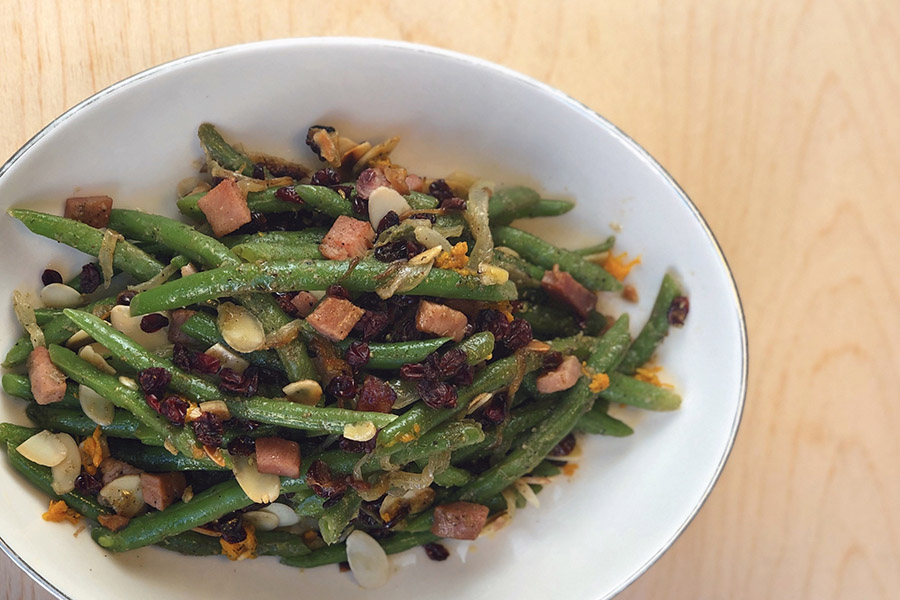 Here's a fresh twist on a classic French recipe! Green beans almondine is a delicious light veggie dish, equally suited as a standalone snack or alongside a heartier meal. Our version uses Orange Tarragon Pepper and Provençal salt together for a complimentary combination of seasoning.
Both of these blends are herb-forward with subtle floral notes, lending them an aroma reminiscent of a classic French bistro. We finished the dish by adding in barberries alongside the toasted almonds, giving the dish a tart kick that complements the citrus in the spice blends.
Ingredients
3 cups fresh green beans trimmed
2 teaspoons unsalted butter
1/4 cup julienned yellow onion
1/4 cup diced smoked ham
2 teaspoons orange tarragon
1/2 cup chicken stock
1 teaspoon Provencal salt
2 tablespoons barberries
1/4 cup toasted slivered almonds
1 teaspoon orange zest
Instructions
Bring 2 quarts of water to a boil in a sauce pan. Add green beans and boil them for 3 minutes until bright green and tender.
Immediately plunge cooked green beans in an ice bath to stop the cooking processes and strain. Set green beans aside.
In a medium sauté pan add your butter on medium high heat until melted. Add the onions and sweat them until they start to caramelize, about 3 minutes.
Next add you ham, orange tarragon seasoning and stock. Stir until fragrant and add the green beans, Provençal salt and barberries.
Cook until stock is reduced and looks saucy.
Add the green beans to serving dish and garnish with the toasted silvered almonds. For added zing, zest an orange over green beans.
Enjoy!
© 2021 World Spice Merchants https://www.worldspice.com