Winter Citrus Salad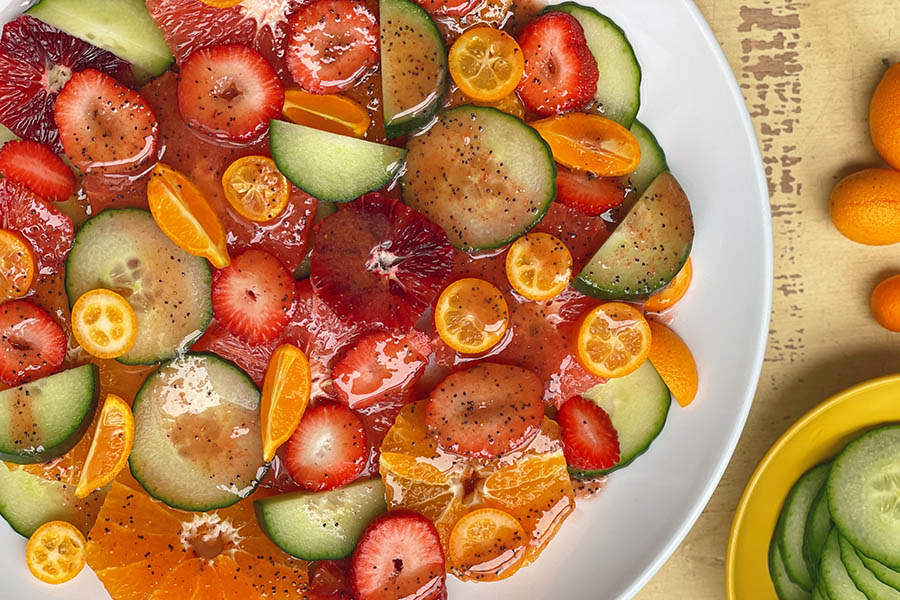 After the glow of the holidays have faded and the delight in winter squash begins to pale, suddenly it's citrus season! Winter often gets overlooked for its fruit bounty so keep your eyes open and don't miss out. I always know it's time when the abundance of citrus in grocery displays stops me in my tracks. Kumquats and Meyer lemons are in full glory and while the strawberries may still a little tart, it won't be long. This salad hits all the flavor highlights and brings the promise of spring right to the table. It is sweet, salty, sour and best of all bright! To top it off, we created a French inspired strawberry vinaigrette with our Orange Tarragon blend. Full of umami with shallots, chives, garlic and black pepper, this blend brings the garden to the plate to complement the fruit. Once emulsified, this vinaigrette is a pretty, dusty pink, with bright and fruity flavors.
Ingredients
For the Citrus Salad
2 oranges
1 blood orange
1 large pink grapefruit
1 sumo tangerine
1/4 pound kumquats, cut into quarters
6-inch English cucumber, thinly sliced into rounds or half moons
1 cup strawberries, cut into half inch rounds
For the Strawberry Vinaigrette
1 tablespoon lemon juice
2 teaspoons champagne vinegar
3 ripe strawberries
1 teaspoon kosher salt
1 tablespoon honey or agave
1 tablespoon Orange Tarragon, ground
1 cup vegetable oil
2 tablespoons poppy seeds
Instructions
For the Citrus Salad
Cut the ends off of each citrus. Stand each fruit upright, and using a sharp serrated knife, cut off the peel along with any white pith, following the shape of the citrus. Slice the citrus crosswise into 1/4-inch thick rounds. Arrange the larger citrus rounds along the bottom of a large plate. Evenly distribute the remaining fruit and cucumber on top. Refrigerate and set aside.
Strawberry Vinaigrette
In a blender, combine the lemon juice, vinegar, strawberries, salt, honey and Orange Tarragon. Blend until smooth and slowly pour in the oil until emulsified. Stir in the poppy seeds and dress the citrus salad. Store any remaining vinaigrette in the refrigerator.
© 2023 World Spice Merchants https://www.worldspice.com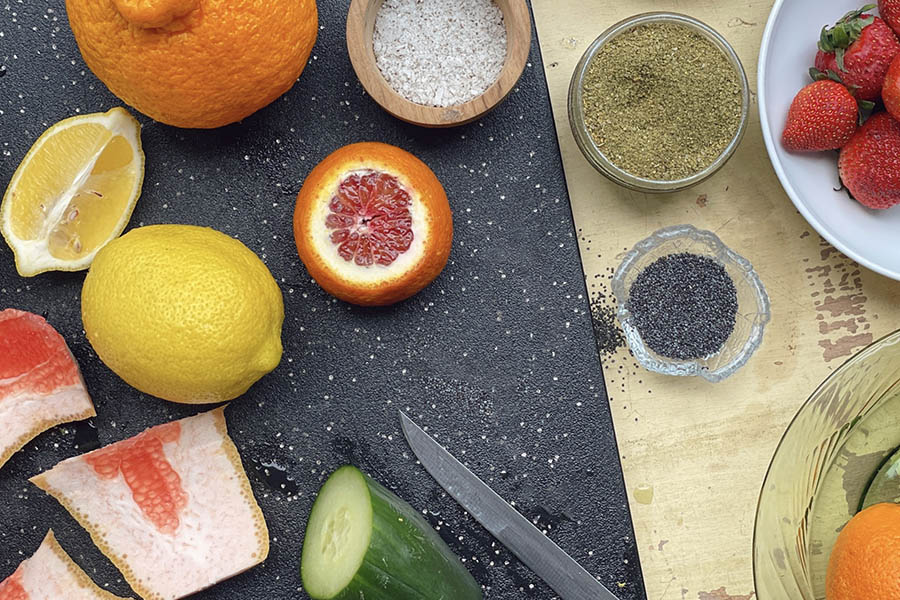 The recipe makes a generous measure of vinaigrette and it is delicious with so many things! Arugula, goat cheese and radicchio make a great pairing, or drizzle it on grilled salmon or chicken.