Tea Picnic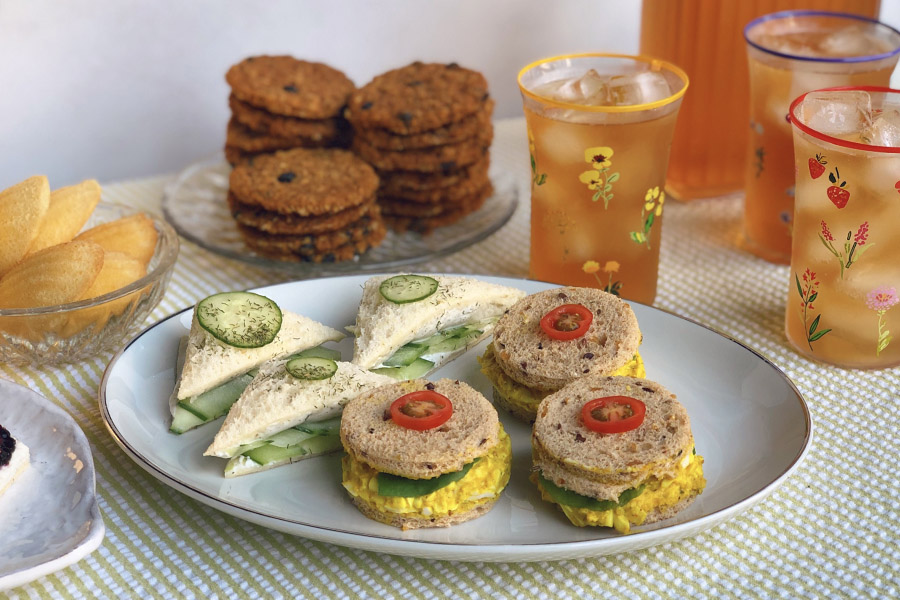 This post is for those of us who like the crusts cut off. The extra effort and attention that goes into making these beautiful tea sandwiches shows in every detail — the sweet shapes, the colorful combinations and, as always, the thoughtful flavor pairings. Make a platter for friends or a plate for yourself and enjoy a lazy summer picnic while the weather is fine. Since we're taking this picnic over the top, we've suggested some tea pairings as well. You can check out easy methods for cold brewing here!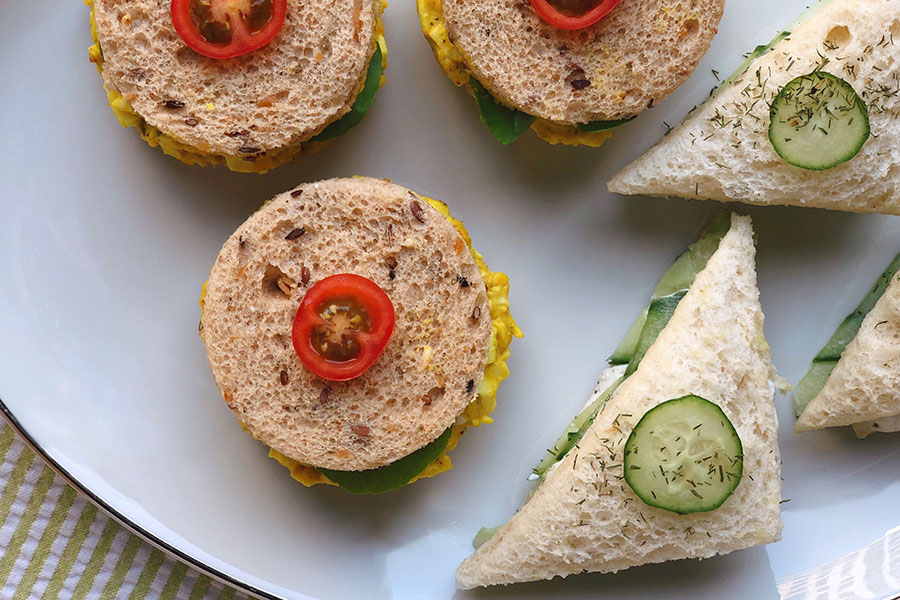 A bold curried egg salad is seasoned with our French inspired Vadouvan Curry, served on whole wheat bread and a cherry tomato topper. The flavor is deep and rich in this toasted blend with cumin, cardamom, mustard seeds, black pepper and fenugreek seeds. With a squeeze of lemon juice and watercress, these sandwiches go great with a malty Indian black tea like our Keemun black tea.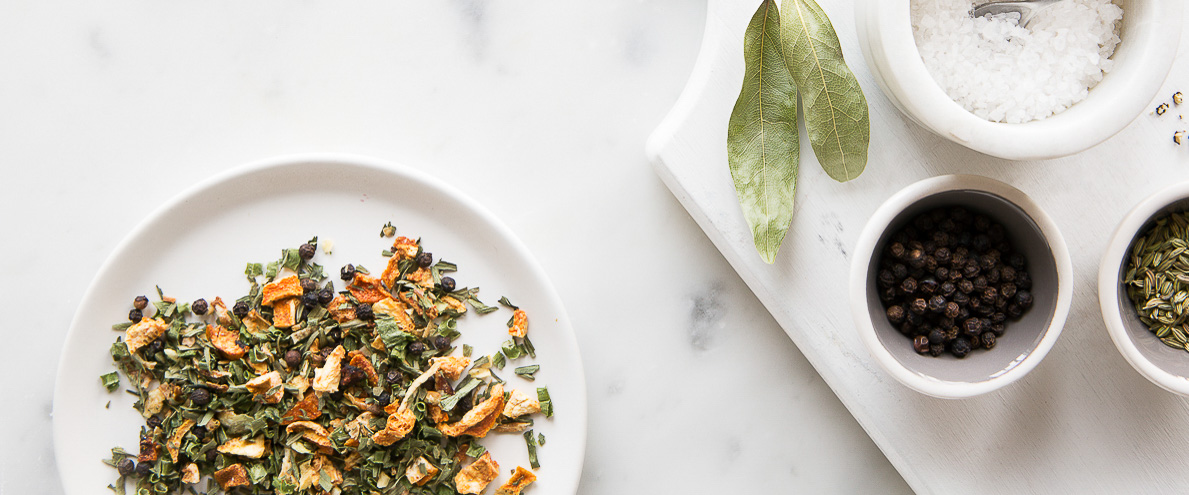 For a cooling crunch with spectacular flavor, we seasoned the cucumber sandwich with our Orange Tarragon. This blend has chives, shallots, garlic and black pepper, adding many layers of flavor to the cream cheese spread complimenting the cucumbers. These cucumber sandwiches are anything but boring! Pair them with a cup of sencha. Sencha is a vegetal Japanese green tea that will cut through the rich cream cheese and compliment the cooling cucumber.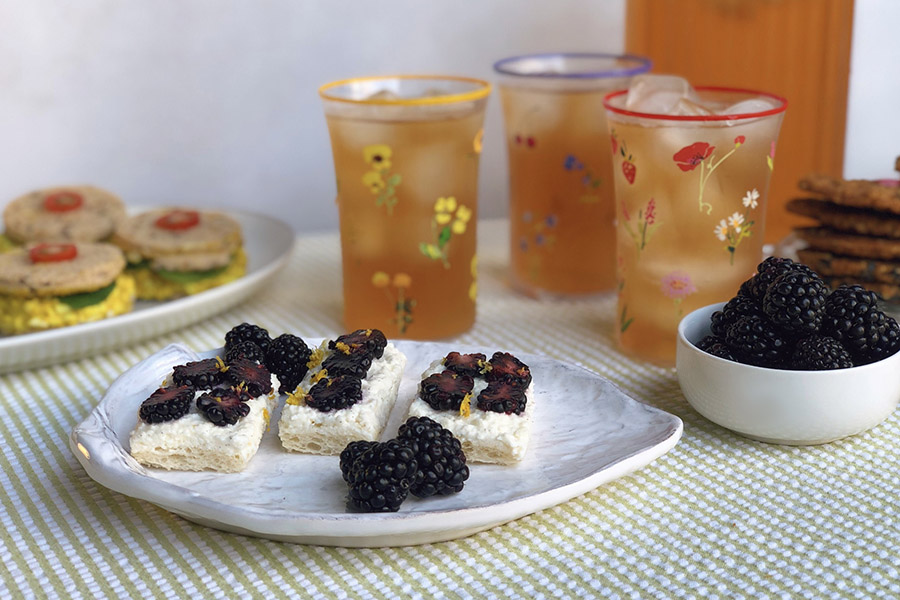 Because no picnic is complete without dessert, we made a sweet finish, open-faced mascarpone sandwiches. The creamy mascarpone gets its speckles from  Madagascar vanilla beans that not only smell amazing, but go great with berries and a sprinkle of lemon zest. To finish off our tea picnic we paired a bold cup of Earl Grey with this sandwich. This classic tea is scented with bergamot, a perfect combo with the vanilla bean and sweet blackberries. 
Ingredients
Vadouvan Curried Egg Salad
6 eggs, room temperature
1/3 cup mayonnaise
1 green onion, sliced
2 teaspoon Vadouvan Curry, ground
1 tablespoon lemon juice
1 teaspoon Garlic Salt
Watercress
Whole wheat multi-grain bread
Grape tomato for garnish
Orange Tarragon Cucumber Sandwich
1 loaf white bread
1/2 cup cream cheese at room temperature
2 tablespoons mayonnaise
1-1/2 teaspoons Orange Tarragon, ground
1 tablespoon lemon juice
1/2 teaspoon kosher salt
1 English cucumber, thinly sliced lengthwise
Dill weed for garnish
Vanilla Bean Mascarpone Tea Sandwich
1/2 cup mascarpone, at room temperature
1/4 cream cheese, at room temperature
1/3 cup powdered sugar
Zest of 1 lemon
Blackberries
1 loaf shokupan, or fluffy sliced white bread
Instructions
Vadouvan Curried Egg Salad
Bring a medium sized pot of water to a boil. Gently add in the 6 eggs and boil for 10 minutes.
Transfer the eggs to an ice water bath to stop the cooking process. Let the eggs sit for 2 minutes.
Gently crack the eggs and peel and discard the shells.
Using a cheese grater, on the largest grating side, grate the eggs.
Add the eggs, mayonnaise, green onion, Vadouvan Curry powder, lemon juice and Garlic Salt to a bowl and stir all ingredients together.
For sandwich assembly, add the egg salad between two slices of bread and cut off the crust or use a 2 inch cookie cutter for a round sandwich. Rinse off the cookie cutter or knife after each sandwich for neat and clean slicing. Feel to cut them into squares and then into triangles cutting off the crust. Add watercress leaves for spicy crunch and a thinly sliced tomato slice on top as a garnish. Enjoy cold with a bold cup of black tea like Keemun or Darjeeling.
Orange Tarragon Cucumber Sandwich
Using a whisk, mix cream cheese and mayonnaise in a small bowl until smooth. Stir in Orange Tarragon, lemon juice and salt.
Spread the cream cheese mixture onto every slice of bread.
Using a mandoline, thinly slice cucumbers. Place a layer of cucumber slices on half of the bread slices.
Sandwich each cucumber slice with a cream cheese slice and remove crusts using a sharp knife.
Cut into triangles or any desired shape. Garnish with cucumber round and a sprinkle of dill.
Serve immediately, the cucumber is best while fresh and crisp. Enjoy within 24 hours. Snack and serve with a cup of Sencha green tea.
Vanilla Bean Mascarpone Tea Sandwich
In a medium-sized bowl, add the mascarpone, cream cheese and powdered sugar.
Using a whisk, mix together until smooth.
To remove the inside of the vanilla beans, take the vanilla bean pod and lay it flat on a cutting board. Using a sharp knife, slice the vanilla bean down the middle, lengthwise.
Use the back of your knife to run down the length of the halved pod to scrape out the seeds. Repeat with the other half.
Don't discard the vanilla bean pods, add them to a custard, vodka, or bourbon, as they still have plenty of flavor! Add the seeds to the mascarpone mixture and stir in with the lemon zest. Spread the cheese mixture on the shokupan bread and arrange halved blackberries as desired.
Cut the crust off and slice into rectangles. Enjoy open faced and with a glass of iced Earl Grey .
© 2023 World Spice Merchants https://www.worldspice.com