Savory Smashed Potatoes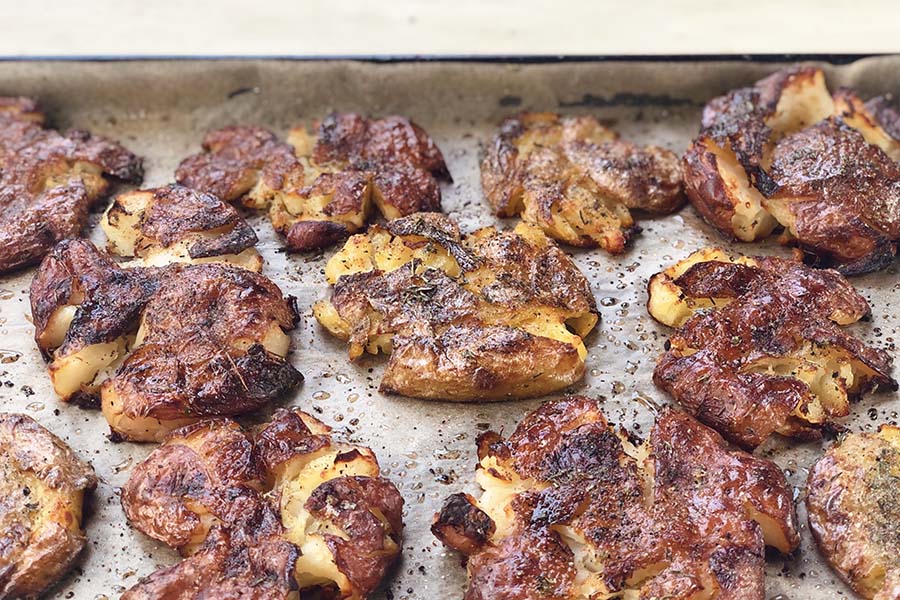 Enjoy the best of crispy and creamy in one bite with these savory smashed potatoes. A simple side dish where the texture and flavor are fantastic and the dish is very easy to make. Boil  and cool the potatoes first, then smash, season and bake to make this delicious dish. The Yukon Gold potatoes get crispy with crunchy edges while staying creamy in the middle. We seasoned these with savory for multiple layers of flavor, from piney and earthy, along with a little garlic salt and olive oil for a satisfying bite. Serve beside a ribeye steak, meatloaf or roast chicken. These are the best potatoes- hands down.
Instructions
Place your potatoes in a large pot with the kosher salt and add enough water for the potatoes to be submerged. Simmer for 25-30 minutes, until the potatoes are fork tender.
Drain the potatoes and allow them to cool for about 15 minutes.
Preheat the oven to 400 degrees.
Prepare a baking sheet with parchment and arrange the potatoes with enough room to smash. Using the palm of your hand gently smash the potatoes. The potatoes should spread, but still be intact.
In a small bowl combine the olive oil, garlic salt, savory and black pepper. Stir until mixed.
Using a pastry brush, baste the potatoes with olive oil mixture until evenly coated, allowing the oil and seasonings to flow down into the crevices of the smashed potato..
Roast the potatoes on the top shelf of the oven for 50-60 minutes until crispy.
Serve immediately.
© 2023 World Spice Merchants https://www.worldspice.com