Tailgater's Mac & Cheese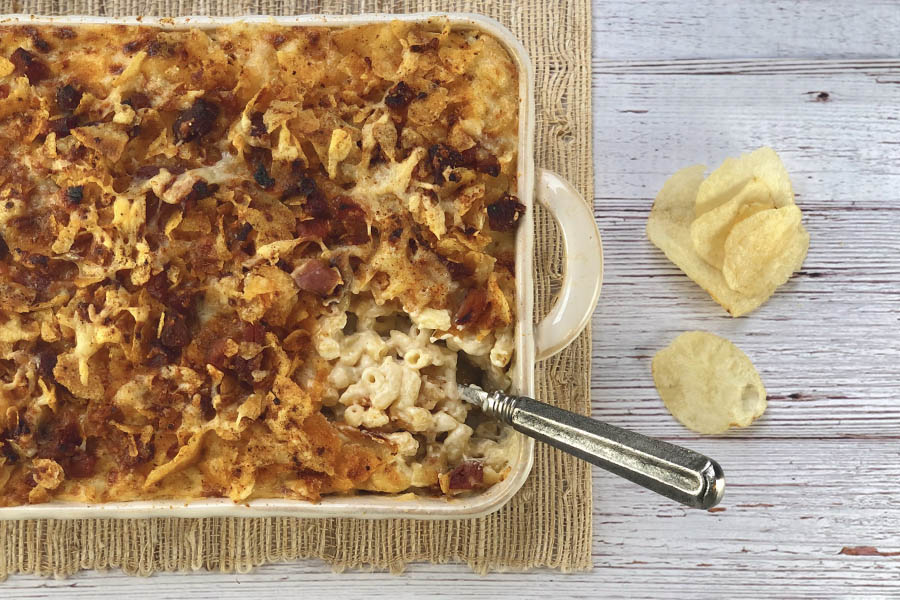 Whether you're tailgating at Arrowhead or watching from home, you'll enjoy this deluxe mac & cheese. As a native of KC transplanted in Seattle, I know which local flavors score and it just felt lucky to combine them to ensure a win in the Big Game. Enter Tailgater's Mac & Cheese! Burger's Ham studs the crunchy potato chip topping and Beecher's Cheeses are loaded in the sauce and on top. This dish is a flavor powerhouse seasoned with our own KC Tailgater's BBQ Rub. How can we lose? Go Chiefs! 
Ingredients
Potato Chip Topping
Mac & Cheese
Instructions
Potato Chip Crust
In a medium bowl add the Beecher Smokey cheese, broken kettle chips, cubed Burgers ham and 1 tablespoon KC Tailgater's BBQ Rub. Toss to combine and set aside.
Mac & Cheese
Heat oven to 350°F. Butter or oil an 2 quart casserole dish.
Cook the macaroni 2 minutes less than package directions. Rinse in cold water and set aside.
Melt the butter in a heavy- bottomed saucepan over medium heat and whisk in the flour. Continue whisking and cooking for about 1 minute to fully incorporate. Slowly add the half and half, whisking constantly. Cook until sauce thickens, about 7 minutes, stirring frequently. Remove from heat.
Add the Flagship cheese, Just Jack cheese, cream cheese, 1 teaspoon KC Tailgater's, and garlic salt. Stir until the cheese is melted and all ingredients are incorporated, about 2 minutes.
Combine cooked pasta and sauce in a medium bowl, and mix gently but thoroughly. Add macaroni into the prepared casserole dish.
Evenly sprinkle potato chip crust on top of macaroni.
Bake uncovered for 20 minutes until piping hot. Let mac 'n' cheese sit for 3 minutes before serving.
Go team!
© 2023 World Spice Merchants https://www.worldspice.com