Fines Herbes Potato Leek Soup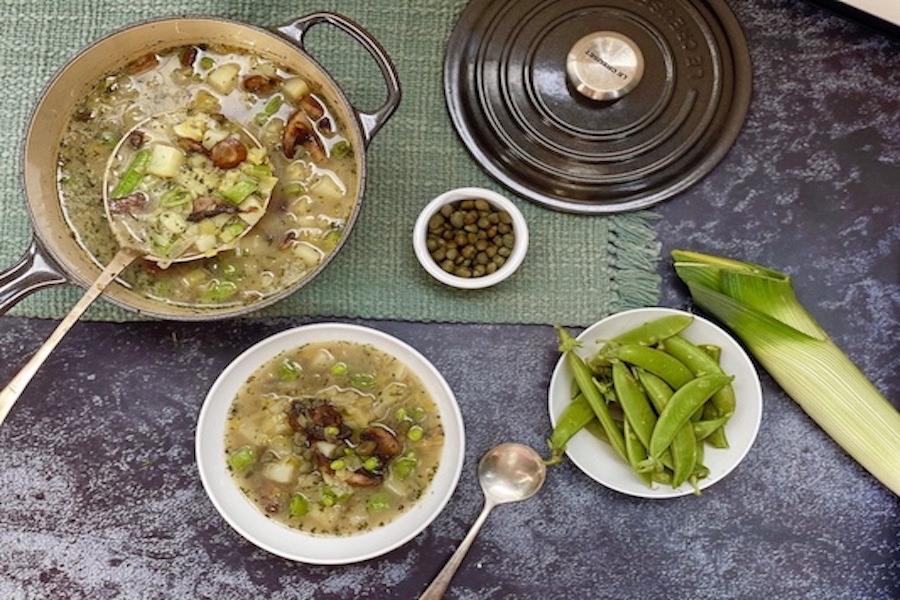 This soup is simple and lets this blend shine. Fines Herbes is a classic French blend of garden herbs like chervil, tarragon, chives and parsley. These delicate herbs season all of the vegetables and give the broth a layered flavor. Every bite is a different texture with pops of salt from the capers. This soup can be easily made vegan using veggie stock. Want to indulge? Add a splash of cream to your bowl for a chowder like soup that is perfect for dipping crusty bread.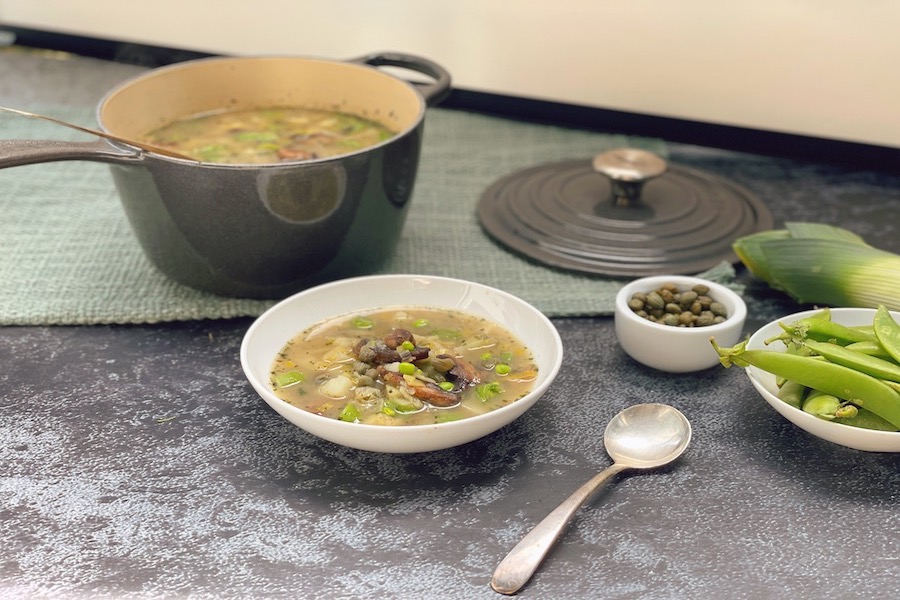 Ingredients
1 tablespoon butter
2 large leeks, cut into half moons
8 ounce baby bella or crimini mushrooms, sliced
2 cups russet potatoes, cut into half-inch cubes
1 cup sugar snap peas, sliced at a bias
32 ounces chicken or veg stock
1 tablespoon Fines Herbes
2 teaspoons Garlic Salt
3 tablespoons capers
1 tablespoon caper brine
Instructions
In a 6-8 qt soup pot over medium-high heat, add the butter and leeks.
Sauté until translucent, then add sliced mushrooms. Stir until mushrooms have softened, about 1 minute.
Next add the potatoes, garlic salt and chicken stock. Bring to a simmer and cook for about 10 minutes or until the potatoes are fork tender. In the last 2 minutes of cooking, add the sugar snap peas, Fines Herbes, capers and brine.
Adjust seasonings to taste. Serve immediately to maintain the bright color and texture of the vegetables.
Notes
- Have leftover chicken in your refrigerator? Add cut up or shredded chicken to this recipe for a heartier soup.
© 2023 World Spice Merchants https://www.worldspice.com
Don't have any Fines Herbes in your spice cabinet? Herbes de Provence works great too. For a light lemony herbaceous pop, use El Greco instead, and our El Greco Zucchini Cheddar Muffins would be a great accompaniment with this recipe. An unexpected spice blend to use would be Montreal Steak and Chop. Don't be fooled by the name, as it works wonderfully with veggies. Since it does have salt in it, omit the Garlic Salt from the recipe.