Seafood Boil
Rustic and decadent, seafood boils are meant to be shared. The delicious mounds of shellfish, veggies and more bring folks together for a fabulously messy feast. This meal will have you excited to get your hands dirty!
A hidden perk of this awesome meal is how little prep time is involved. Simply cut your corn, onion, and garlic, and you're ready to start! The key to such a simple dish is all in the timing. Exactly how you stagger the ingredients as you add them to a broth seasoned with our Classic Crab is what will make or break the dish.
Once everything is cooked, lay out your feast on a picnic table and enjoy alongside some spiced butter. You can substitute almost any spice blend to suit your tastes, but for this recipe we've selected an an array that will please anyone. Butter with Garlic Salt is ideal for those who prefers something mild, while anyone our Cajun Black offers a more tangy, spicy kick.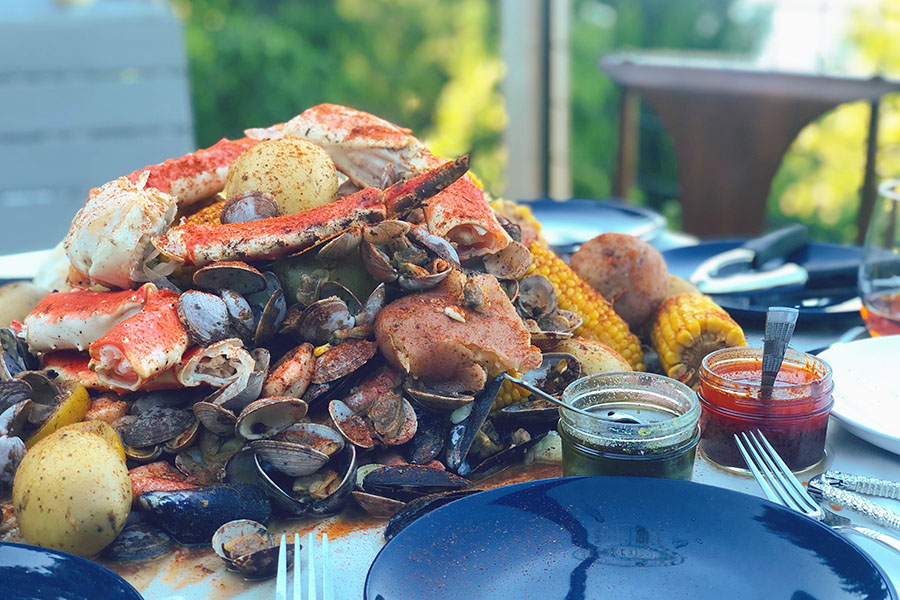 Ingredients
Cajun Butter
Tarheel Butter
Garlic Butter
Instructions
Bring water to a boil and add Classic Crab, sea salt, bay leaves, black pepper, onion and garlic. Let it simmer for 5 minutes.
Add the whole potatoes. Bring boil down to a medium to cook evenly and cook for 10 minutes.
Add corn and Andouille, then cook for another 10 minutes.
Add clams and cook for another 5 minutes. When potatoes are fork tender add the shrimp, mussels and crab legs.
Cook for 10 minutes or until the shrimp is bright pink and mussels are all open.
Strain the broth and toss boil in half of the Cajun butter. Gently lay out seafood boil on parchment lined table. Eat hot and use the seasoned butters as dipping sauces.
Seasoned Butters
Melt butter in a small sauce pot. When butter gets hot but without browning stir in the seasoning. Let the seasoned butters sit for a couple hours before enjoying.
Notes
Be sure to discard any mussels or clams that do not open.
© 2023 World Spice Merchants https://www.worldspice.com