Italian Herb Quinoa Tart
We love quiche but it's a bit of a commitment, so for a quick and easy alternative to fill the quiche niche, we created this tart. It has all of the brunch flavors you crave, but instead of making a classic custard we folded together cooked quinoa, eggs and fresh ricotta salata for a luscious base. Easy! For those of you who haven't had the pleasure, ricotta salata is ricotta that has been salted, pressed and aged giving it a crumbly squeaky texture. Combined with spring vegetables and a classic seasoning of Italian Herbs, this tart will be your new versatile brunch favorite. Caramelized leeks and sweet peppers were our first choice, but add in your favorite vegetables in any season.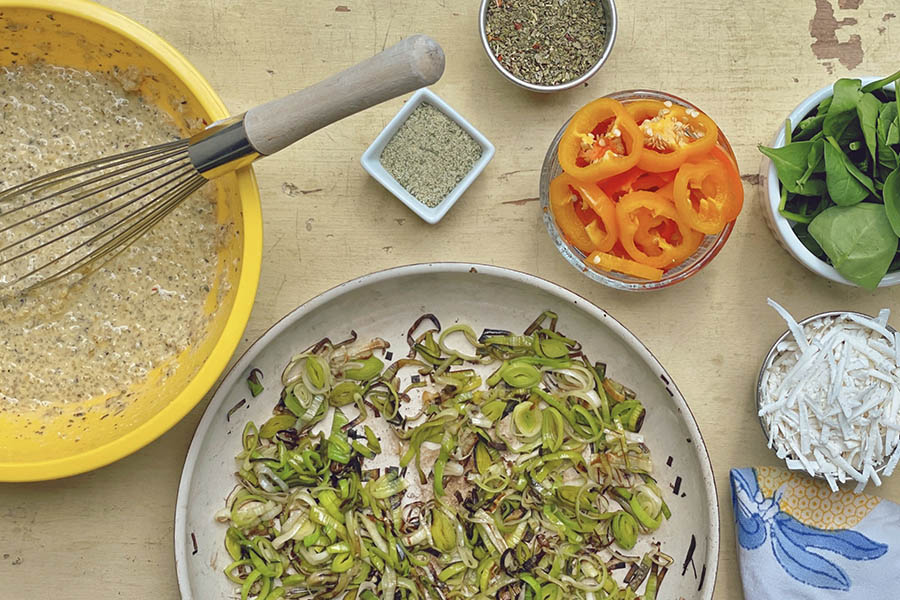 In an effort to create fewer dishes to wash, we used a 10″ non-stick sauté pan to cook the leeks and bake the tart. You may also use a tart pan and a little non-stick spray, for an easy release. This tart is gluten-free and crustless. Once cooked the edges of the tart will pull away and get crispy.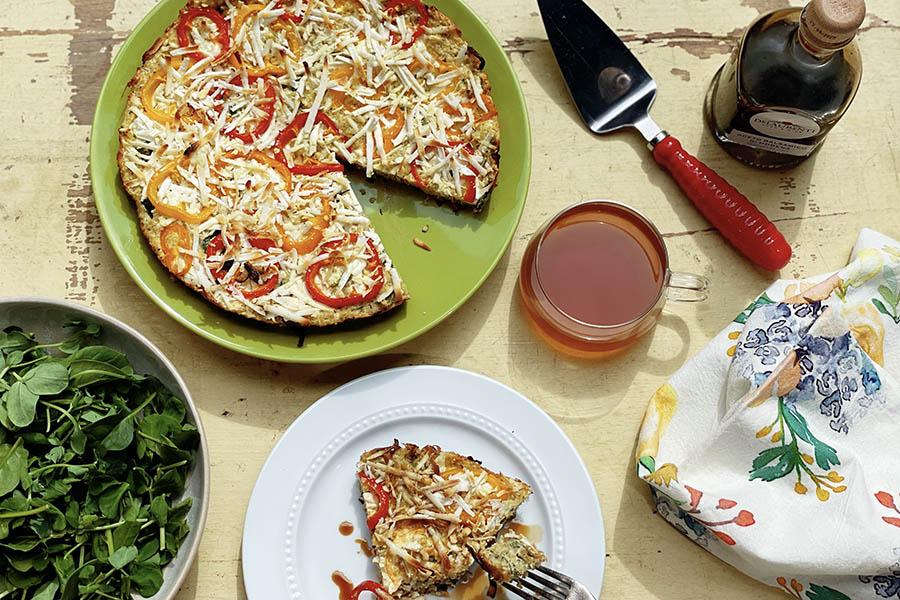 Ingredients
1/2 cup quinoa
1 cup water
2 tablespoons olive oil
1 cup leeks, sliced
4 eggs
1/2 cup ricotta
1 cup ricotta salatta, grated
1 tablespoon Italian Herbs
2 teaspoons Garlic Salt
1 cup spinach
3 mini bell peppers, sliced into rounds
Garnish
Instructions
Preheat the oven to 375°F
Combine quinoa and water in a small pan. Bring to a boil on medium-high heat and then reduce to a simmer. Cover and cook for 18-20 minutes. Set aside.
While the quinoa is cooking, begin to caramelize the leeks. Heat the olive oil in a large sauté pan on medium low heat. Add the leeks and sauté slowly until soft and browned, about 5-7 minutes.
In a separate bowl combine the cooked quinoa, eggs, ricotta, half of the grated ricotta salata, Italian Herbs and garlic salt. Mix until well combined.
Pour the mixture into the non-stick pan with the leeks. Sprinkle in the spinach and sliced peppers. Press them into the mixture so they are slightly submerged. Sprinkle the remaining ricotta salata on top. Bake for 15-18 minutes or until the top is golden and cooked through. Enjoy hot with a splash of balsamic vinegar or at room temperature.
© 2023 World Spice Merchants https://www.worldspice.com

Italian Herbs isn't the only blend that would be great in this recipe. If you love the flavor of fennel and like a little bit of heat, try using Italian Sausage Mix instead. For more of an eastern Mediterranean twist, use El Greco in this tart. The Greek flavors work well with all of the ingredients in this recipe.