Savory White Bean Soup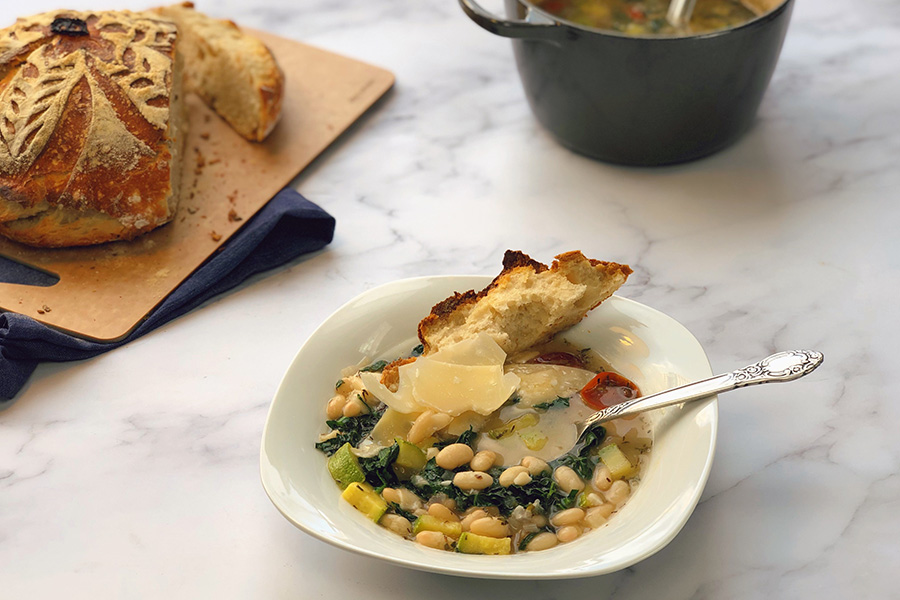 Creamy white beans, aromatic savory and perfectly cooked vegetables make this rustic soup a mid-winter delight. With a nod to the upcoming Mardi Gras season we've brightened the dish with Bay Leaf & Black Pepper Lemon Paste. The soup is a quick cook and makes the perfect weeknight dinner. It is best served right away to enjoy the bright colors and healthy texture of the vegetables alongside your favorite loaf of crusty bread.
Ingredients
1 tablespoon olive oil
1/4 red onion, diced
2 teaspoons minced garlic
1 tablespoon Bay Leaf & Black Pepper Lemon Paste
1 teaspoon savory
2 cups cooked white beans
4 cups stock, chicken or vegetable
1 cup small diced zucchini
1/2 cup chiffonade kale
1/2 cup cherry tomatoes cut in half
1 teaspoon kosher salt
1/3 cup shaved parmesan cheese
Instructions
In a 6-8Q soup pot over medium high heat, add the olive oil and onion.
Sauté until translucent and add the garlic, lemon paste and savory. Stir until fragrant, about 1 minute.
Next add the cooked beans, and stock. Bring to a simmer and then add the zucchini and cook until tender.
Adjust seasonings to taste. Add the kale and tomatoes and simmer until just wilted. Serve immediately to maintain the bright color and texture of the vegetables.
Garnish soup with parmesan cheese and enjoy with your favorite crusty bread.
© 2023 World Spice Merchants https://www.worldspice.com