Black Garlic Standing Potato Gratin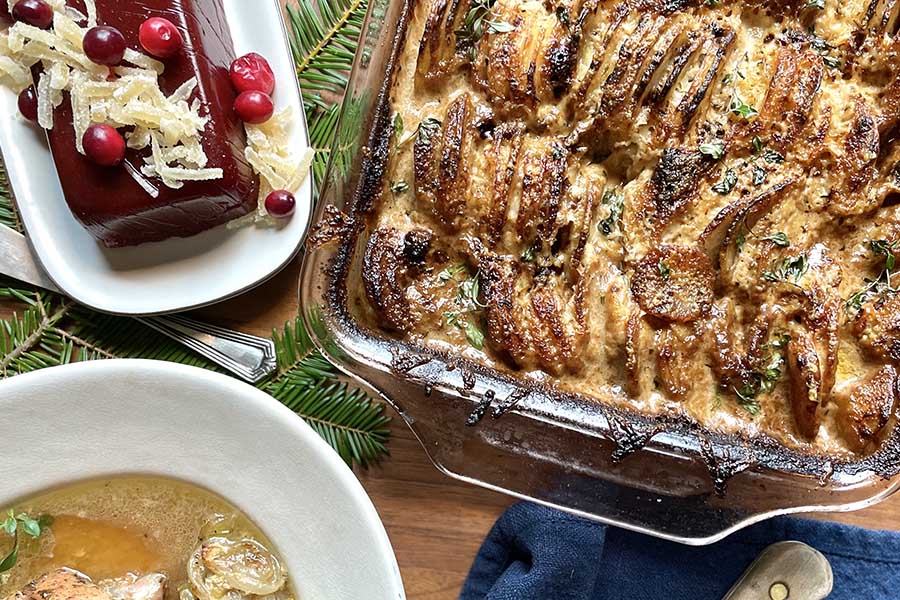 Whether they're mashed, scalloped, fried, or baked, potatoes will always have a special place in my heart and at the holiday table. This casserole does them justice with a show-stopping presentation and a flavor profile that'll have your guests scrambling to discover the secret ingredient. The answer? Black garlic. If you've never had black garlic before, its sweetness and balsamic quality will delight. The flavor is mellow and caramel, but remains decidedly garlic, the best of both worlds. With the accent of savory and powerhouse cheeses like parmesan and gruyere, and a beautiful starchy potato canvas, this dish is a masterpiece. The assembly is easy and forgiving so dig in and enjoy.
Ingredients
3 ounces finely grated Gruyère
2 ounces finely grated Parmesan
1 1/2 cups heavy cream
2 teaspoons savory
2 teaspoons kosher salt
1 teaspoon Vietnamese black pepper, ground
4 pounds russet potatoes,
peeled and sliced 1/8-inch thick
2 ounces black garlic, thinly sliced
2 tablespoons unsalted butter
Instructions
Adjust oven rack to the middle position and preheat oven to 400 degrees.
Combine the cheeses in a large bowl, then set aside 1/3 of the combined cheeses for finishing.
Add the cream, savory, salt and pepper to the cheese mixture and stir to combine. Add potato slices and toss with your hands until every potato is coated with cream mixture, making sure to separate any slices that are sticking together to get the cream mixture in between them.
Generously butter the casserole dish. Pick up a handful of potatoes, organizing them into a neat stack, and lay them in the casserole dish with their edges aligned vertically. Continue placing potatoes in the dish, into neat rows. The potatoes should be packed enough to stand up in the casserole dish. If you run out of potatoes before the dish is full, slice and add more. Once potatoes are arranged evenly distribute the black garlic between shingled potatoes. Pour the excess cream/cheese mixture evenly over the standing potatoes. There should be enough liquid to halfway come up from the sides of the casserole. Place the casserole dish on a sheet tray before baking in case any sauce boils over.
Cover the casserole tightly with foil and transfer to the oven. Bake for 40 minutes. Remove foil and continue baking until the top is pale golden brown, about 30 minutes more. Carefully remove from oven, sprinkle with remaining cheese, and return to oven once again. Bake until the potatoes are deep golden brown and caramelized on top, about 20 minutes longer. Remove from oven and allow to rest 5-10 minutes before serving.
Notes
Slicing the black garlic is an exercise in patience. The gooey cloves like to stick together, and to your fingers! If time allows, pop them into the freezer for an hour before slicing to firm them up a bit and make handling easier.
© 2023 World Spice Merchants https://www.worldspice.com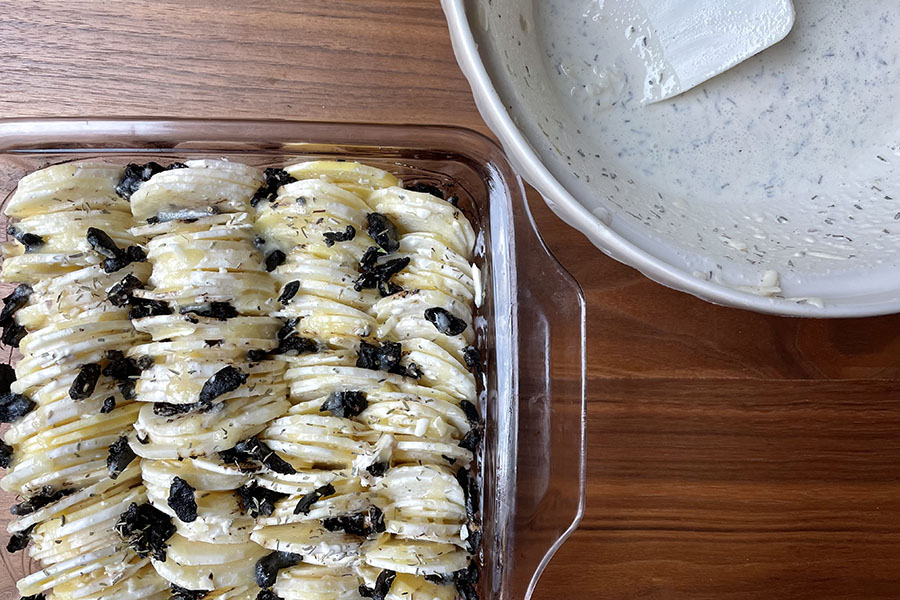 We first found this recipe in the Food Lab by inspired chef and recent Seattle transplant J-Kenji Lopez. His method of cooking the potatoes hassle back style is genius. You might be thinking the recipe too rich (blasphemy!), but it's surprisingly not too heavy. All the same, we have used oat milk as a substitute when counting calories and the results were delicious in that version too.