Baked Brie with Savory and Caramelized Onions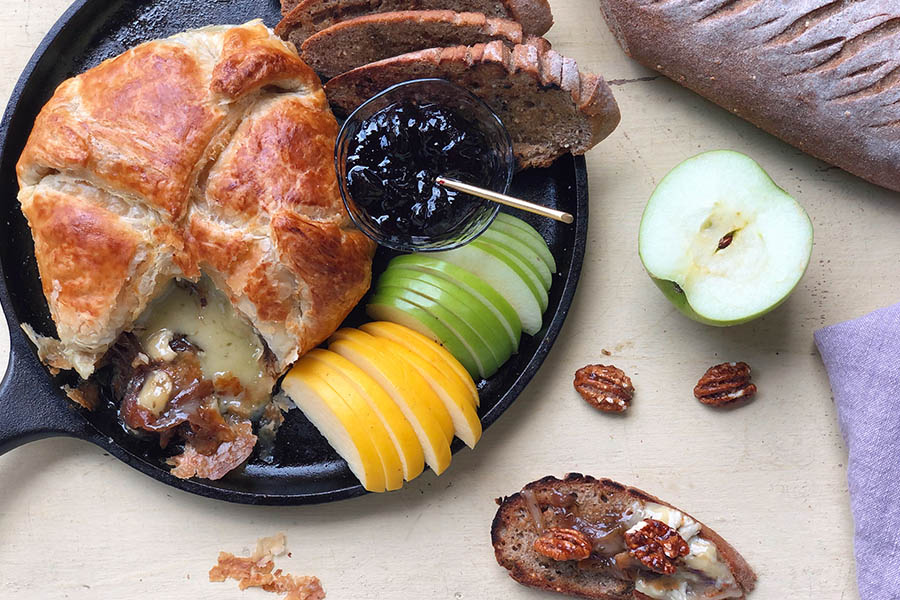 This impressive baked Brie is proof positive that cheese can be a complete meal if you're so inclined. Artfully wrapped in puff pastry, the presentation is fancy but is easy to make and the layers of flavor are equally spectacular.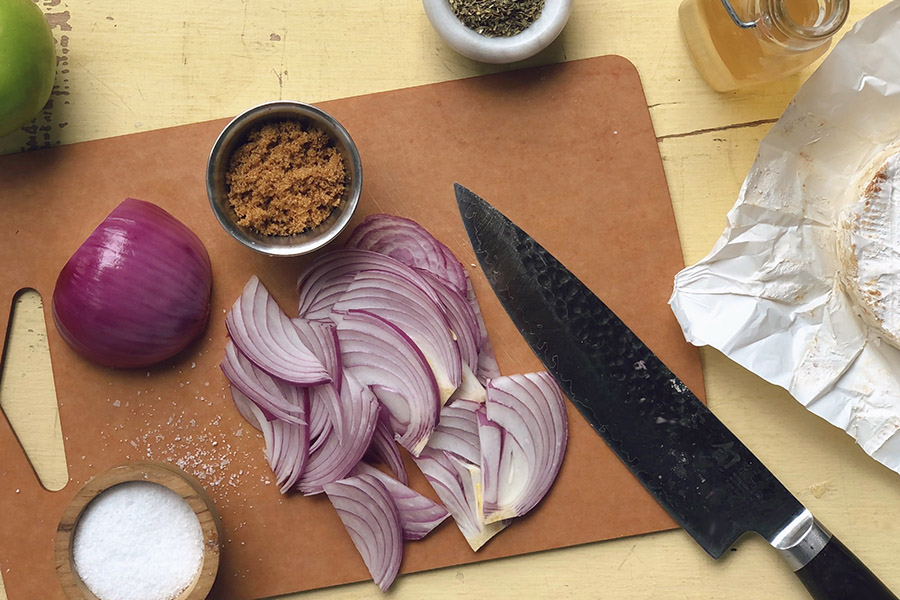 A caramelized onion jam is hidden beneath the cheese and the smorgasbord is rounded out with fruit and nuts. The onion jam slowly caramelized with savory to lend a little piney earthiness along with a splash of  balsamic vinegar and brown sugar to make the onions jammy. Once baked, the cheese and onions are easy to spread on crostini or sliced apples.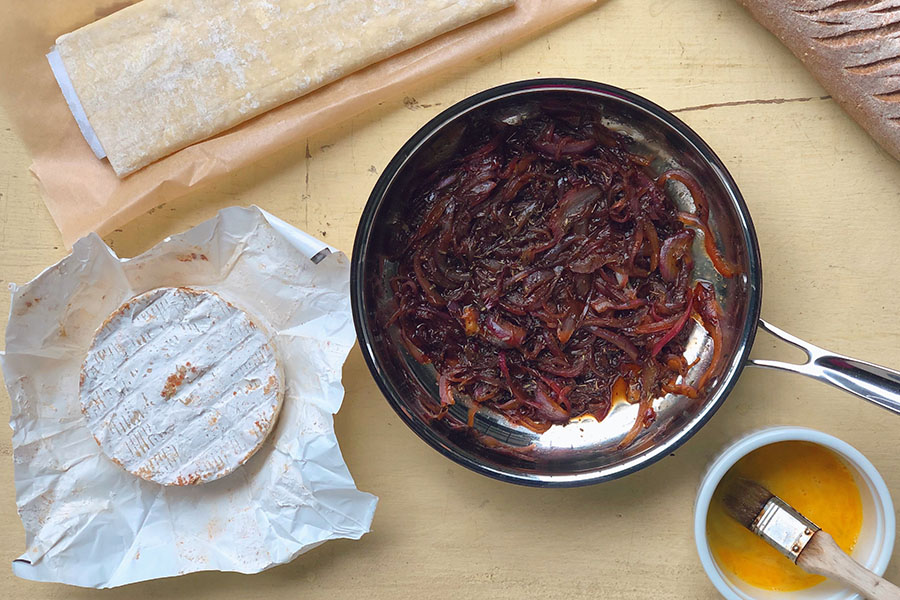 Ingredients
For the Baked Brie
2 tablespoons olive oil
1 medium red onion, julienned
½ teaspoon kosher salt
½ teaspoon Tellicherry black pepper, ground
1 teaspoon savory
2 tablespoons brown sugar
2 tablespoon white balsamic vinegar
1 16-oz wheel of Brie
1 sheet puff pastry, thawed
1 egg, beaten
Accompaniments
Crostini or crackers
Sliced apples or pears
Candied pecans or nut of choice
Jam or preserves
Instructions
Preheat a saute pan over medium heat. Add the olive oil, onions, salt and pepper. Cook, stirring occasionally, for about 5-6 minutes or until the onions are wilted, browned and sticking to the pan.
Next add the savory, brown sugar and vinegar and continue cooking until the onions are soft, jammy and thickly glazed. Remove from heat and transfer to a separate bowl to cool.
Preheat the oven to 375°. Line a baking sheet with a piece of parchment paper.
Unfold the puff pastry on the baking sheet. Pile the caramelized onions in the center of the puff pastry sheet. Place the Brie wheel on top of the onions.
Using a pastry brush, lightly brush the edges of the puff pastry sheet with the beaten egg, so that the puff pastry will stick together once folded.
Fold each corner into the center of the Brie wheel, and pinch them together. Then press together each of the open edges, creating an envelope to hug the cheese. Improv is OK here! And go ahead and stretch the sheet as needed, sealing all the seams so the cheese doesn't leak out.
Once closed and sealed, brush the puff pastry with the beaten egg to give it a shiny golden brown crust when finished.
Bake the Brie for 25 minutes or until the pastry is golden brown on the outside. Let it rest a couple minutes before transferring with a spatula to a cutting board or platter. Serve with crostini, apples, candied nuts and jam.
© 2022 World Spice Merchants https://www.worldspice.com