Chicken Drumsticks with Spices and Coconut Milk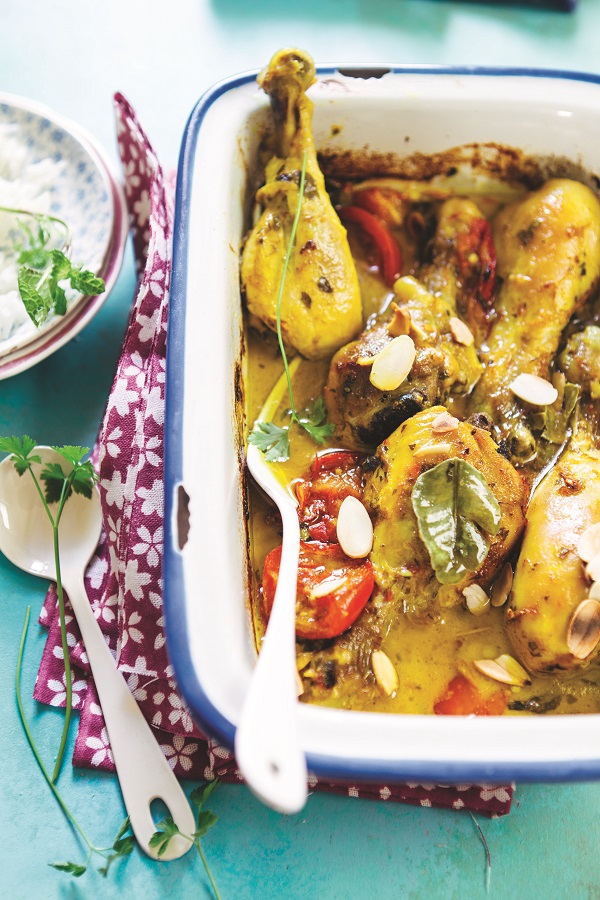 This lovely recipe comes from Béatrice Peltre's My French Family Table, the World Spice Cookbook Selection for May 2017.  This recipe is one of the author's favorite chicken "go to recipes" for when she needs a dose of delicious comfort food.
From the Author: "When I'm thinking about comfort food that involves chicken, I like to imagine the sauce that will come with it, something wonderful to flavor a bowl of steaming grains such as brown rice, millet, or quinoa on the side. The sauce in this chicken dish is packed with many of my favorite aromas, from an array of fresh-scented herbs and spices – what's not to love about saffron? – to the flavors of lime juice and coconut milk. I always hope there will be leftovers for the next day so I can have a quiet lunch at home when Lulu is at school and Philip is at the office."
Ingredients
12 chicken drumsticks, between 4 and 5 oz (115 to 140 g) each
1 teaspoon ground coriander
1 teaspoon ground cumin
1/2 teaspoon turmeric
1-inch (2.5 cm) piece of fresh ginger, peeled and finely grated
1 strand saffron (0.03 oz; 1 g)
1/2 teaspoon sea salt
Pepper, to taste
2 garlic cloves, minced
Zest of 1 lime, finely grated
4 tablespoons lime juice
1/3 cup (80 ml) olive oil
1 tablespoon fresh basil or cilantro, chopped
1 tablespoon fresh mint, chopped
1 tablespoon fresh parsley, chopped
12 cherry tomatoes, cut in half, or 2 tomatoes, cut into 8 pieces each
1 dry lime leaf or 1 bay leaf
1/2 red onion, thinly sliced with a mandoline
1/4 cup (60 ml) water
1/2 cup (120 ml) unsweetened coconut milk
Instructions
Skin the drumsticks by pulling the skin toward the end of the bone and using a pair of scissors to cut it off. Set aside in a large baking dish.
In a small bowl, combine the coriander, cumin, turmeric, ginger, saffron, and sea salt. Season with pepper to taste. Add the garlic and the lime zest and juice. Stir in the olive oil and fresh herbs. Coat the chicken with the sauce and place in the fridge for a few hours so that the flavors develop - although can cook the chicken right away if you wish.
Preheat the oven to 400 degrees F (200 degrees C). Add the tomatoes, lime leaf, onion, and water to the baking dish. Bake the chicken for 20 minutes. Reduce the temperature to 375 degrees F (190 degrees C) and continue to cook for 40 minutes, stirring a few times, until the chicken is cooked through. Stir the coconut milk into the sauce in the pan and continue to cook for 10 more minutes.
Serve over a grain like millet, quinoa, or short brown rice, with Radish, Fennel, and Appple Salad (page 136) on the side.
© 2023 World Spice Merchants https://www.worldspice.com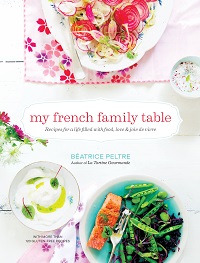 From My French Family Table by Beatrice Peltre © 2016 by Beatrice Peltre.  Reprinted by arrangement with Roost Books, an imprint of Shambhala Publications, Inc. Boulder, CO. www.roostbooks.com
My French Family Table is the May 2017 selection for the World Spice Cookbook Club. My French Family Table is currently available for purchase at our retail store and online.