Crunchy Coriander Granola
This crunchy coriander granola IS a breakfast champion. The mellow flavor of coriander seeds is complemented by orange zest and coconut oil in every bite, and it is perfectly toasted to give a satisfying crunch to your breakfast bowl. This sublime cereal can also serve as a base for crusts, crumbles and bars, or as a nutty topping for an ice cream sundae.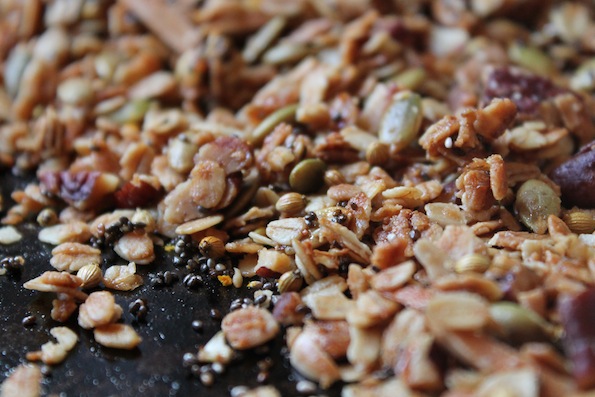 Ingredients
4 cups rolled oats
1 cup sliced or slivered almonds
3/4 cup pumpkin or sunflower seeds
1/2 cup Indian coriander seeds
1/4 cup chia seeds
1 teaspoon kosher salt
1/2 cup maple syrup
1/4 cup honey
3/4 cup melted coconut oil
1 navel orange
Instructions
Preheat oven to 325 degrees.
In a large bowl, combine all dry ingredients and stir to combine.
In a medium saucepan, melt the coconut oil over low heat. Remove from heat and add the maple syrup and honey. Stir well.
Pour the coconut oil mixture over the dry ingredients and stir to coat.
Line a large sheet pan with parchment and spread the granola out in an even layer on the pan. Bake for 20 minutes. Remove the pan from the oven and stir the granola, returning it to an even layer. Put the pan back in the oven and cook 20 minutes more. Stir again and continue cooking until the granola is toasted and golden, about 10-15 minutes more.
Remove the pan from the oven and zest the orange over the warm granola. Allow the granola to cool on the sheet pan and it will crisp up even more. Store in an airtight container.
© 2021 World Spice Merchants https://www.worldspice.com