Fried Eggplant Roll-Ups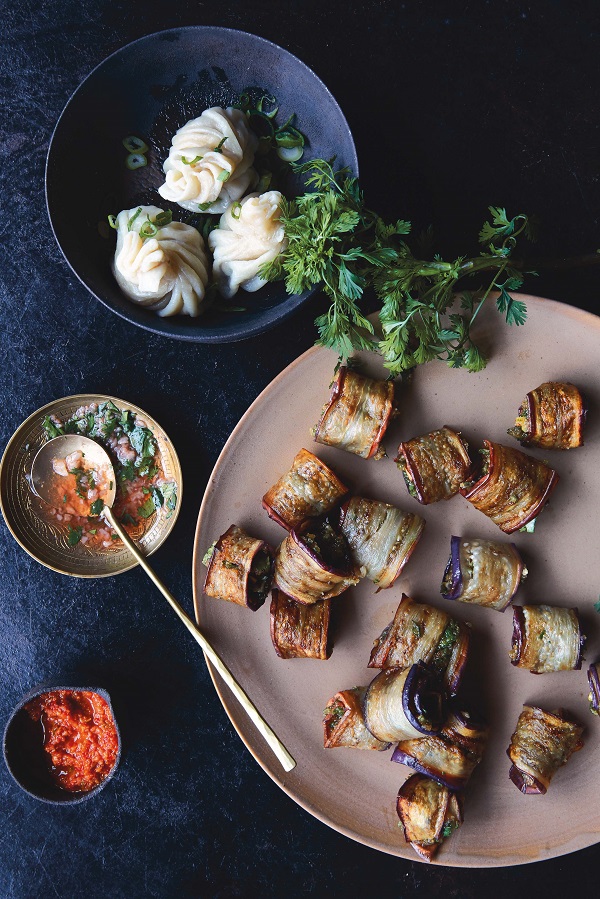 One of the countries in the Persian culinary region that has colorful and flavorful food is Georgia. Nestled between the Caucasus Mountains and the Black Sea, Georgia has a climate similar to the Mediterranean's, and a love of vegetables blended with walnuts and vibrant herbs. This recipe from Naomi Duguid's latest book  Taste of Persia shows up how the combination of eggplant and a rich walnut paste can make for one delicious dish. We can't wait to "travel" throughout the region for this October 2017 Meet & Eat. You can learn more on Naomi Duguid's website about her other great cookbooks and her culinary travels around the world.
From the author: "These succulent roll-ups are one of the treasures of the Georgian table. Strips of fried eggplant are coated with spiced walnut paste and rolled up. They're best if made an hour or more ahead of time and slightly chilled, so that the filling firms up and the flavors have time to blend. Badrigiani make a great appetizer, though in Georgia they are usually served as part of a wide selection of dishes at a meal."
Ingredients
5 narrow Asian eggplants, about 12 inches long; or 10 Asian eggplants, about 8 inches long; or 2 pounds Mediterranean eggplant
About 3 tablespoons sunflower or extra-virgin olive oil
Filling:
¾ cup walnuts or walnut pieces
2 garlic cloves, minced
1 teaspoon ground coriander (see Note)
1 teaspoon ground blue fenugreek, or ¾ teaspoon powdered dried fenugreek plus ½ teaspoon ground fenugreek leaves (see Note)
½ teaspoon sea salt
Scant ¼ teaspoon powdered dried red chiles (optional; see Note)
½ cup minced fresh coriander (cilantro)
½ cup minced fresh mint
3 scallions, trimmed and finely chopped
1 tablespoon white wine vinegar or fresh lemon juice
Instructions
Trim the stems off the eggplants and discard. Slice the eggplants lengthwise into 1?4-inch-thick strips; if the eggplants are very long or very wide, cut the slices in half crosswise or lengthwise to yield strips 4 to 6 inches long and 11?2 to 2 inches wide.
Lay the slices on a parchment-lined baking sheet and sprinkle on salt generously. Set another baking sheet on top and weigh it down with a heavy cast-iron pan (or set up an equivalent arrangement) and set the eggplant aside for an hour or so to drain and compress.
Meanwhile, make the filling: Combine the walnuts, garlic, ground spices, salt, and chiles in a food processor or a mortar and process or pound to blend thoroughly. Transfer to a bowl and stir in the herbs, scallions, and vinegar or lemon juice.
Rinse the eggplant strips thoroughly in a colander and squeeze dry. Place a wide heavy skillet over medium-high heat, add 2 tablespoons oil, and heat until hot.
Slide some eggplant strips into the oil, without crowding, lower the heat to medium, and fry, turning once, until cooked through, about 10 minutes.
Lift out onto a paper towel–lined plate or baking sheet and set aside until cool enough to handle. Repeat with the remaining eggplant, adding more oil as necessary and heating it until hot before adding more eggplant.
Spread some filling on each eggplant strip, roll up, and set seam side down on a platter. Serve at room temperature.
Notes
NOTE: If you have Georgian spice blend (Khmeli Suneli), use 1 tablespoon of the blend instead of the coriander, fenugreek, and chiles.
Or make your own - Georgian spice blend (Khmeli Suneli):
3 tablespoons ground blue fenugreek, or 2 tablespoons powdered dried fenugreek leaves plus 1 tablespoon ground fenugreek, 2 tablespoons ground coriander,
3 tablespoons powdered dried marigold or safflower petals (optional),
1 teaspoon powdered dried red chiles
Optional Extras:
2 teaspoons dried dill, or to taste, 2 teaspoons dried basil, or to taste, 2 teaspoons dried mint, 1 teaspoon dried summer savory, 1 teaspoon freshly ground black pepper,
½ teaspoon ground celery seed.
Combine the fenugreek, coriander, dried flowers, if using, chiles, and optional spices and herbs as you like in a bowl. Store in a wide-mouthed glass jar.
© 2023 World Spice Merchants https://www.worldspice.com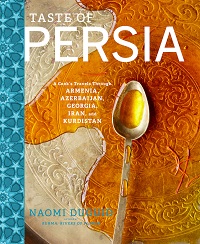 Excerpted from Taste of Persia by Naomi Duguid (Artisan Books). Copyright © 2016. Photographs by Gentl & Hyers.
Taste of Persia is the October 2017 selection for the World Spice Cookbook Club. Taste of Persia is currently available for purchase at our retail store and online.