Flour Tortillas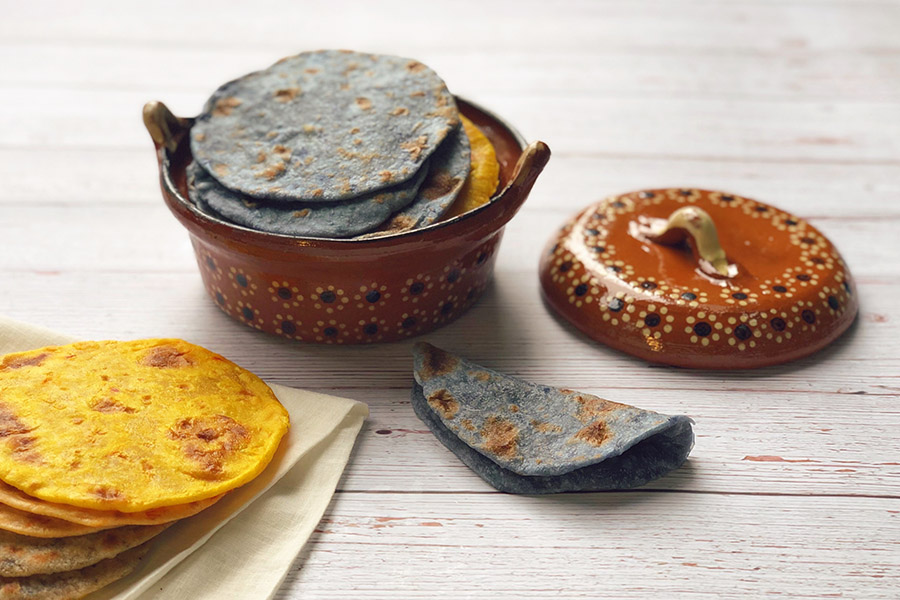 It's no secret that flour tortillas are champions of versatility! You can top them with anything, fill them with anything, and they work great for snacks or for meals. What's less well known, however, is that they're also incredibly easy to make! Really! And nothing beats a fresh, warm tortilla.
When making tortillas at home, use the opportunity to be creative! By using different spices or flours, you can inject a little flair into your recipe, and make your tortillas truly unique! In this recipe, we use saffron and butterfly pea flower to give our tortillas unique and distinctive colors. You can substitute a portion of the all-purpose flour for other flours, too, for more flavor and texture variety.
Recipes such as this one traditionally use lard, but we've found that vegetable oil makes a perfectly suitable substitution. It's easy to double or triple this recipe, and they'll keep in your refrigerator in an airtight container for a couple of weeks. Homemade tortillas are best when fresh, though, and we don't think you'll have any problem finding ways to use them!
Ingredients
2 cups unbleached all-purpose flour (bread flour will work too)
1/2 tsp salt
1/4 cup vegetable oil
2/3 cup boiling water
1 tablespoon of butterfly pea flower, crumbled, or
Two pinches of saffron(about 1/2 teaspoon)
Instructions
You can make these by hand, but if you have a KitchenAid mixer, it's even easier.
Steep butterfly pea flower in 2/3 cup boiling water or saffron in 2/3 cup boiling water. When water cools to warm, then make the tortillas.
Combine flour and salt together. Add oil, and mix until the mixture resembles small peas. (If using a mixer, use the paddle attachment. If making by hand, you can use a pastry cutter, fork or even your hand.)
Add the steeped warm water and mix well, scraping down the sides of the bowl. It should form into a ball.
Lightly flour a cutting board and knead the ball for about a minute. Then cover the dough ball and let rest for at least 30 minutes, but no more than a couple of hours.
Heat up a pancake griddle or a couple of teflon (or cast iron) pans. You want it to be medium hot. Form dough into little balls. (If you want small tortillas, roll into golf ball sized balls. If you want larger tortillas, roll into bigger sized balls.) Your yield will obviously vary depending on the size you roll.
Flatten a dough ball with your hands, and then place on a cutting board. (It doesn't have to be floured.) Roll out to the thickness you want your tortilla to be. Place the rolled out tortilla on the hot pan/griddle surface and watch it cook. (The poofy bubbles it sometimes forms are kind of fun to watch!) Using a spatula (or your fingers - but be careful - it's going to be hot!), lift up the tortilla to see if it's done. It should be browned on the bottom - if it is, then it's ready to flip over and cook the other side. Cook that side until brown, and remove and put on a plate to cool. Repeat Step 5 with the rest of your dough, continuing to stack them on top of each other when fully cooked.
Eat them! (Or, when they have cooled down, you can store them in your refrigerator.) These are excellent when placed on a sheet pan and sprinkled with grated cheese. (And any other toppings you choose.) Put in a 350 degree oven until the cheese is melted and tortillas are slightly browned. (Sometimes they will also puff up in the middle, too. That's a good thing. Store-bought tortillas don't do that.) Trust me - you will find excuses to eat these, which is why it's best to do a double or triple batch.
Notes
And now for the fun variations:
Flour - You can substitute 1/2 cup of the all-purpose flour with 1/2 cup of any other flour, such as masa harina, oat flour, spelt flour, garbanzo flour, brown rice flour, quinoa flour...you get the idea. Just add it in Step 1.
Salt - Use any salt, such as Murray River Flaked Salt or Alderwood Smoked Salt. Or use a  seasoned salt blend, like the Svaneti Seasoned Salt or Provencal Seasoned Salt.
Oil - We used vegetable oil, but any oil will do. Try a Roasted Garlic oil, or make your own flavored oils...like a Ghost Chile oil...if you want to use sesame oil, just add a few drops to your vegetable oil - it has a very strong flavor and will be overwhelming.
Water - You could make flavored tea ones - just strain the tea out before adding to the flour mixture. Lapsang Souchong (1 tsp)or Hibiscus(1 Tbl) would be good...
Spices - For any of these, use 3 Tbl of the spice and add to Step 1.
For herby tortillas, try Ranch Seasoning, Israeli Za'atar, Orange Tarragon (ground), El Greco, Italian Herbs or Herbes de Provence.
For sweet tortillas, try Cinnamon Toast Spice, Pumpkin Pie Spice or Mayan Cocoa.
For exotically spiced tortillas, try Cuban Spice (ground), Khmeli-Sunelli (ground and use Svaneti Seasoned Salt with this one), Tikka Masala (ground, or any curry or masala blend), Besar (ground),Lemon Herb Pepper, Ras el Hanout (ground), Caribbean Spice (ground),Chimichurri Spice, Jerk Rub (ground), Creole Spice (ground, and use Voodoo), or Togarashi, Thai Seasoning, (or combine Syrian and Israeli Zaatars together).
For really cool colors (and flavor, too), try combining Aleppo Pepper or Marash Chile with Urfa Biber (1 Tbl of each), or Beet Powder (2-1/2 Tbl and Black Sesame Seeds (2 Tbl) or Hibiscus (see 'Water' for these two).  
© 2023 World Spice Merchants https://www.worldspice.com