Pink Peppercorn and Ginger Poached Pears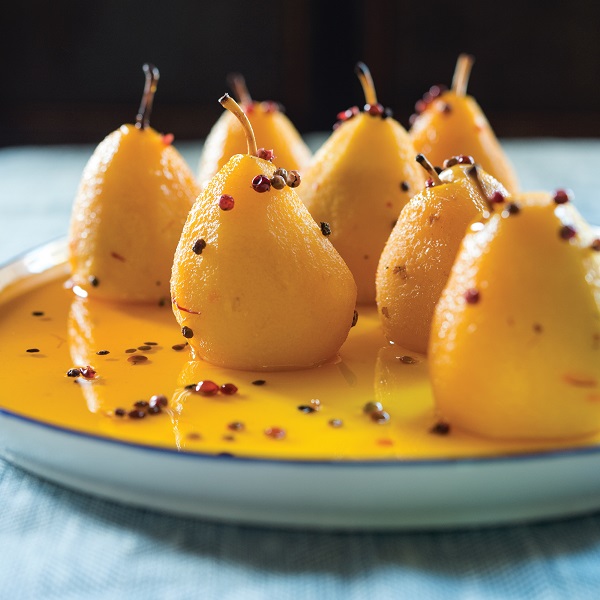 Here's a show-stopping dessert from from My Two Souths and Chef Asha Gomez. Based on her love of pears here in the US, this gorgeous Pink Peppercorn and Ginger Poached Pears recipe had us eagerly awaiting our September 2017 "Meet & Eat". For more on Asha Gomez's recipes, follow her on Twitter and/or Facebook.
From the author: "Although India received pears from China many centuries ago, and they are grown and available most commonly in the northern provinces, they are still not nearly as beloved a fruit as the mango. In the southern US, pears struggle to compete with peaches, which are harvested regionally about the same time in the summer and into the fall. But when it comes to poaching – and I love poaching all types of fruit – the pear seems to be the best fruit, with its ability to retain its shape and its blossoming flavor. Because of importation and advanced agricultural practices, lovely ripe pears are available at the grocery store at almost any time of the year. However, for this recipe I chose a darling little pear called Seckel, also known as a sugar pear, because it is unrivaled in terms of sweetness. With a short, round, chubby appearance, sugar pears offer an off-white to pale yellow flesh that is slightly more dense and coarse than other varieties; they embody the phrase "good things come in small packages." Seckel pears – or many other varieties for that matter, such as Bosc, Anjou, or Bartlett – are perfect for this dessert since they readily absorb the flavors and fragrance of the ginger and sweet pink peppercorns. Serve these for a stunning fall dessert."
Ingredients
1 cup white granulated sugar
2 tablespoons peeled, grated fresh ginger
2 teaspoons dried pink peppercorns (see notes)
10 strands of saffron
6 Seckel pears, peeled, stems attached
Instructions
In a 3-quart pot, over medium heat, bring 4 cups of water with the sugar, ginger, peppercorns, and saffron to a boil.
Add the pears, reduce heat to low, and simmer, occasionally basting the pears, until the liquid is reduced by one-half and has reached a syrupy consistency and the pears are tender when lightly pierced with a sharp knife tip, about 20 to 25 minutes.
Serve the pears drizzled with the remaining warm syrup.
Notes
Notes: Pink peppercorns are not really peppercorns at all; they are the dried berries from either a member of the rose family commonly known as the Peruvian peppertree or a related species known as the Brazilian pepper. They are so named because not only do they look like peppercorns, but they also have a peppery taste. Pink peppercorns release a faintly pine-like aroma and have a sweet, warming scent. I think these rosy peppercorns give off just the right amount of heat and wed beautifully with the warm ginger to create a new flavor for poached pears. When buying pears for immediate use, test for ripeness by slightly pressing the skin near the stem. It should feel slightly soft, but the body of the pear should be firm. If a pear feels soft all over, it is generally overripe, and the flesh may be mushy or mealy. If you are buying for later, choose pears that are firm near the stem. To speed up the ripening of hard pears, place them in a paper sack with a whole banana and punch a few air holes in the sack. The pears should ripen in two to three days. You will know they are ripe when you begin to smell their heady sweet fragrance and the stem area starts to soften.

© 2023 World Spice Merchants https://www.worldspice.com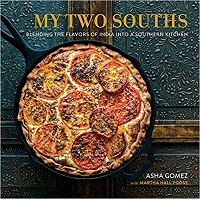 Reprinted with permission from My Two Souths: Blending the Flavors of India into a Southern Kitchen © 2016 by Asha Gomez with Martha Hall Foose. Photo credit: Evan Sung. Published by Running Press.
My Two Souths: Blending the Flavors of India into a Southern Kitchen is the September 2017 selection for the World Spice Cookbook Club. My Two Souths: Blending the Flavors of India into a Southern Kitchen is currently available for purchase at our retail store and online.