Sheermal (semi-sweet saffron and cardamom-enriched bread)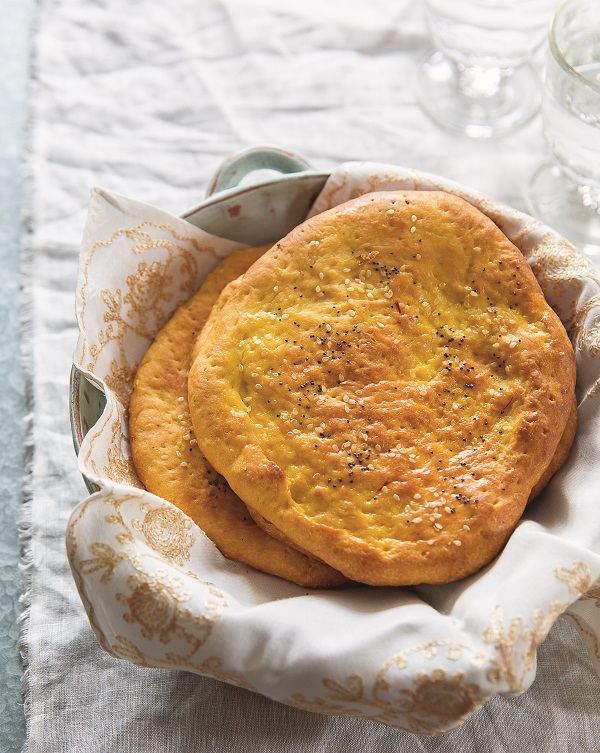 Summers Under The Tamarind Tree: Recipes and memories from Pakistan, the World Spice Cookbook Club featured selection for April 2017 showcases a full-flavored cuisine with Arabic and Far East Asian influences on many dishes. Author Sumayya Usmani uses this contemporary Pakistani cookbook to celebrate the flavors and traditions of Pakistan that she learned from spending time in the kitchen with her mother and grandmother when she was growing up. This gorgeous Sheermal, a semi-sweet and cardamom-enriched bread, would be a delicious addition to any brunch…or the afternoon cup of chai.
From the Author: "This saffron-flavored semi-sweet leavened bread has its roots in Persian and North Indian cooking." They can be made in advance and they freeze very well – to defrost, simply toast."
Ingredients
210g/7 oz/1 cup strong bread flour
1/2 teaspoon salt
1-1/4 tablespoon superfine sugar
1/2 teaspoon fast-action (active dry) yeast
4 tablespoons milk powder
1/2 teaspoon ground cardamom
100 ml/3-1/2 fl oz/scant 1/2 cup whole milk
2 tablespoons hot milk infused with 1/2 tsp saffron threads
3 tablespoon ghee or melted unsalted butter, plus extra for greasing
3 tablespoon heavy cream
1 egg
lukewarm water, for binding
1/2 tsp rose water or kewra water (screwpine extract)
milk, for brushing
1 tsp sesame seeds, poppy seeds, nuts
Instructions
Place all the dry ingredients in a bowl, add the the remaining ingredients and mix to make a soft dough. Cover and allow to rise in a warm place for 1-1/2 hours.
Remove the dough from the bowl and place on a lightly floured work surface. Punch the dough down to get rid of excessive air, then knead for 7-10 minutes.
Preheat the oven to 400 degrees and grease a baking tray with ghee or butter. Make 4 - 6 round balls from the dough and cover with a piece of plastic wrap.
Flatten the balls with the palm of your hands, then roll out into rounds. turn and flatten to about 3 - 4 mm/1/8 inch thick. Use a fork to pierce the rounds all over, then brush with 3 tablespoons milk and sprinkle with poppy seeds, sesame seeds or nuts. Place on the baking tray.
Put the baking tray on the middle shelf of the oven and bake for 12 - 15 minutes until light brown. Remove from the oven, brush with a little more milk and keep in foil until ready to eat.
© 2023 World Spice Merchants https://www.worldspice.com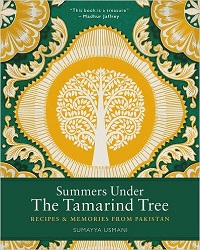 Recipes and images reprinted from Summers Under The Tamarind Tree: Recipes and memories from Pakistan. Copyright © 2016 by Sumayya Usmani. Photographs copyright © 2015 by Joanna Yee. Published by Frances Lincoln, an imprint of The Quarto Group."
Summers Under The Tamarind Tree is the April 2017 selection for the World Spice Cookbook Club. Summers Under The Tamarind Tree is currently available for purchase online at www.amazon.com.