Tagged With:
Saffron
Thanks to its luxurious ingredients, this pasta is fancy and decadent enough for special occasions, but is simple enough to be thrown together quickly. Rather than an elaborate sauce, the pasta is dressed with cream flavored by all of the dishes' components. This makes for a rich-tasting effect that feels far lighter than a traditional cream sauce. It's worth noting that this is one of the few recipes in which I advocate not toasting the pine nuts, because it is my experience that the toasted flavor doesn't complement the saffron, and actually competes with it. You can use any shape of pasta, of course, but I find that penne rigate- the penne with the little ridges- holds the perfect amount of sauce. Each element in this pasta represents one of the tastes detectable by your palate, so the result is a beautifully balanced, crave-worthy dish.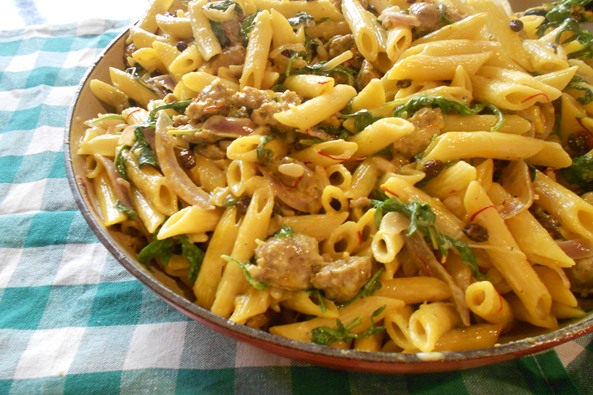 Saffron Penne With Sausage and Arugula
Ingredients
1.5 pounds penne rigatè pasta
3 cups light cream
¾ teaspoon saffron
¾ cup dried currants
¾ cup pine nuts, untoasted
zest of 1 lemon
6 oz. fresh baby arugula
1 lb. medium-spicy Italian sausage, casings removed
1 tablespoon fennel seeds
1-2 large shallot(s), medium diced
Salt and freshly ground Lampong black pepper to taste
Shaved parmesan to garnish
Instructions
Boil the pasta 'al dente,' according to the package instructions. Reserve one cup of the cooking liquid in case it is needed to "loosen" the sauce at the end. Drain the remainder, and set the cooked pasta aside.
Pour about ¼ cup of boiling water over the saffron, to allow it to steep and release its flavor. Pour about ½ cup of boiling water over the currants to allow them to rehydrate. Set both aside.
In a large skillet (one that will accommodate the entirety of the dish- a large, enameled cast-iron Dutch oven or brazier works wonderfully), heat one tablespoon of oil over medium heat and cook the sausage, breaking up in to bite-sized pieces with a wooden spoon.
When the sausage is nearly cooked through, add the shallot, cooking in the rendered fat from the sausage until softened, but not browned. Add the pine nuts and fennel seeds, and cook for one minute. Pour in cream, and reduce heat to low.
Add in saffron - water, threads, and all. Drain the water from the currants, and add them to the cream mixture. Keep the sauce at the barest simmer for five to ten minutes, to allow all the flavors to meld. Taste, and add lemon zest, salt, and pepper to taste.
Add cooked pasta, tossing to coat with the cream mixture. Cover, and allow the pasta to absorb some of the cream over very low heat for three to five minutes. Turn off the heat, and add in the arugula, allowing the heat from the cream and pasta to wilt it. If at this point the pasta appears dry, add in some of the reserved pasta cooking liquid, a tablespoon or two at a time, until the desired consistency is reached.
Garnish with shaved parmesan - the best you can get - and serve with a hearty Tuscan bread.
https://www.silkroaddiary.com/saffron-penne-with-sausage-and-arugula/
World Spice Merchants https://www.worldspice.com
Categories:

Course, Global Cuisines, Main Meals, Mediterranean, Recipes
Tags:

arugula, date night, fennel, Pasta, penne, Saffron, sausage, spring
4 Comments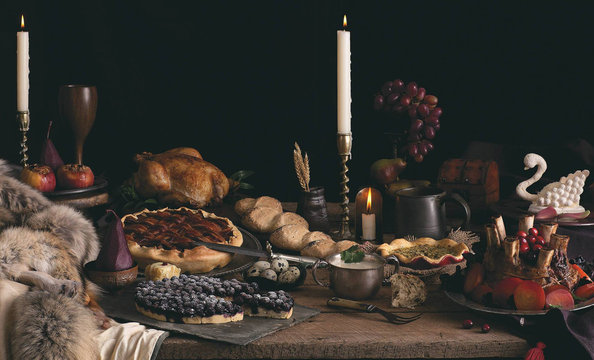 Many fans of the HBO Series "Game of Thrones" are still reeling from last week's blood drenched "Red Wedding" episode. Readers of the book series A Song of Ice and Fire, on which the show is based, have a few advantages over the TV viewers:
They totally knew what was coming.
They had the pleasure of reading the author's glorious descriptions of feasts and food.
By now, most fantasy foodies are familiar with the depictions of heavily laden tables known to induce jealous belly growls. Now you can put those burbles to bed, because World Spice carries the series' official companion cookbook, "A Feast of Ice and Fire!"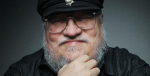 Author George R.R. Martin introduces "A Feast of Ice and Fire" by saying, "Food is one of life's great pleasures." We couldn't agree more! The book is divided in to sections based on cuisines from Westeros, Braavos, and other regions of the Game of Thrones empire.
This book is also ripe with real history, as well as quotes and excerpts of narrative recipes from actual medieval books of cookery and baking. Many of the recipes, such as pork pie (which incidentally looks fantastic), offer a historically accurate recipe, and follow it with a "modern" recipe, boosted with the likes of hot sauce and other spices or seasonings that wouldn't have been available in the early European kitchen. Each recipe is introduced by a decadent quote from one of the many scenes of feasting found in Martin's books.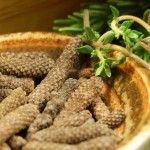 World Spice has long been the spice source for medievalists seeking Poudre Douce and Poudre Forte ("sweet powder" and "strong powder," respectively), and both are used often throughout the book. Both blends rely heavily on cassia and ginger, with a dose of grains of paradise or long pepper, both of which were used in true medieval cooking, as they pre-dates the domestication and cultivation of the black peppercorns we know today. Also used again and again are two forms of pastry dough, which use a generous pinch of saffron for color and heavenly flavor.
For the lord or lady looking to to surprise guests with a spread of goat, elk, or venison, our English Beef Rub will tame the gamey edge of these meats, using the unmistakable flavor of juniper in combination with these warm, sweeter spices to excite even a mundane beef roast and delight your honored guests. Whatever you choose to serve, please observe the hospitality laws. Failing to do so is a sure fire way to ruin dinner and spoil your appetite. Bread and salt, people. Bread and salt.
You can bet my next "Game of Thrones" screening will include a feast fit for the Iron Throne room- perhaps Mutton in Onion-Ale Broth, Trout Wrapped in Bacon, Roman Buttered Carrots, Cheese and Onion Pie, a Salad from Castle Black, and finish the whole lot with Poached Pears, Elizabethan Lemon Cakes, and a challis of Mulled Wine– but I'm open to your suggestions (from anyone but House Frey)!
Categories:

British Isles, Cookbook Club, Hot Topics, Notes from the Field, Tools of the Trade
Tags:

Feast, Game of Thrones, Ice and Fire, Medieval, Poudre Douce, Poudre Forte, Saffron
Leave a comment
It's almost Buddha's birthday! Buddha's birthday is celebrated on the eighth day of the fourth month of the Chinese lunar calendar in nearly all east-Asian countries, and this year it falls on Friday May 17th in the Western calendar. Because it is customary to eat rice on Buddha's birthday, we developed this heavily spiced vegetarian biryani to honor the Buddha and many of the exotic lands from which our spices come. Our Continental Curry is the perfect blend for this occasion, as it combines the best elements of several varieties of yellow curry. While we can't promise a permanent Nirvana as a result of this dish, we guarantee at least a transient one!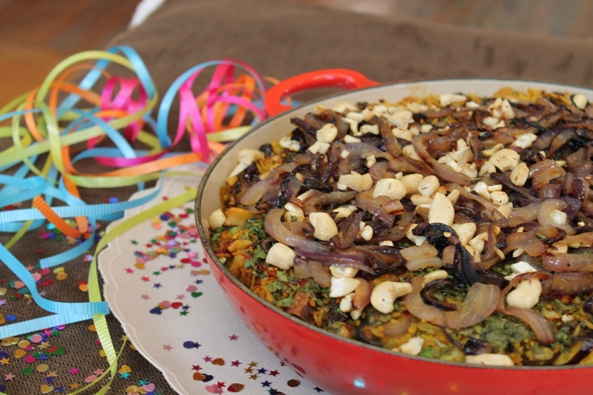 Continental Curry Biryani
Ingredients
For the Rice

1 cup basmati rice, well rinsed
1 tablespoon olive oil
1 red onion, thinly sliced
1 big pinch of saffron
2 tablespoons golden raisins
2 tablespoons chopped cashews
1/4 teaspoon whole cloves
1/2 teaspoon whole cumin seed
1/2 teaspoon whole Indian coriander seed
3 whole green cardamom pods
2 cups water
1 teaspoon Murray River flake salt

For the Curry Paste

6 large cloves garlic, chopped
3 inch piece of ginger, chopped
2 tablespoons ground Continental Curry
2 medium onions, chopped
7 mint leaves
1 jalapeno, chopped
2 roma tomatoes, seeded and chopped
1/2 teaspoon Murray River flake salt
1 tablesoon olive oil
1/2 cup broccoli florets
1/2 cup cauliflower florets
1/2 cup green beans, cut into 1 inch pieces
1/2 cup peas
1 medium sweet potato, cut into 1 inch pieces
1/2 cup water

For Baking the Biryani

1/2 cup chopped cilantro
1/2 cup warm milk
1 pinch saffron
2 tablespoons olive oil
1 large red onion, thinly sliced
2 tablespoons cashews, chopped
Pan spray
Greek yogurt
Instructions
Preheat oven to 350 degrees.

For the Rice

In a medium-sized pan over medium heat, add the oil. When hot, add the onion and cook until softened. Add raisins, cashews, cloves, cumin, Indian coriander, green cardamom and cassia sticks and saute until fragrant and the seeds start to "pop", about 3 minutes.
Add salt, water and saffron and bring to a boil. Add rice and turn heat down to simmer. Cover and cook for about 10 minutes. Rice will be 3/4 of the way cooked. Spread in a shallow pan to cool.
While rice is cooking, par-cook the vegetables. In a shallow pan over medium-high heat, add the vegetables and water. Cover and steam for about 5 minutes.

For the Paste

In a food processor, puree the garlic, ginger, onions, mint leaves, Continental Curry, jalapeno, salt and tomato.
In a medium saute pan, heat 1 tablespoon oil. Add puree and saute for 5 minutes. Add par cooked vegetables, stirring well to combine. Taste for seasoning and salt.

To Bake the Biryani

In a small saucepan, warm a pinch of saffron and the milk. Remove from heat.
Spray a large ovenproof casserole dish with pan spray. Layer in half of the rice and sprinkle with half of the cilantro. Evenly spread the vegetable curry paste mixture over the rice, top with remaining rice, and sprinkle with remainder of cilantro.
Drizzle with the saffron-infused milk, cover the casserole dish and bake for 15 minutes, until the rice is cooked through. Turn the oven off and let the biryani stay in the hot oven for another 10 minutes.
While the biryani is baking, heat 2 tablespoons of oil in a large saute pan over medium-high heat.
Add the sliced onions and fry until golden. Drain on paper towels. Next, add chopped cashews and fry until golden. Drain on paper towels.
Remove the biryani for the oven. Top with fried onions and cashews and serve with Greek yogurt on the side.
https://www.silkroaddiary.com/continental-spice-biriyani/
World Spice Merchants https://www.worldspice.com
Categories:

Asia, Course, Curries & Masalas, Global Cuisines, Holiday, Indian Subcontinent, Main Meals, Recipes
Tags:

Birthday, celebration, Continental Curry, Healthy, nuts, Rice, Saffron, Vegan, Vegetables, Vegetarian
Leave a comment