Saffron Raspberry Rolls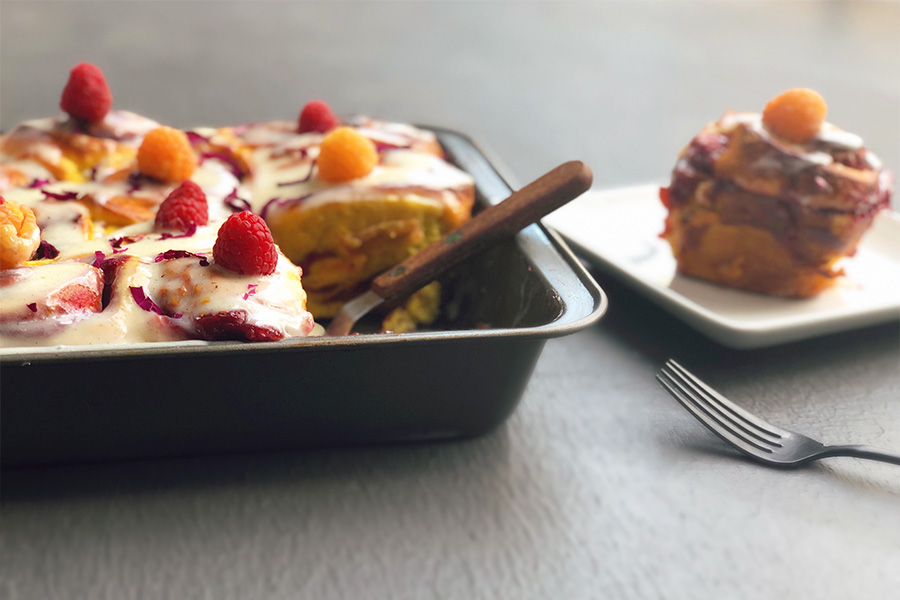 Using a bit of creativity, spices can be the perfect spark to elevate familiar comfort foods to new heights. This is especially true when they're utilized in nontraditional ways. These rolls are elegant and exotic, using saffron to get their beautiful sunshine yellow color. Although saffron is subtle and floral, it has a buttery aspect that is perfect for baked goods.
Saffron threads are the stamen of the crocus flower, and it is the most expensive spice in the world. As a pairing to this precious flavor, we used raspberries as the filling for a tart fruity contrast. These decadent rolls are intriguing, yet still comforting, and will impress any crowd.

Ingredients
1 cup milk warm milk
1 large pinch of saffron
3/4 cup butter
1 package yeast, active dry or compressed
2 eggs, beaten
1/2 cup sugar
1/2 teaspoon Kosher salt
About 5 cups unsifted all-purpose flour
2 1/2 cups raspberry jam
1 pint of raspberries tossed in 2 tablespoons of cornstarch
1 egg yolk
1 tablespoon milk
Cream Cheese Frosting
4 ounces cream cheese, room temperature
4 tablespoons unsalted butter, softened
1 cup powdered sugar
1 vanilla bean, split and cut in half
Pinch of salt
1/4 cup milk of choice
Instructions
Warm the milk, then add the saffron and let it sit for an hour until bright yellow.
Melt butter and set aside to cool. Dissolve yeast in warm saffron milk.
In a large mixing bowl combine beaten eggs, saffron infused milk, sugar, salt, yeast mixture, and 1/2 cup melted butter.
Stir in enough flour to a point where the dough no longer sticks to your fingers (less than 5 cups)
Turn onto a floured board and knead until dough is smooth. Shape into a ball and place in a greased bowl; cover. Put in a warm place and let rise until doubled in bulk, about 2 hours.
Preheat oven to 375 degrees.
Divide the dough in half and roll one half out on a floured surface to about a 12x8 inch rectangle. Spread 2 tablespoons of the melted butter evenly over the dough. Next spread the raspberry jam and evenly sprinkle the corn starched berries on dough.
Starting with the long edge farthest from you, roll the dough towards you, moving your fingers evenly back and forth along the dough, until it is tightly coiled with seam down. Cut into 8 even rolls with a sharp knife, and place in a greased pie plate or 9-inch cake pan. Repeat the same steps with the other half of the dough.
Let the rolls rest on top of the oven for 25-35 minutes, until slightly risen.
In a small bowl whish together egg yolk and milk until combined. Using a pastry brush baste the top of the rolls.
Bake for 25-30 minutes or until rolls internal temperature reach 190. Bake until golden brown. In the meantime make the cream cheese icing while the rolls are baking.
Cream Cheese Icing
Whisk together cream cheese and butter in a medium bowl until completely combined and smooth. Add vanilla and salt and whisk again. Whisk in powdered sugar until fully blended. Add milk, 1 tablespoon at a time, until the mixture becomes thick but pourable.
When rolls are out of the oven, pour and spread the icing evenly over the saffron raspberry rolls in the pan, making sure the tops of the rolls are completely covered. Feel free to decorate your rolls with rose petals and fresh raspberries.
Notes
Can use any berry jam. Sub raspberries with fresh fruit to match the jam used.
© 2023 World Spice Merchants https://www.worldspice.com