Abuelo's Rabbit Paella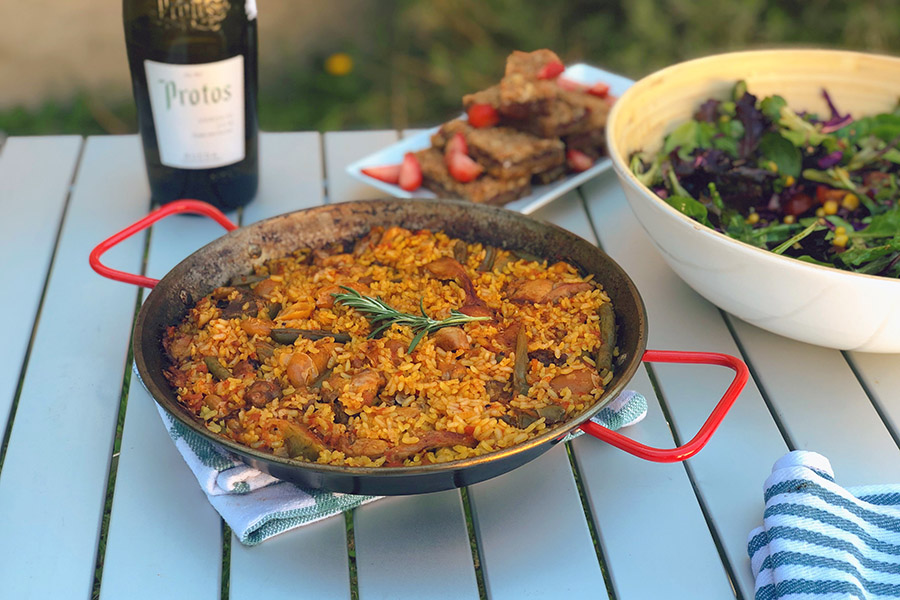 I had the pleasure of making this paella along with my friend Maria. She immigrated here from Madrid and while making this for me, she was beaming with nostalgia. She told me how her grandpa, Cristobal, took great pride in making paella outdoors in the hot Spanish summers. This Valencia-styled paella is made with saffron, smoky sweet paprika, rabbit, and chicken. One of my favorite parts were the large creamy beans and nutty artichoke pieces. The rabbit gets tender while cooking and is similar in texture and flavor to chicken. We're a long ways from Valencia, but I would like to think this dish tasted like a summer vacation in Spain.

Ingredients
2 tablespoons olive oil
3 teaspoons salt
1 lb rabbit ribs (can sub 2 chicken drumsticks)
2 boneless chicken thighs, chopped
2 teaspoons Smoked Sweet Paprika
1 teaspoon garlic, minced
1/2 cup green beans, cut into 2 inch pieces
1 cup giant white runner beans, cooked
1 artichoke, cleaned and cut into 6 pieces
1 cup tomato puree
2 large pinches saffron
3 cup chicken broth
1 cup bomba rice (can sub arborio rice)
1 rosemary sprig
Instructions
Add the oil to a 10-inch paella pan on medium heat. Add the rabbit ribs and chicken thighs, seasoning them with salt. Sauté until golden brown on both sides, about 8 minutes. Add the paprika and a pinch of saffron and sauté until fragrant for about 5 minutes. Next add the garlic, green beans, runner beans, artichoke hearts, and tomato sauce.
Meanwhile, add the rest of the saffron to the chicken broth. That way the saffron can steep while the veggies, chicken and rabbit are continuing to sauté for about 6 minutes on medium-low heat.
Pour in 2 cups of the chicken broth and simmer on low uncovered for 20 minutes.
Add the rice to the paella pan laying it out in an X shape. Maria explained that this gesture was important and a tradition her grandpa did while laying the rice out evenly in the pan. Add the remaining chicken broth.
Lay the rosemary sprig on top of the rice. This will perfume the rice and be easy to pull out later. Cover the rice with a lid and cook on low for 20 minutes.
Take the paella off of the heat and cover it with a damp towel and no lid. Let the paella rest for 5-10 minutes. Pull out the rosemary sprig before serving and enjoy hot.
© 2023 World Spice Merchants https://www.worldspice.com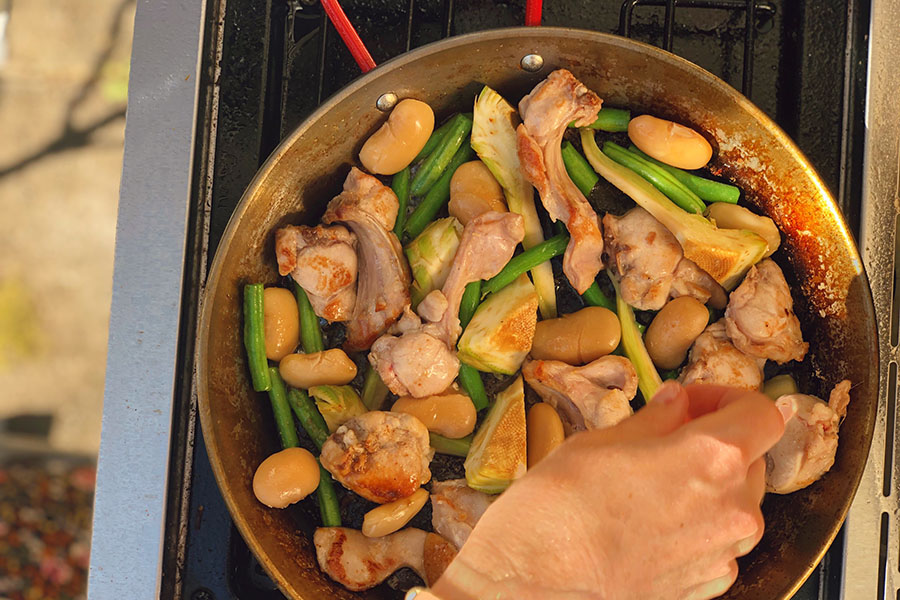 Paella is a traditional, one-pan dish from Spain. The meats and vegetables used varies from region to region but all keep the signature saffron infused rice as the base. This type of recipe, paella valenciana, is hundreds of years old and comes from the paella birthplace, Valencia.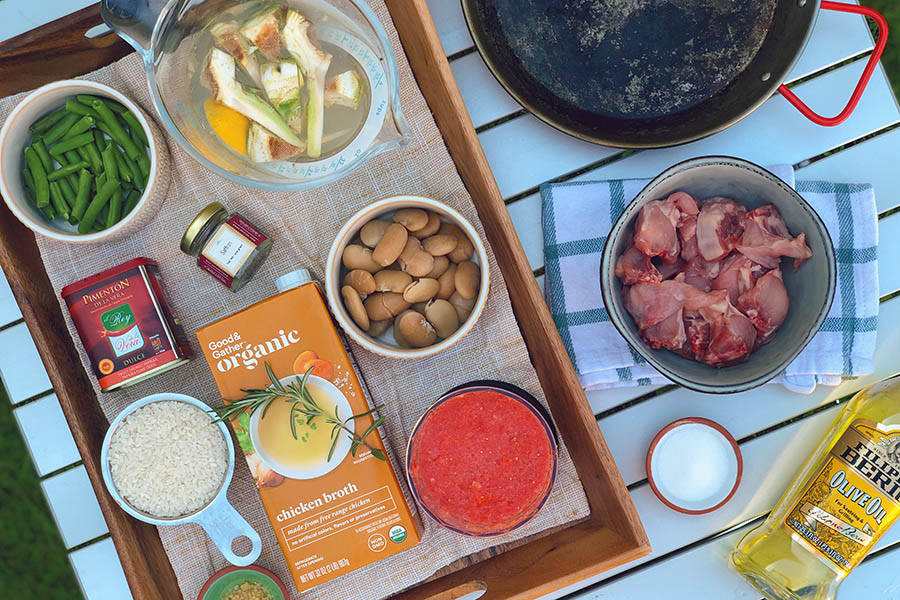 A big thanks to Maria O'Connor who taught me her ways and her grandfather Cristobal Nebot for passing down this wonderful dish.