Saffron Marshmallows
Show that special someone just how much you care when you present them with this decadent confection. Perfect to top a creamy cocoa, or toast around a romantic campfire, the flavor of the saffron comes through beautifully and adds a very special touch. Once you master marshmallow making, the sky's the limit on how many flavors you can come up with, just make sure to allow an extra day for them to cure before cutting into your desired shapes. This thrifty recipe makes more than enough for a romantic twosome so you'll have Valentine's marshmallows to share with everyone in the class.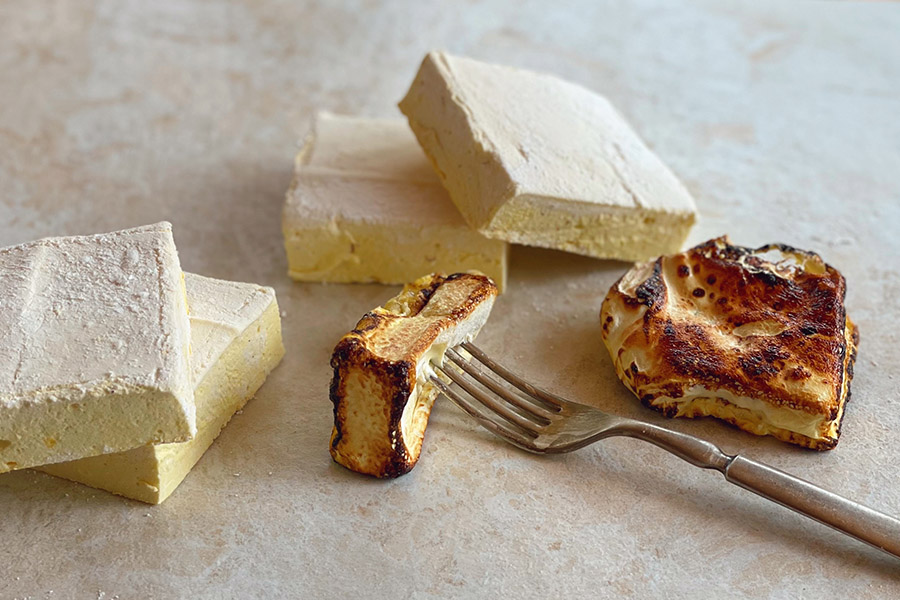 Ingredients
1-1/2 packages unflavored gelatin, about 1-1/2 tablespoons total
1/4 cup COLD water
1 large pinch of saffron
3/4 cups granulated sugar
1/2 cup light corn syrup
pinch of kosher salt
1/4 cup room temperature water
1/4 cup powdered sugar, for dusting
1/4 cup corn starch, for dusting
Instructions
Combine the gelatin, 1/4 cup of cold water and saffron in the bowl of an electric mixer fitted with the whisk attachment. Allow to sit while you make the syrup.
Meanwhile, combine the sugar, corn syrup, salt, and 1/4 cup water in a small saucepan with high sides and cook over medium heat until the sugar dissolves. Raise the heat to high and cook until the syrup reaches 240 degrees on a candy thermometer, then remove from heat.
Start with the mixer on low speed, and slowly pour the hot sugar syrup into the dissolved gelatin. Increase the mixer speed to high and whip until mixture is very thick and stiff, about 10-15 minutes or until stiff peaks form.
While the marshmallows are whipping, make the dusting mixture. In a small bowl, combine the powdered sugar and cornstarch .
With a sieve, generously dust an 8- by 12-inch baking dish with the powdered sugar/cornstarch mixture. Reserve the remaining dusting mixture.
Pour the marshmallow mixture into the pan, smoothing the top with a greased rubber spatula. Dust the top with the remaining powdered sugar/cornstarch mixture. Allow to stand in the fridge uncovered overnight until the marshmallows are dry to the touch.
Turn the marshmallows onto a board and cut them into desired shapes, dipping the cutter into the dusting mixture between cuts. Dust again with more of the powdered sugar/cornstarch mixture.
Marshmallows can be stored in an airtight container in the refrigerator for up to two weeks.
© 2023 World Spice Merchants https://www.worldspice.com