Saffron Apricots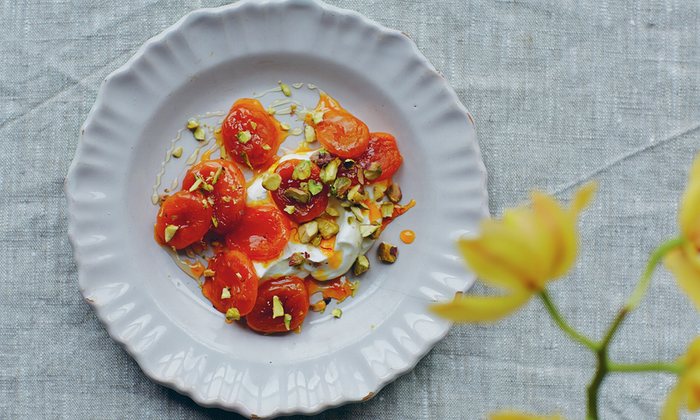 The February 2017  Cookbook Club Meet & Eat featured "a modern way to cook" by Anna Jones. It's a wonderful cookbook that shows how you can still prepare healthy, nourishing vegetarian food, even if you have time constraints. The recipes are creative and bursting with flavor, and this Saffron Apricots recipe is truly a standout.
From the Author: "The quickest, most exotic-tasting dessert I know, made mainly of things that sit happily in your pantry. I use orange blossom water here to add a heady fragrant taste, which I love. If you can't find it, it will work without. I serve these with a spoonful of coconut yogurt, and they are equally good on top of vanilla ice cream."
Ingredients
3 1/2 oz/100 g dried apricots
a good pinch of saffron strands
juice of 2 oranges
1 tablespoon orange blossom water
a couple of teaspoons runny honey
chopped pistachios or almonds (optional)
yogurt (serving suggestion)
Instructions
Put the apricots into a small pan with the saffron and orange juice and bring to a simmer. Simmer for 5 to 10 minutes, until the apricots have softened. (If using fully dried apricots, you might need to cook them a bit longer.) Scoop the apricots out and put the orange juice and saffron back on the heat to reduce a little. This will take a couple of minutes.
Allow to cool before spooning the apricots and syrup into bowls. Daintily drizzle over the orange blossom water and squeeze over a little honey. Top with yogurt and some chopped pistachios or almonds, if you like.
© 2023 World Spice Merchants https://www.worldspice.com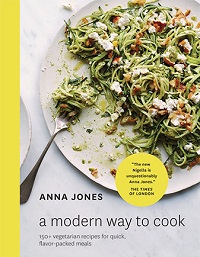 a modern way to cook is the February 2017 selection for the World Spice Cookbook Club. a modern way to cook is currently available for purchase on amazon.com.
Recipes from a modern way to cook © 2016 by Anna Jones. Photography by Matt Russell. Published by Ten Speed Press. All rights reserved.