Saffron Barberry Nougat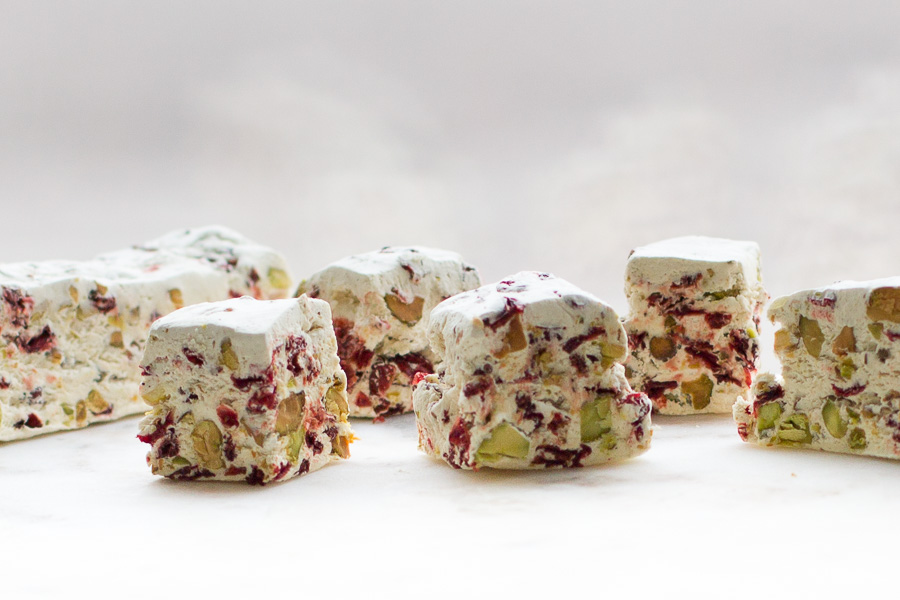 Yes, really! This stunner of a candy recipe makes a festive treat for the holidays. Sweet and chewy, tart and crunchy, it is impossible to resist. Two pinches of saffron are enough to get a hint of color and perfectly balanced flavor, but you can always add more if a stronger flavor is desired. The pairing of saffron and sugar with the pop of tart barberries and crunch of pistachios is simply delightful. And it's so pretty! Be sure to have a good, reliable thermometer at the ready. Success with this nougat is a temperature game and cooking the eggs with the hot sugar is an essential step.
Ingredients
1/2 cup water
2 pinches saffron
3 cups plus 1 tablespoon sugar
1/3 cup light corn syrup
1 cup honey
3 egg whites
Pinch of salt
1-1/2 cups pistachios, slightly chopped
1-1/2 cups barberries or chopped dried tart cherries
Instructions
In a large, high-sided saucepan, combine the water and saffron. Add 3 cups sugar and corn syrup. Bring to a simmer and cook until the mixture reaches 298 degrees F, about 10 minutes. Remove the pan from heat.
In a separate saucepan, bring the honey to a simmer and cook until it reaches 257 degrees F and remove from heat.
In the bowl of a stand mixer fitted with the whisk attachment, combine the egg whites and pinch of salt. Beat on high speed until the mixture becomes foamy, then add the final tablespoon of sugar. Continue beating on high speed until the eggs become firm and glossy peaks form, about 3-5 minutes more.
Reduce the speed to medium-high and slowly pour in the warm honey and mix for a few minutes. Then slowly add the sugar mixture and continue processing for about 15 minutes more, until you can hold your hand against the side of the bowl.
The nougat will be very sticky!
Using the paddle attachment on the mixer or a stiff spatula, fold in the nuts and berries. Did we say the nougat will be very sticky? For one version of this recipe we even dug in with our hands, lightly coated with cooking spray. Let your ingenuity run wild here...
Line a sheet pan with buttered parchment, and have another buttered sheet set aside.
Transfer the nougat to the buttered parchment on the sheet pan and pat or spread the sticky mound into a layer about 1" thick. Top with the second sheet of parchment, buttered side down, and pat or roll the surface evenly.
Allow the nougat to cool for several hours or overnight. Slice into strips and then cut into squares for beautiful and delicious candy.
Notes
This recipe is a barely adapted version modified from Michael Ruhlman's at The Splendid Table, inspired by the Bouchon Bakery Cookbook.
© 2023 World Spice Merchants https://www.worldspice.com